In The Covid-19 Crisis, Doctors In Spain Choose Who To Let Die. Such Scenes Will Be Common In Many Countries Soon Including Thailand, United States, UK, Etc
In Spain, doctors are being forced due to time constrains, staff shortages, inadequate medical supplies to choose who to let live and who to die in a sad state of affairs that is becoming common in many part of the world.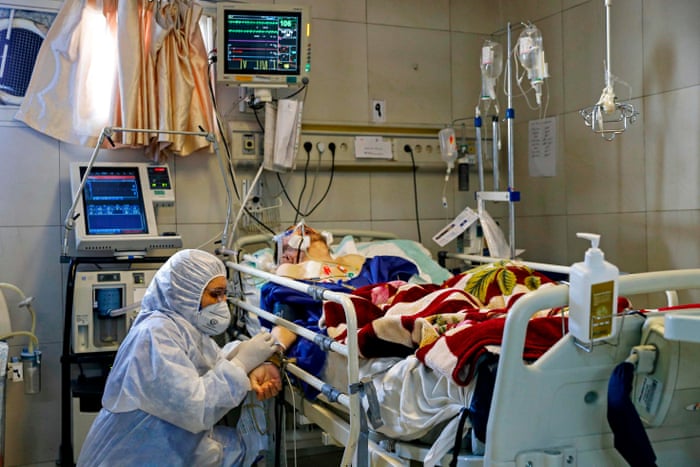 Dr Daniel Bernabeu signed the death certificate for one patient and immediately turned to help another who was choking, in the emergency room at one of Madrid's biggest hospitals,
Many people are dying in waiting rooms before they can even be admitted as the coronavirus pandemic overpowers medical staff.
As funeral services halted in the Spanish capital and no space left in the morgues, corpses are being stored at the main ice rink.
ICU and Intensive-care wards overflowing and new rules dictate that older patients miss out to younger people with a better shot at surviving, Dr Bernabeu said by telephone.
He said, "That grandpa, in any other situation, would have had a chance. But there's so many of them, all dying at the same time."
While the deadly Covid-19 sweeps the European continent, the focus is turning to Spain, with dire warnings for parts of Europe such as Britain that only recently took more comprehensive action.
The daily number of fatalities in the country of 47 million people is now rising faster than it did in China, where the virus first emerged, and in Italy, where the disease took hold this month.
Spanish health authorities reported that a total 4365 people had lost their lives, as of Friday morning, making it the deadliest hot spot on Wednesday while elsewhere, countries unveiled more measures to deal with the economic carnage.Spain's total death toll has already overtook China's this week.
Spain's Prime Minister Pedro Sanchez, who less than three weeks ago was still brushing off the threat of the virus, has warned the population that most of them have never experienced a threat of this scale.
In the city's main La Paz hospital, the sprawling complex of 17 buildings where Dr Bernabeu works, there were 240 people in the emergency room at one point on Tuesday waiting to be admitted.
Surprisingly, doctors on the front line are not wearing full protection, just a cotton robe and a mask. They have the recommendation to keep 1m of distance with patients, but that's impossible.
Dr Bernabeu said "Colleagues are falling sick around us. I'm a radiologist, I'm not supposed to be in ER, and yet here I am in the trenches."
With an acute shortage of intensive care beds, ventilators and protective gear, doctors feared they would be overwhelmed.
In several care homes for the elderly, staff abandoned the residents to their fate.
The army units mobilised to disinfect the facilities found some patients lying in squalor and others remaining where they had died in their beds, Defence Minister Margarita Robles said on Monday.
The Spanish Health Ministry admitted that it didn't have the capacity to administer enough tests to track the spread of the contagion.
Physicians and nurses, meanwhile, are left to improvise as patient after patient arrives. Some tape garbage sacks to their arms to shield themselves.
A nurse in the emergency room at a hospital in the Basque city of Vitoria said last week that protective plastic glasses are of such poor quality that medics can barely see through them when they feel for pulses.
Some 4,200 medical workers have been infected, the government said on Monday, about 12 per cent of the total.That compares with 8 per cent in Italy and 4 per cent in China.
Spain's nurses' union in the Basque region is blaming the medical personal protective equipment shortages for the death of a 52-year-old member.
Some 635 people have been arrested in Spain for breaching the terms of the quarantine and almost 77,000 have been sanctioned by the police and the civil guard.
Across Spain, officials are rooting out the ventilators needed to keep the most critical patients alive -from hospital recovery units, operating rooms and military facilities.
Individuals, universities, companies and even individuals are using 3D printers to manufacture more ventilators and protective glasses.
The Spainish army has set up a field hospital in the giant convention centre on the outskirts of Madrid. It already has 1,400 beds in service and will have 5,000 when it's completed this weekend.
But in the meantime, the triage rules for access to intensive care are getting tougher and tougher.These places are kept free for the increasing number of young patients, whose lungs tend to collapse very fast.
Dr Bernabeu said."We are completely overwhelmed,"
----------------------------------------
Such scenes are going to be occurring in many countries including Thailand, United States and Australia and United Kingdom.
We are also witnessing sad inequality where in certain countries; certain hard to get experimental antiviral drugs for the Covid-19 disease are being reserved for politicians and their families, friends and for the rich.
In some countries even donated stockpiles of medications and supplies are even being resold by corrupted government officials and politicians.
The public is also warned about appeals by certain rich public hospitals for monies and supplies via donations as in most cases, these will only be used to treat the elites while the common masses will be deprived of the basic care.