Iceland Suspends Usage Of Moderna COVID-19 Vaccine Over Incidences Of Heart Inflammation
As of last Friday, the Health Directorate in Iceland issued a total suspension of the usage of the Moderna COVID-19 vaccine developed by a US pharmaceutical company due to concerns over increased risks of heart-inflammation.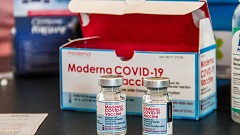 Iceland joins a growing number of European countries including all four Nordic countries ie Sweden, Finland, Denmark and Norway that have either halted the usage of the American Moderna COVID-19 vaccine or have placed restrictions or conditions on its usage.
Since Thursday, Sweden and Finland have also suspended the use of the American Moderna vaccine but only for those under 30, because of a risk of inflammation of the myocardium, the heart muscle, and the pericardium, the membrane covering the heart.
Health authorities in Denmark and Norway have formally advised against it for those under 18.
Swedish health authorities are warning that all those that have received the Moderna vaccine to have follow up health checkups on their heart conditions.
It should be noted that the Nordic countries have very stringent drug regulatory measures as they really do take public healthcare seriously unlike in countries like the UK, France or US where political issues and greed rules over everything else.
The Iceland Health Directorate also said in a statement that the country's chief epidemiologist also had stated that the suspension would not affect the Iceland's vaccination programme as the country had more than sufficient supplies of alternative safer COVID-19 vaccines.
Earlier, Sweden and Finland suspended the use of the vaccine in people under the age of 30. Denmark and Norway also have completely banned the use of the Moderna vaccine for anyone under the age of 18.
The decision taken in Iceland has been taken at a time when more than 88 per cent (370,000 locals) of the eligible population, of ages 12 and above, have already been fully vaccinated.
It was reported that until the suspension last Friday, Iceland had been administering the additional dose of the Moderna vaccines to locals on an almost exclusive basis. The country had also been using additional dose of Janssen, a single-dose serum by Johnson & Johnson, for the elderly and people with weak immunity systems. These doses were being administered even on people who had received the first two doses of some another vaccine.
Despite claims by various American and British mainstream media and social media platforms that COVID-19 infection rates, hospitalization rates and even death rates are going down in an orchestrated attempt by the Biden and Boris administrations to downplay panic and also to open up economies, the daily infection rates and death rates as reported in credible platforms like Worldometer etc are showing substantial worrisome figures.
https://www.worldometers.info/coronavirus/
As of the 11
th
of October 2021 (0750 hrs, Hanoi time), more than 238.6 million people globally have bee infected with the COVID-19 disease and more than 4.86 million people have died from the SARS-CoV-2 coronavirus. In American, more than 45.2 million people have already been infected with the SARS-CoV-2 virus and 733,575 Americans have died from COVID-19. In United Kingdom, more than 8.15 million people have been infected wit the virus while 137,735 British have died from COVID-19 so far.
/>
Almost fully vaccinated countries like Singapore and Israel are seeing new COVID-19 surges while it is expected that in the coming winter, the death rates would be catastrophic in Europe and also in the United States. But off course the respective mainstream media and social media platforms controlled by the Biden and Boris administrations would report that things are as per normal and only more booster shots are required! (Maybe on a daily or hourly basis..lol!)
It is also interesting as to how Canadian based media company-Reuters on the 1
st
of October issued an article claiming that Global COVID-19 deaths had surpassed 5 million.
https://www.reuters.com/world/global-covid-19-deaths-hit-5-million-delta-variant-sweeps-world-2021-10-02/
All other COVID-19 data reporting centres including the John Hopkins COVID-19 dashboard had only reported figures hovering around 4.7 to 4.8 million around that time.
https://coronavirus.jhu.edu/map.html
Reuters did not explain where they got their figures from! 200,000 deaths is a substantial amount and it could reflect if its true, that certain governments are concealing figures. No one knows if the article was nothing else but Fake News!
No one had fact checked the article as most felt that Reuters themselves who likes to fact check all other news article is credible but in reality, their Indian regional office manned by garbage Indian journalists have been churning out lots of garbage over the last two years on the COVID-19 pandemic. In fact some of their journalists from the Indian offices simply take leads or steal stories from other sources and get them rewritten. The same goes for AFP reporters based in India. The same can also be said of certain social media platforms and also search engines who are depending on staff from their regional centre in India for news stories, content control or fact-checking, their Indian staff are simply garbage!
For more on
COVID-19 Vaccines
, keep on logging to Thailand Medical News.