Harvard And Mayo Researchers Say A Large Number of Individuals Will End Up With Irritable Bowel Syndrome (IBS) As A Result Of SARS-CoV-2 Infections!
Long COVID Research:
Researchers Dr Walter Chan, MD, MPH, an assistant professor at Harvard Medical School in Cambridge-USA and Dr Madhusudan Grover, MBBS, an associate professor of medicine and physiology at Mayo Clinic in Rochester, Minnesota have in a new meta study found that COVID-19 infections can also cause disorders of gut-brain interaction, including post-infection or Post COVID irritable bowel syndrome (IBS).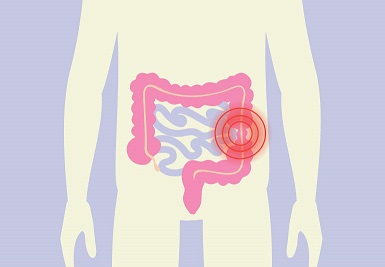 It is already known that a variety of gastrointestinal symptoms are common with long COVID, also known as post-acute COVID-19 syndrome, but the study team found that the prevalence of gastrointestinal symptoms with COVID-19 have ranged as high as 60 percent and the symptoms may be present in patients with long COVID, a syndrome that continues 4 weeks or longer!
The study team that conducted a review of the literature on COVID-19's long-term gastrointestinal effects, had their review findings published in the peer reviewed journal: Clinical Gastroenterology and Hepatology.
https://www.cghjournal.org/article/S1542-3565(22)00601-2/fulltext
Interestingly, in one survey of 749 COVID-19 survivors, 29% reported at least one new chronic gastrointestinal symptom. The most common were heartburn, constipation, diarrhea, and abdominal pain. Of those with abdominal pain, 39% had symptoms that met Rome IV criteria for irritable bowel syndrome.
According to the study team, individuals who have gastrointestinal symptoms after their initial SARS-CoV-2 infection are more likely to have them with long COVID. Psychiatric diagnoses, hospitalization, and the loss of smell and taste are predictors of gastrointestinal symptoms.
The study team stressed that infectious gastroenteritis can increase the risk for disorders of gut-brain interaction.
Dr Chan told Thailand
Medical News

,
"SARS-CoV-2 infections likely cause gastrointestinal symptoms through multiple mechanisms. It may suppress angiotensin-converting enzyme 2, which protects intestinal cells. It can alter the microbiome. It can cause or worsen weight gain and diabetes. It may disrupt the immune system and trigger an autoimmune reaction. It can cause depression and anxiety, and it can also alter dietary habits."
To date, no specific treatments for gastrointestinal symptoms associated with long COVID have emerged, so clinicians should make use of established therapies for disorders of gut-brain interaction, the study team recommended.
The
Long COVID Research
team also suggested that besides adequate sleep and exercise, diets that include high-fiber, low FODMAP (fermentable oligosaccharides, disaccharides, monosaccharides, and polyols), gluten-free, low-carbohydrate, or elimination diets may be useful to help resolve certain gastrointestinal symptoms.
The study team recommended drugs such loperamide, ondansetron, alosetron, eluxadoline, antispasmodics, rifaximin, and bile acid sequestrants to treat the occurrences of diarrhea.
In the case of constipa tion, the tsud team suggested fiber supplements, polyethylene glycol, linaclotide, plecanatide, lubiprostone, tenapanor, tegaserod, and prucalopride.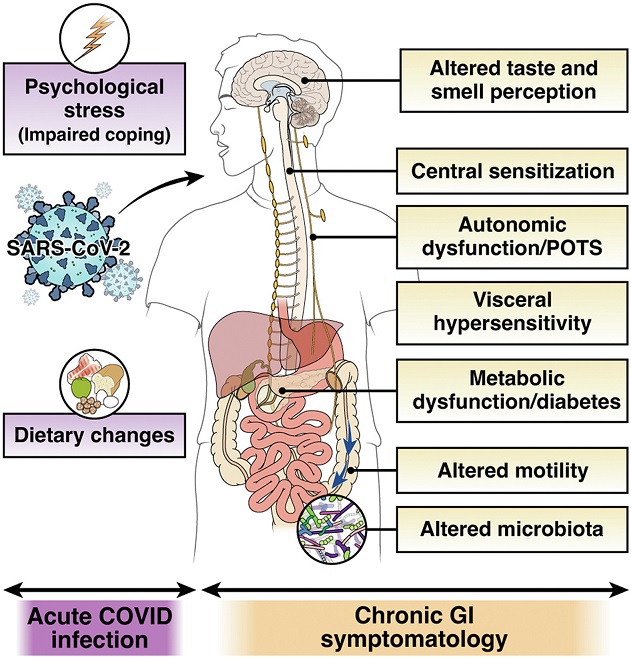 Risk and mechanisms of post-COVID-19 IBS. Hospitalization during COVID-19 infection and high stress during or subsequent to the acute infection might increase the risk of PI-IBS development. Invasion of SARS-CoV-2 in the intestinal epithelium may mediate immune dysregulation, barrier dysfunction, and neuromuscular plasticity. Additionally, changes in luminal milieu caused by altered microbiota or metabolites may mediate changes in sensory-motor function. Patients may develop central sensitization because of the ongoing stress associated with the pandemic. Lastly, established mechanisms of long-COVID, such as autonomic dysfunction and altered taste perception, might influence gut function and eating patterns or diet, thereby leading to chronic gastrointestinal symptomatology. POTS, postural orthostatic tachycardia syndrome.
The study team also recommend that diets rich in high fiber that nourish short-chain fatty acid-producing bacteria may be useful for many with such Post-COVID gastrointestinal disorders and IBS.
One study showed that dysbiosis in COVID-19 patients continued throughout their hospitalizations and up to 21 days from disease onset, with a decrease in health-promoting, short-chain fatty acid–forming bacteria.
https://pubmed.ncbi.nlm.nih.gov/35254122/
Gut microbiome of patients with Long COVID was characterized by higher levels of Ruminococcus gnavus and Bacteroides vulgatus, and lower levels of Faecalibacterium prausnitzii. Interestingly, presence of butyrate-producing bacteria showed an inverse correlation with development of PACS at 6 months.
https://pubmed.ncbi.nlm.nih.gov/35082169/
Also, probiotics such as Lactiplantibacillus plantarum and Pediococcus acidilactici may be beneficial to some according to past studies.
https://pubmed.ncbi.nlm.nih.gov/35014600/
The study team also recommended glutamine for modulating intestinal permeability.
The study team also recommended that neuromodulation may be achieved with tricyclic antidepressants, selective serotonin reuptake inhibitors, serotonin norepinephrine reuptake inhibitors, azaperones, and delta ligands.
When utilizing psychological therapy to treat gastrointestinal issues, both Dr Chan and Dr Grover recommended cognitive-behavioral therapy and gut-directed hypnotherapy.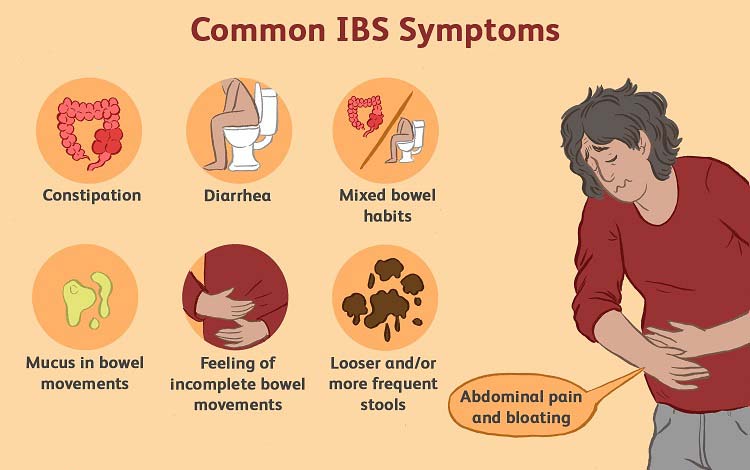 The study team stressed, "Gastroenterologists should be aware that SARS-CoV-2 infection can result in the development of chronic disorders of gut-brain interaction or DGBI, such as IBS, or GI symptoms that may be part of a systemic Long COVID. In the absence of alarm symptoms, the diagnostic work-up should be limited and follow paradigms for routine PI-IBS or DGBI, as warranted by the presenting symptoms. In addition to treating GI symptoms using currently available strategies for IBS/DGBI, addressing comorbid (psychosocial) or contributing (autonomic dysfunction, dysgeusia) etiologies may augment response."
It is important to note that in some cases, untreated gastrointestinal issues can result in cancers or other serious conditions, sometimes with fatal outcomes.
For the latest
Long COVID Research
, keep on logging to Thailand
Medical News
.