The US FDA has approved second PrEXp (pre-exposure prophylaxis) drug, Descovy (emtricitabine 200 mg and tenofovir alafenamide 25 mg) to help prevent HIV infections. The drug is for in at-risk adults and adolescents weighing at least 35kg for HIV-1 pre-exposure prophylaxis (PrEP) to reduce the risk of HIV-1 infection from sex, excluding those who have receptive vaginal sex. Descovy is not indicated in individuals at risk of HIV-1 infection from receptive vaginal sex because the effectiveness in this population has not been evaluated.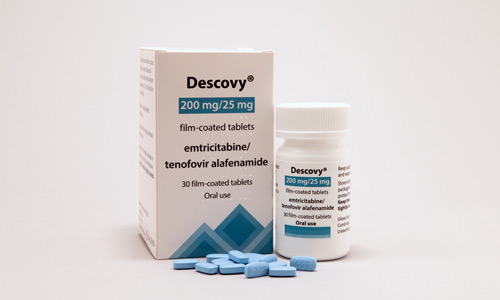 Descovy is a PrEP or, which means the drug is taken daily to lower the risk of getting HIV among people who don't have the disease but are at risk. Descovy for PrEP should be used as part of a comprehensive strategy, including adherence to daily administration and safer sex practices, including condoms, to reduce the risk of sexually acquired infections.
Dr Jeffrey Murray, deputy director of the Division of Antiviral Products in the FDA's Center for Drug Evaluation and Research commented I a phone interview with
Thailand Medical News
, "PrEP drugs are highly effective when taken as indicated in the drug labeling and can prevent HIV infection. This approval provides more prevention options for certain patients at-risk for acquiring HIV and helps further efforts by the FDA and the U.S. Department of Health and Human Services to facilitate the development of
HIV treatment and prevention options to reduce new HIV infections.
"
The efficacy of Descovy for
PrEP
and its safety were evaluated in a randomized, double-blind multinational trial in 5,387 HIV-negative men and transgender women who have sex with men and were at risk of HIV-1 infection. The trial compared once daily Descovy to Truvada (emtricitabine, tenofovir disoproxil fumarate, 200 mg/300 mg), a daily fixed dose combination of two drugs approved in 2012 to prevent the sexual acquisition of HIV; participants were followed for 48 to 96 weeks. The primary endpoint was the rate of HIV-1 infection in each group. The trial showed that Descovy was similar to Truvada in reducing the risk of acquiring HIV-1 infection. The most common adverse reaction in individuals without HIV who were taking Descovy for PrEP was diarrhea.
Also included is a boxed warning for individuals who take Descovy who also have hepatitis B virus (HBV) to be aware of the risk of exacerbations of HBV in those who discontinue products with emtricitabine or tenofovir disproxil fumarate, and which may occur in individuals who discontinue Descovy. Descovy for HIV-1 PrEP is contraindicated in individuals with unknown or positive HIV-1 status and should only be prescribed to individuals confirmed to be HIV-negative immediately prior to initiating and at least every three months during use.
Almost a million people globally were diagnosed with HIV in 2018, showing that despite attempts to eradicate the infection, it is actually increasing.
The new drug,Descovy was developed by Gilead Sciences and first approved by the FDA in 2016. The HIV drug's trial was conducted among a randomized, double-blind multinational group of 5,387 HIV-negative sexua lly active men and transgender women at risk of HIV infection who were followed for 48 to 96 weeks.
When compared to Truvada another PrEP drug by Gilead, found to have similar preventative measures, with the only common side effect being diarrhea., it was deemed as being better.
The US FDA recommends the drug be used as part of a comprehensive strategy to prevent HIV with daily use being combined with safer sex practices like condoms.
As of press time, Thailand Medical News was not able to confirm the prices for Descovy from Gilead Sciences and was not able to get any confirmations form sources in India as to whether cheaper generic versions of it would be available just yet. Certain branded medications are extremely expensive for
Thailand HIV

patients or at risk groups
like sex workers as PrEP drugs are not covered by the Universal Health Care platform.