COVID-19 Symptoms: American Journal of Emergency Medicine Publishes Case Study That Indicates Persistent Hiccups As An Unusual COVID-19 Symptom!
COVID-19 Symptoms
: Just as we thought that we have almost heard it all..a case study published in the American Journal of Emergency Medicine that has been peer-reviewed, reports of a rare case in which the patient exhibited
persistent hiccups
as an unusual symptom of COVID-19.
https://www.ajemjournal.com/article/S0735-6757(20)30274-6/fulltext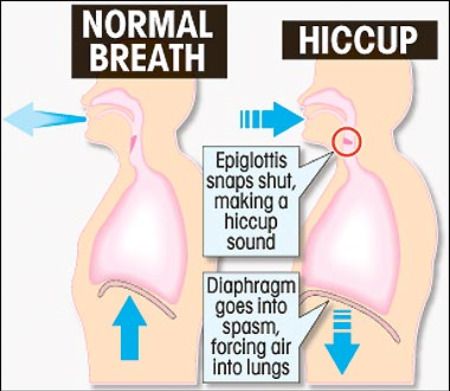 Although a lot of new studies are emerging reporting a multitude of symptoms that were not reported previously. It is well-known that the primary symptoms tied to the coronavirus disease are fever, cough, and difficulty of breathing. As time passed by, other symptoms emerged, including the loss of smell and taste, fatigue, body pains, headache, hair loss, and even a rash in the mouth.
A team of researchers from Cook County Health-Chicago revealed a rare symptom reported by patients infected with the severe acute respiratory syndrome coronavirus 2 (SARS-CoV-2), the virus that causes the coronavirus disease (COVID-19) – persistent hiccups.
The published case report describes an incident wherein a 62-year-old patient who went to the emergency department had reported persistent hiccups for days and an unintentional weight loss over four months.
The male patient experienced hiccups for four days before being admitted to the hospital due to fever. Further tests revealed the patient had problems with his lung capacity, and he was later isolated and tested COVID-19 infection.
Dr Garett Prince from Cook County Health and one of the authors of the report told Thailand Medical News, "An abnormal chest X-ray led to a CT scan of the chest with IV contrast, which demonstrated regional, peripheral ground-glass opacities of the upper lobes with small focal ground-glass opacities scattered throughout the lungs."
Dr Prince added, "He was tested for COVID-19 per admission protocol, started on hydroxychloroquine, his hiccups improved, and he was discharged to home after three days. An emergency medicine physician should keep COVID-19 on the differential and be vigilant of exposure in atypical presentations."
To date, this is the first case report of persistent hiccups as the presenting complaint in a COVID-19 positive patient, the researchers claimed.
The various clinical characteristics of COVID-19 are rapidly evolving as data continues to be collected across the globe. As more cases are reported, a multitude of signs and symptoms, even atypical ones, are being reported.
This unique case report of the male patient who had hiccups highlights two key issues, the doctors who published the report noted.
The first underscores the importance of having a detailed evaluation of those presenting with hiccups. Aside from this, it is also important for doctors to take a thorough history, conduct a physical exam, and to obtain general laboratory work and chest X-ray imaging.
The second, issue is that physicians and clinicians should keep COVID-19 infection on their differential as more cases are being discovered through atypical symptoms, which could be unexpected and bizarre. Further, doctors and the healthcare team should always maintain personal protective equipment to avoid exposure from patients who do not present with the typical symptoms of the coronavirus infection.
There are many unique cases being seen in COVID-19 patients around the world and physicians should continue to submit case studies to various journals and registries for other healthcare professionals to be aware and also for medical researchers to be alerted to such incidences and to find more clues as to the pathogenesis and workings of the SARS-CoV-2 coronavirus in the human host body.
For latest developments on
COVID-19 Symptoms
, keep on logging to Thailand Medical News.