COVID-19 Second Wave Gaining Steam, 545,936 New Infections Globally In Last 24 Hours. America That Is Soon To Be Beyond Salvation Records 91,530
COVID-19 Second Wave
: For those that have been skeptical with all our past predictions and coverage, good news, the COVID-19 second wave has already arrived and it going top till last end of May 2021 with catastrophic consequences, we predict that by fourth week of November, death rates should start rising exponentially and this time we would start rates never seen before.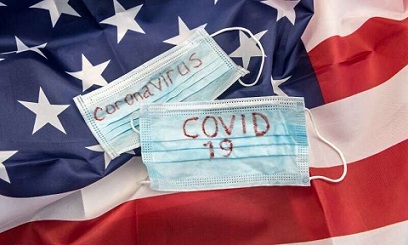 This is just the start of the second wave, we expect the third waves and fourth waves will be the ones that will annihilate at least 10 to 15 percent of the global population! Yes, the COVID-19 pandemic is going to last for at least 5 to 6 years provided we catch up in the field of genetics and genomics and diagnostic protocols that can cover an extensive array of biomarkers and also an extensive array of therapeutics or APIs (active pharmaceutical ingredients) that can be used to treat COVID-19 from a personalized medicine approach.
In the last 24 hours, a record 545,936 new COVID-19 cases were reported and there was a total of 7,172 deaths as a result of COVID 19 reported globally. This brings the total number of global COVID-19 infections to more than 45.2 million and the total number of global deaths to more than 1.18 million.
In America alone, there was a record of 91,530 new COVID-19 infections in the last 24 hours and a total of 1,047 Americans dying from COVID-19 in the last 24 hours thanks to the incompetency of the Trump administration.
The total number of COVID-19 infections in America is fast reaching almost 9 million with a total of 229,085 Americans who have died from the COVID-19 so far. It is reported that almost 19,750 Americans are in critical condition across the country, putting a massive strain on the healthcare system.
America has already reached a point of being beyond salvation and its going to take harsh measures to control the situation. With no drugs that can really help and vaccines that would most probably a failure in helping to curtail the pandemic as only a few will able to provide short term protection against certain prevailing SARS-CoV-2 strains.
The virus is spreading throughout the U.S. It's not concentrated in any one region, as it was during the previous waves.
It's unlikely to spread only among young, healthy individuals. The American Health Care Association and the National Center for Assisted Living released a report yesterday highlighting the link between community spread and nursing home cases, and showing a recent uptick in both.
https://www.ahcancal.org/News-and-Communications/Fact-Sheets/FactSheets/Report-Nursing-Homes-Cases-Oct19-2020.pdf
Nationally, the positivity rate was 5.3%, on average, over the last 7 days, an increase from the 4.7% positivity rate over the prior 7 days.
The World Health Organization recommended in May that the positivity rate remain below 5% for at least two weeks before governments reopen. 17 states and D.C. currently met that threshold over the last week.
The virus is currently spreading most rampantly in the Midwest.
The states of Idaho, Nevada, South Dakota and Iowa each ha d a positivity rate greater than 25% over the last 7 days. Nearly half of coronavirus tests in Iowa are coming back positive.
The SARS-C0V-2 virus already has a firm foothold in most of the country, and cold weather which is right around the corner will likely accelerate today's trends.
This all means more deaths, more economic devastation, and more isolation and psychological strain. If only the Trump administration had gotten the virus under control during the summer, it would have saved America from a lot of this coming pain.
The state of New York and other parts of the northeastern United States, which have kept the coronavirus outbreak under control after being an early epicenter in the country, are now seeing a worrying rise in infections.
Although the number of new cases is far from the high levels currently seen in Midwestern US states or Europe, they raise the prospect of a return of tight restrictions to prevent further spread.
Alarmingly New York Mayor Bill de Blasio on Thursday released figures showing a doubling of the test positivity rate in America's largest city, which has recorded more than 23,000 COVID-19 deaths since March.
Despite consistently holding the test positivity rate to around 1 percent, a spike to 2.7 percent on Wednesday and an average rate of about 2 percent over the past week was "very worrisome," de Blasio said.
The mayor said, "We cannot allow that number to keep growing. We're really going to have to double down. It's really about keeping us safe and not letting a second wave in that would lead to huge restrictions on all of us."
He was urging people to avoid gatherings and traveling over the fall holiday season that includes Halloween and Thanksgiving.
Importantly, New York's neighbors are experiencing even higher growth in virus cases. New Jersey, the region's second worst-hit state in the spring, is now seeing more than 1,000 new cases every day, and the positivity rate has reached 6.5 percent, Governor Phil Murphy tweeted Thursday.
At present, at least two cities in the state, including Newark very close to New York City have reinstated restrictions, such as a curfew on non-essential businesses.
COVId-19 cases are also on the rise in Pennsylvania, Connecticut and Massachusetts.
This also increase poses a new problem for authorities who imposed self-quarantines on visitors from states with high testing positivity rates, with New York placing the requirement on those from places with positivity rates over 10 percent.
However the measure is difficult to enforce on neighboring states, with people regularly coming and going for work or leisure.
Andrew Cuomo the New York Governor recently gave up on adding New Jersey and Connecticut to his list of more than 40 restricted states, calling instead on people to avoid non-essential travel.
Many are saying that considering existing epidemiological modeling platforms and looking at the numbers in America and also the way that the crisis is being handled, America is basically passed the point of salvation and the country is going to witness a major catastrophic disaster never witnessed in its history so far. It is not just the Trump administration that is to be blamed but also establishments like CDC, NHI, FDA, the American media and social media and also the mentality of most of the American people with their arrogance and feeling of superiority and always looking down on Asian research and medical knowledge.
For more on
COVID-19 Second Wave
, keep on logging to Thailand Medical news.