COVID-19 Herd Immunity: Reports Of Cities Or Countries Achieving SARS-CoV-2 Herd Immunity Are Misleading And Are Literally Misinformation Or Fake News!
COVID-19 Herd Immunity
: Off late here has been reports covered in certain unreliable mainstream media and also non-credible medical media talking about certain cities like Manaus in Brazil attaining herd-immunity or worse another claiming that Japan has also attained herd immunity, such coverage are misleading and can sometimes cause more problems and danger as locals in those locations might develop a false sense of being protected by their immunity and start being complacent and stop taking preventive precautions.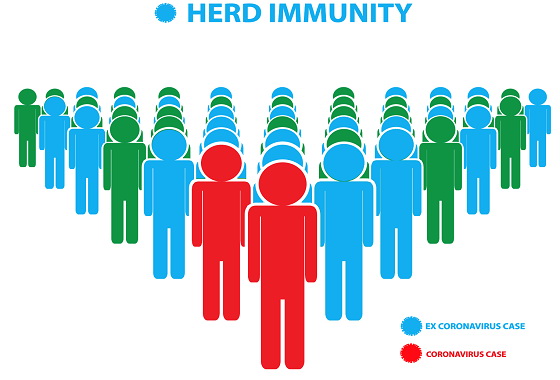 When reporting on research results originating on preprint servers, careful attention have to be paid to various factors before simply covering their research findings that have yet to have been peer reviewed.
In the herd immunity concept, when a large portion of a community becomes immune to a disease, its spread becomes unlikely.
In the case of the city of Manaus, the researchers from University of Sao Paulo using rapid antibody test kits found a large population had positive results hence their premature deductions without considering the following:
-Most of these rapid test kits have a high degree of inaccuracy.
-In some cases even the U.S. CDC has warned that the functional accuracy of the test is only around 50%.
-The test also produces a high degree of false positives due to various factors
-Some of the rapid test kits are not specific to SARS-COV-2 antibodies and also also pick up other coronavirus and virus antibodies as well
-It is now known that these antibodies do not last long. No one knows how long these antibodies will last for example certain studies show 50 days while some are showing 90 days to 110 days.
-Even worse, some of the antibodies detected in rapid test kits only picks up the wrong type of antibodies ie those that do not offer any protection or neutralizing capabilities. Read our previous coverage:
https://www.thailandmedical.news/news/breaking-covid-19-antibodies-md-anderson-researchers-warn-that-current-antibody-serology-testing-assays-are-unreliable-and-misleading
Hence to say that a particular area or location has reached herd immunity is totally reckless by any qualified researcher.
In the case of Manaus, the researchers went on to say that 70 percent of the population had been affected sometimes in Mid-May to August and that as a result of falling death rates and infections plus their rapid test studies, the population had attained herd immunity.
This lead to the federal authorities removing lockdown restrictions and business as per normal till a few weeks ago when cases started to rise exponentially.
The study's lead researcher, Ester Sabino, declined to be interviewed for this article because the Manaus herd immunity study awaits peer review for publication.
Local authorities had earlier warned Manaus residents they were ignoring the virus and risked a second wave of contagion by not wearing masks, packing i nto bars and attending parties. They shut down Manaus' river beachfront where raves were being held.
Current Manaus Mayor Arthur Virgilio blamed right-wing President Jair Bolsonaro, who has minimized the gravity of the pandemic, for encouraging a return to normal life and work instead of waiting for a vaccine to be developed.
Infectious disease specialist Dr André Patricio Almeida, at Manaus' Heitor Vieira Dourado Tropical Medicine Foundation, said cases are rising again mostly among younger, wealthier people who go to bars who show milder symptoms but often infect older relatives who need to be treated in hospital.
Dr Almeida said too little is known about COVID-19 and whether re-infection is possible to verify if herd immunity was reached in Manaus, but some short-lived immunity probably had been attained.
He warned, "It's a bit premature to speak of herd immunity from a new disease that we are still learning about, but we are seeing people with mild cases that appear to have anti-body immunity that can last for 2-3 months."
In the case of a report about Japan , another half-baked study involving about non-credible Japanese researchers from a private clinic group serving certain companies simply did a survey of some of their clients employees totaling about 1877 staff and again simply used results from rapid test kits to make such premature deductions. Sadly the preprint study that was never peer-reviewed was covered by certain non-credible media, giving once again a dangerous false sense of SARS-CoV-2 immunity to locals there. The researchers also roped in fellow Japanese researchers from the U.S. to link the names of these credible institutions to the study but the institutions concerned have denied any involvement with the study or the study findings.
When reading articles mentioning herd immunity in the SARS-COV-2 context, always do due diligence.
For more about
COVID-19 Herd Immunity
, keep on logging to Thailand Medical News.