Could Canada's Recent Incident Of A Rare Strain Of Swine Flu H1N2 Found In A Human Have Originated From China?
Swine Flu
: On Wednesday, Canadian health authorities reported the country's first case of a human infected with the H1N2 virus, a rare strain of swine flu.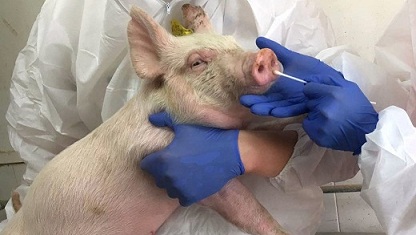 A Chinese pig being tested for swine flu. Credit: Honglei Sun
The isolated case was case detected in the western province of Alberta in mid-October and although Canadian authorities are refusing to divulge the details of the infected patient including nationality or ethnic background, local media sources are saying that the patient was of East Asian background with no further details emerging of yet as to whether the person had any recent travel history etc.
Local authorities are saying that the case appears to be isolated and there is no increased risk to Albertans at this time.
Health authorities in Alberta said, "This is the only influenza case reported in Alberta so far this flu season."
They added that the unnamed patient experienced mild influenza-like symptoms, "was tested and then quickly recovered. There is no evidence at this time that the virus has spread further."
Health authorities in Alberta in conjunction with Alberta Agriculture and Forestry are looking into where the virus came from, and to verify that it has not spread.
The last recorded incident of a human contracting the swine Flu virus outside of China as in Brazil in June 2020. The case involved a local Brazilian national working in a pig slaughter house run by Chinese nationals.
https://www.who.int/csr/don/09-jul-2020-influenza-a-brazil/en/
Health official said, "AHS will proactively offer influenza testing to residents in parts of central Alberta if they are presenting for COVID-19 testing at an AHS assessment centre. This testing will be optional and supports our ongoing influenza surveillance in the region. We are taking this seriously, but Albertans should know that sporadic cases of variant influenza have been reported over the past decade in North America. Variant Influenza A (H1N2) is rare with only 27 cases reported globally since 2005, and no cases in Canada prior to this one."
Although they said that since 2005 only 27 cases worldwide have been reported of people infected with the H1N2 not to be confused with the more common H1N1 swine flu virus. This figures are not reliable as many forms of swine flu has been erupting in China that is the birthplace of various virus diseases but the Chinese government has been concealing figures as usual from the international community.
Just this year alone a few cased of swine flu had emerged in China with even local media in China saying that humans were infected but there were cover ups.
https://www.thailandmedical.news/news/breaking-news-new-flu-pandemic-really-brewing-in-china-up-to-15-percent-of-pig-farmers-infected-with-new-swine-flu-g4-ea-h1n1-and-fast-spreading
&l t;br />
https://www.sciencemag.org/news/2020/06/swine-flu-strain-human-pandemic-potential-increasingly-found-pigs-china
The discovered strain in Canada ie H1N2 strain is not a food-related illness and it is not transmissible to humans by eating pork or other pig products, officials said.
Theresa Tam, Chief Public Health Officer of Canada, wrote on Twitter, "This a rare type of flu in humans, typically acquired from exposure to infected pigs and not known to spread easily from human to human." (
Note that this is what the WHO said about the SARS-CoV-2 coronavirus in the beginning ie that human to human transmission was not possible….look at where we are today!)
For more on the
Swine Flu
and the pigs in China, keep on logging to Thailand Medical News.