Coronavirus Headlines: COVID-19 Cases In Myanmar Surging, India Beyond Salvation, US On Suicide Course
Coronavirus Headlines
TM
:
COVID-19 Cases In Myanmar Surging, Country May Go Into Total Lockdown With Massive Restrictions.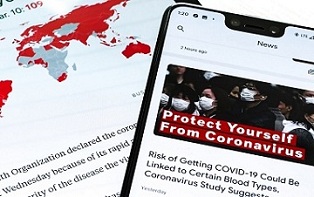 As cases are fast rising in Myanmar, its biggest city, Yangon is rapidly building new quarantine centers as it scrambles to contain the commercial hub's first significant coronavirus outbreak, with overworked medical staff fearing thousands more cases to come. Field hospitals are also being set up around the country.
Myanmar has one of the world's most impoverished healthcare systems, but had until recently remained relatively unscathed by the pandemic.
In August there were fewer than 400 total confirmed cases nationwide and just six deaths from the disease.
However the rising case numbers in the country's west (The state of Rakhine) quickly spread elsewhere and infection numbers have doubled every week.
Currently the official number of infections stand at 9991 and is expected to pass 10,000 in a few hours (currently 9,991 in the coming days with a current death toll of 174.
However it is being speculated that the true amounts could be as high as twenty fold in terms of both infections and deaths as there is a lack of test kits and testing facilities plus the country's healthcare and death reporting structure is simply primitive and not least accurate. In some cases the government has no access to data in some of the states and far areas controlled by various rebel groups or factions.
The city of Yangon has seen the vast majority of patients and is now back under a strict lockdown many fear will devastate the livelihoods of the city's poorest inhabitants.
As of date, more than 7,000 people have been quarantined in the city, and state media reported Saturday that seven new facilities had been built to isolate another 10,000 people.
Dr Ye Nyi Nyi Htut, a doctor in a city clinic in Yangon told media, "We estimate there could be more than 10,000 suspected cases out there. Also medical staffs around Yangon were 'exhausted', and there is a shortage of hospital beds and medical supplies."
Locals have been told to stay at home unless working in certain key industries or shopping for food or medical supplies. Domestic travel out of the city is forbidden and a ban on international commercial flights has been extended until the end of October.
An official document leaked this week showed the government was even making preparations to "distribute basic foods" to the city's 7 million people, sowing fears an even stricter lockdown could be on the cards.
Tens of thousands of individuals in Yangon scrape a hard living as street vendors and some have ignored the lockdown to continue plying their trade, insisting that they need money to feed their families.
A street vendor told media, "We only have two options: staying at home and dying or selling things on the street and dying. I'm choosing the second."
The Myanmar government has insisted that national elections will go ahead as scheduled on November 8.
India Now Is Beyond Salvation In Terms Of The COVID-19 Crisis Thanks To Inadequate Preparedness And Mentality Of The Government And Locals
Various stupid media was reporting in the last 48 hours that India COVID-19 cases were on a decline despite daily 24 hours figures showing a constant range of always above of more than 85,000 cases per day for the last week. Some of these stupid Indian reporters writing for international wire agencies and media will look at spike in cases ie on days when figures reach like 92,000 or 90,000 and when it drops to ranges between 85,000 to 89,000, they will write blaring headlines saying that cases are declining without comparing the testing figures. In fact testing has gone down in certain places due to lack of test kits and labs being overwhelmed.
Not reporting details properly give a false scenario to the locals who might end up being complacent.
India's total COVID-19 infections now stand at 5,993,815 and within the next few hours will cross the 6 million mark. The total number of Indians who have died so far is 94,568. A more realistic figure according to various Indian researchers and healthcare professionals is that about 40 million Indians are now infected with the COVID-19 disease and at least more 250,000 Indians have died so far from the SARS-CoV-2 coronavirus (roughly about 7 fold for infections and two and a half times for deaths . The reasons for the discrepancies for the official figures are a lack of testing, lack of proper reporting protocols and collation of data and also a concerted effort to conceal figures by various state governments based of directives from the federal government and the ruling political party coupled with the fact that security issues are now being invoked about the release of true official figures as India is afraid of its traditional border enemies ie Pakistan and China taking advantage of the vulnerable situation the country is in.
There is also no point talking about recovery rates as there is no such thing as real recovery ad most of these so called 'recovered' patients will experience long term health complications like myocarditis, heart issues, kidney injuries and failures, chronic fatigue, liver and digestive tract issues, strokes various neurological issues etc, all of which India's healthcare infrastructure is not even equipped to handle any more!
India's healthcare system has already collapsed as there are no longer any hospital beds available and ICU units are in dire shortage along with various medical equipment and even a shortage of health personnel now ie doctors and nurses and laboratory technicians.
The disease is now fast spreading everywhere not just in the rural cities and towns but also back in the major urban cities like Bengaluru, Chennai, Mumbai etc
There are also speculations that India will be the birthplace for newer SARS-CoV-2 strains with unique characteristics and also the emergence of more cases of multi-strain infections
, reasons behind this are the mentality of both the government and also the people. There are no proper quarantines in place or they are not being enforced properly and locals lack discipline. You can actually see people tested positive in certain states still going about their daily routines without caring for others or themselves. Coupled with the fact there are already a few different strains emerging in India right now and already cases of multi-strain infections being reported ie a person with two different SARS-CoV-2 strains in their bodies and suffering more severe conditions, there is little hope left for the country as we will see in the next few months while the COVID-19 pandemic plays out.
America On A Suicide Mission
Trump's ally, Florida Governor Ron DeSantis Friday scrapped COVID-19 restrictions on bars and restaurants the same day the US state saw 122 deaths topping 14,000 dead.
The recent executive order signed by DeSantis, a staunch Republican ally of President Donald Trump, "removes state-level restrictions on businesses, such as restaurants."
The order reads in part, "Floridians and business owners need certainty and the ability to provide for themselves and their families."
The new order says that restaurants may not be limited by any local government COVID-19 emergency order "to less than 50 percent of their indoor capacity."
It also ends the collection of all outstanding fines and penalties relating to COVID-19 restrictions.
DeSantis told reporters "In the state of Florida everybody has a right to work in St. Petersburg, where he announced the measure."
The state of Florida is one of the epicenters of the novel coronavirus pandemic in the United States. There have been nearly 700,000 cases of COVID-19 and more than 14,000 have died from the virus, according to the state Department of Health.
Many states are following Trump's directives to remove lockdowns and restrictions and to resume all universities and schools.
Trump has now indirectly 'seized control' of the US FDA, US CDC and The NIH and even media (except hardcore CNN that tends to overdo things sometimes!)
His strategy is to downplay any seriousness of the COVID-19 pandemic, give false hopes via drugs that have no efficacy and vaccines that will be ineffective and might cause more harm as they are developed and tested in a way that makes no logical scientific sense (we are not anti-vaccines, rather on the contrary we truly believe in vaccines provided they have been developed and tested the right ways with full transparencies.)
America is downhill path and it is expected that in the next few months more will get infected and more will die, not just the elderly but the young and children as well. One cannot just blame the government or even Trump as it's the majority of the Americans and their mind set that is to be blamed. They despise all other countries medical prowess especially the East and denounce any use of herbs, supplements and repurposed drugs as they still insist that only their American media supplies the truth and facts and that their health agencies knows best.
As of Sunday, officially almost 7.08 million Americans have been infected with the SARS-CoV-2 coronavirus and 204,710 American have died from the COVID-19 disease and about 12,450 Americans are in critical conditions ie in ICU units.
For more
Coronavirus Headlines
TM
, keep on logging to Thailand Medical News.