China And WHO Should Be Held Accountable For Allowing The Spread Of The Coronavirus Worldwide
Government officials, politicians and organizations worldwide especially in Europe, US, Australia and Asia are now calling for the Chinese Government and also the WHO (World Health Organization) to be held accountable for allowing the
Coronavirus

Epidemic
to escalate and spread worldwide while announcing publicly that they had things under control.
The
coronavirus

epidemic
as of Saturday morning has now spread to more than 34 countries with over 250 confirmed infected cases while the numbers are now increasing by the hour. Thousands more suspected cases are either awaiting tests to be done or are awaiting test results.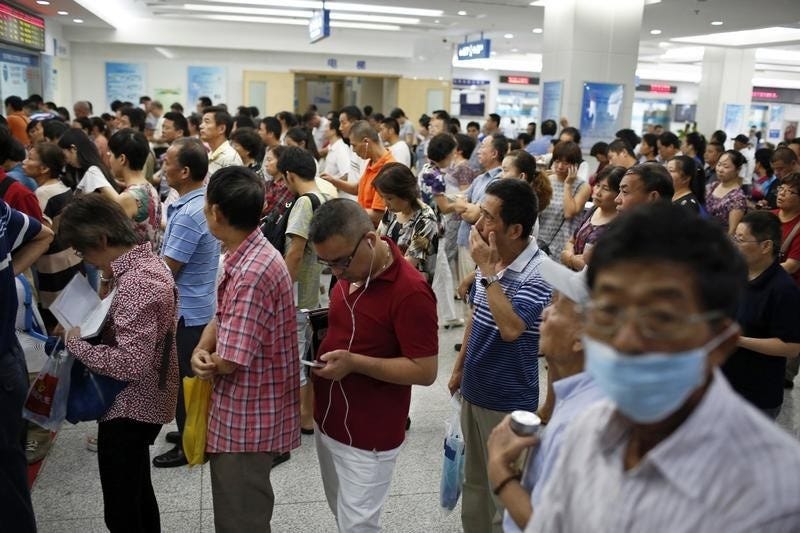 People trying to get a queue at a private hospital in Shanghai at 2am in the morning.
It has been estimated that from the 15
th
of December to 27
th
of January 2020, more than 6 million Chinese had left the country and travelled worldwide of which about 1.14 million alone were from the
Wuhan
, the epicenter of the virus outbreak.
The Chinese authorities were slow to react even when the virus first emerged in middle of December 2019 and even in the first three weeks of January when things were escalating, they did very little to control the situation and neither did they stop their nationals from travelling overseas to contain the outbreak. According to a US Senator who wished to remain anonymous, it seemed that it was a deliberate attempt by the Chinese Government to actually allow the spread of the
coronavirus
wordwide.
Despite repeated assurances by Chinese Government officials that they have the situation under control, it all seems as blatant lies as the
coronavirus

epidemic
in China itself is escalating out of proportions with the government not able to contain it. The coronavirus has now spread from Hubei to every province in China with certain provinces now on the verge of becoming similar to Hubei. Death rates are increasing day by day even with the manner of reporting that they are conducting in order to keep figures seem low while the number infected is increasing on exponential levels. Hundreds of thousands of Chinese all over China are exhibiting the symptoms but have yet to have the test done to confirm whether they are having the
coronavirus
or not, while there is also an acute shortage of test kits, PCR machines, assay reagents etc. Hospitals countrywide are facing medical supply shortages and even drugs such as NSAIDs are in short supply let alone the antivirals like Lopinavir / Ritonavir which is being used to treat the disease.
Nothing seems to be look as if it is under control in China except for controlled movements and empty roads. Building two new hospitals in a few days to accommodate another 2,600 patients in just Wuhan alone is not a sign that they have anything in control. One local Chinese doctor said that the new hospitals would most probably be used as either mortuaries or ICU wards (that is if they have su fficient right medical equipment) for the many who are now in critical conditions.
Many are also asking for officials from WHO to step down as some had been too complacent and have been constantly saying and praising China for having things under control when it is far from it.
Many governments are no longer listening to WHO recommendations are initiating their own travel stoppages and also border closures.
The US, UK, Taiwan, Hong Kong, Indonesia, Vietnam japan, Korea, Italy, UAE, Qatar, Philippines, Singapore have all stopped Chinese nationals from entering their countries.
Thailand
however is one of the few countries still accepting Chinese travellers as they are desperate for the tourist dollar.
More than 52 airlines have also announced stopping all flights to and from China.
Individuals worldwide developing a growing disdain for the Chinese cannot be blamed as the Chinese have not been responsible themselves and have travelled to every country in the world to spread the
coronavirus
. Almost 85 per cent infected cases worldwide are all Chinese Nationals who have been spreading the virus to local natives of every country that they have been to.
Also disturbing now is that it is emerging that in many countries, infected Chinese are now going under hiding which could even exacerbate the situation. Some as a result of their tourists visa expiring are going underground as they do not want to return back to China where the situation is far worse.
It is expected that by mid-February 2020, the number of deaths and infected by the
coronavirus
both in China and worldwide would be phenomenal. Some are setting benchmarks such as if the number of deaths were to hit a thousand in China by then and the number confirmed infected in China alone was to reach 50,000 (in reality it has already reached far more than that its just a lack of diagnostic test kits that is holding this figures from being released) and if worldwide infections were to reach 2,000, by then, at least the officials concerned for saying that they have everything in control should honorably resign or step down.
For more updates about the
China

coronavirus

epidemic
or the
Coronavirus Thailand
scenario, keep on checking at :
https://www.thailandmedical.news/articles/coronavirus