Chancellor Angela Merkel Concerned About COVID Resurgence In Germany Fueled By Delta Sub-variants Including AY.4.2, AY.25 And AY.33
Germany's COVID-19 News
: Angela Merkel, Germany's Chancellor sounded the alarm on Saturday over the return of a "certain degree of laziness and recklessness" as COVID-19 infection and death rates climb in Germany.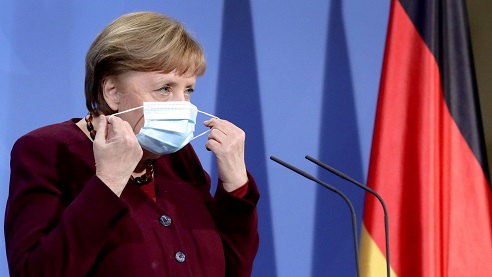 It was reported that more people in Germany are infected with the SARS-CoV-2 coronavirus than at the same point in 2020: according to the federal government's own data 205,700 people were infected on 29 October 2021 compared with 131,541 people on 29 October 2020
With 75 deaths reported on the 29
th
of October, the rolling seven-day average of deaths linked to the coronavirus in Germany is also higher than a year ago, when it was 44.
Alarmingly, the number of COVID-19 patients in intensive care beds is roughly on a par with October 2020 levels, with 1,868 patients registered on Friday.
In the autumn of 2020, cases kept on rising in spite of "lockdown light" restrictions, until hospital bed occupancy peaked, with about 5,700 cases being treated in the first week of January.
Dr Gerald Gass, chairman of the German Hospital Federation told Thailand
Medical News
, "We are at a critical stage of the pandemic. If this trend persists, we will be back to 3,000 patients on intensive care within two weeks."
The health ministry of Germany said it was confident that clinics in the country would not have to invoke triage, when acute care cannot be provided to every patient in need because of lack of resources.
Although levels of compliance with hygiene restrictions such as mask-wearing on public transport is high, Germany and its southern neighbor Austria lag behind other western European nations on vaccination rates.
Only Sixty-six per cent of Germany's population is fully vaccinated, compared with 68% in France, 71% in Italy and 80% in Spain.
Merkel told media on Sunday, "Increasing numbers of hospitals admissions with coronavirus worry me a lot."
"It should worry all of us," she added, noting "again a certain recklessness" in Germany.
Merkel defended the right not to be vaccinated but admitted at being "very saddened" that as many as three million Germans aged over 60 have still not had the jab.
She said, "It could make a difference, for these people and the whole of society."
Merkel, who steps down soon after 16 years in office is extremely worried as Germany is poised to enter a fourth wave in the COVID-19 and it seems that this time round, its going to be far worse.
COVID-19 Infections took off with the arrival of autumn and on Saturday the Robert Koch health institute (RKI) reported 21,543 new cases and 90 deaths over the previous 24 hours.
The country's seven-day coronavirus incidence rate crossed 145 infections per 100,000 people on Saturday, after hitting 100 a week before for the first time since M ay.
The COVID-19 vaccination campaign is marking time with RKI counting 55.5 million Germans fully vaccinated against COVID, or 66.7 percent of the 83 million population.
Doctors and local healthcare staff have reported a new influx of infected people into hospital, mostly unvaccinated.
The president of the German society of hospitals Dr Gerald Gass said the number of COVID patients entering hospital had jumped 40 percent in a week.
Dr Gass added, "If this continues, we will soon have 3,000 patients in intensive care and that would lead to restrictions on the normal functioning of hospitals such as delays for operations."
Interestingly in a Forsa survey carried out for the health ministry and published Thursday, 65 percent of unvaccinated respondents declared there was "no way" they would take a COVID jab and 23 percent were "reluctant". Some 89 percent said the risk of intensive care wards being overwhelmed had no influence over their readiness to be vaccinated.
According to local German researchers, a variety of Delta sub-variants are fueling the new surge in Germany including the AY.4.2 subvariant, AY.25 and AY.33 sub-variants.
The most worrisome Delta-sub-variants are those originating from the AY.4 lineage including the sub-variant AY.4.2
Given its rise to dominance in the UK, Germany and elsewhere in Europe, the AY.4 lineage might well have a selective advantage. The defining change in AY.4 is the mutation A1711V, which affects the virus's Nsp3 protein, which plays a number of roles in viral replication. However, the impact of this mutation is unknown.
This brings us to AY.4.2- a sub-lineage of AY.4 - which was first noted at the end of September, though it appears it surfaced in the UK around June. It's defined by two additional genetic mutations, Y145H and A222V, that affect the spike protein. The spike protein is a key part of the virus's outer surface, and is the part of its structure that it uses to get inside cells.
The AY.4.2 has grown steadily in volume to the point where it now accounts for about 9% of UK cases in the last 28 days. In Germany it is accounting for almost 25 % of all new cases. It has also been observed in a few European nations: Denmark and Ireland, to name a few.
Whether its two mutations offer the virus a selective advantage is unclear as well. A222V was previously seen last year in the B.1.177 lineage that probably emerged in Spain and was then spread across northern Europe, most likely by holidaymakers. At the time, many were sceptical that A222V conferred an advantage. Indeed, the increase in the form of the virus that's become known as AY.4.2 seems to have only occurred since it acquired its Y145H mutation.
Significantly, this mutation is within an "antigenic supersite" of the spike protein – a part of the protein that antibodies frequently recognize and target. We know that this part of the spike protein has already been modified once before by a mutation in delta's genetic material, and that this possibly contributes to delta's greater ability to escape immunity, as antibodies have a harder time targeting it as a result. However, the research exploring this is still in preprint, meaning it is yet to be formally reviewed, so we need to treat its findings with caution.
https://www.biorxiv.org/content/10.1101/2021.08.11.455956v2
For the latest
Germany's-COVID-19-News
, keep on logging to Thailand Medical News.