BREAKING! Two Studies Published In The New England Journal of Medicine Say Pfizer Vaccine Protections May Wane After Two Months!
In a surprising new development, the elites controlling the narratives of the COVID-19 pandemic allowed the study findings of a two vaccine research investigations, one by scientists from Qatar and the second by researchers from Israel that alarmingly indicated that protection from the US COVID-19 vaccine by Pfizer may wane after only two months!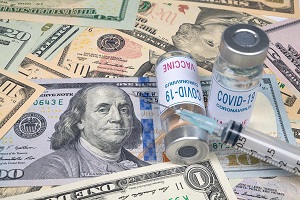 The studies were published in the peer reviewed
The New England Journal of Medicine
.
https://www.nejm.org/doi/full/10.1056/NEJMoa2114114?query=featured_home
https://www.nejm.org/doi/full/10.1056/NEJMoa2114583
We suggest that readers quickly access these studies as already on a completely different subject that we covered in the last 48 hours ie monoclonal antibodies that corrupted US agencies are promoting which are actually driving mutations and emergence of variants, the supporting study was shadow banned while one of the U.S. social media platform that is managed regionally by bastard Indians and Singaporeans had taken down our article covering that study.
https://www.thailandmedical.news/news/hilarious-study-confirms-monoclonal-antibody-treatments-are-driving-emergence-of-antibody-resistant-variants-but-corrupted-us-agencies-are-promoting-t
However, in a related development in the last 24 hours, the U.S. Assistant Secretary for Preparedness and Response (ASPR) issued a pause on the usage of the monoclonal antibodies
bamlanivimab/etesevimab
as the latest findings show that the Delta subvariant AY.1 is resistant to these monoclonal drugs.
https://www.phe.gov/emergency/events/COVID19/investigation-MCM/Bamlanivimab-etesevimab/Pages/Update-8Oct2021.aspx
Importantly what they stopped short of saying are what the new Delta AY.12, AY.29, AY.33 and AY.41 variants are resistant to and also their pathogenesis and clinical manifestations. (Thailand Medical News is confident that as these sub-variants become dominant, those controlling the COVID-19 narratives will no longer be able to withhold these information and data.)
Coming back to the Pfizer vaccine studies, the two new study findings studies show that the protection from Pfizer's COVID-19 vaccine may begin to wane against infection after 2 months, but the researchers still claim it still prevents hospitalization and death for at least 6 months!
These two new study findings support what Pfizer, the U.S. CDC, and top health officials have said in recent weeks: Initial protection against getting the coronavirus itself may drop over time, but individuals who get the vaccine avoid the worst effects of severe disease. (It might be really difficult auditing t his claim though as we have seen fully vaccinated individuals still getting severely ill and even dying but real figures on these occurrences are not being properly disclosed.)
For the first study, scientist from Qatar estimated vaccine efficacy against SARS-CoV-2 infection and severe, critical, or fatal cases between Jan. 1 and Sept. 5 2021. They based their study findings on infections among 900,000 vaccinated people in Qatar.
The study found that after the first Pfizer dose, protection against infection was "negligible" for the first 2 weeks but jumped to about 37% in the third week. Protection then reached a peak of about 78% in the first month after the second dose.
However, efficacy fell gradually after that, with the decline speeding up after the fourth month. For some individuals who got the vaccine, protection dropped as low as 20% between 5 and 7 months after the second dose.
Corresponding author, Dr Laith J. Abu-Raddad, Ph.D. from Weill Cornell Medicine-Qatar told Thailand Medical News, "These study findings suggest that a large proportion of the vaccinated population could lose its protection against infection in the coming months, perhaps increasing the potential for new epidemic waves."
The study team further stated that the effectiveness against symptomatic infection was higher than the effectiveness against asymptomatic infection, but both rates waned over time. A similar pattern was seen for the different variants, including the Beta and Delta variants.
The study findings showed that effectiveness against severe, critical, and fatal COVID-19 cases increased to 66% by the third week after the first dose and reached 96% in the first 2 months after the second dose. The protection lasted at this level for about 6 months.
Dr Abu-Raddad further added, "Protection against SARS-CoV-2 infection appeared to wane rapidly following its peak after the second dose, but protection against hospitalization and death persisted at a robust level for six months after the second dose".
Interestingly in the case of the second study by scientists from Israel, the study team looked at COVID-19 antibodies among more than 4,800 health care workers who were tested regularly after vaccination. Among those, 20 had breakthrough infections.
The study team found that the level of antibodies circulating in the blood decreased at a consistent rate over 6 months. The level of neutralizing antibodies, which correlates with protection, decreased rapidly in the first 3 months but then slowly declined after that.
Interestingly the study findings found that six months after the second dose, neutralizing antibodies were substantially lower among men than women. They were also lower for people ages 65 and older and those with weak immune systems.
Also interesting was the fact that neutralizing antibodies were significantly higher in those who had a body mass index of 30 or above. But the researchers said it's unclear whether the higher level is more protective and whether vaccinated obese people face higher or lower risks for breakthrough infections.
Corresponding author, Dr Regev-Yochay from the Sheba Medical Center Tel Hashomer-Israel commented, "As this pandemic continues to evolve, the importance of determining immune correlates of protection after vaccination becomes clearer. Strategies to prolong host immunity need to be evaluated in order to protect the population against SARS-CoV-2 and its variants."
For more about vaccines, monoclonal antibodies and trash on the U.S. Health agencies, keep on logging to Thailand Medical News.
(Important Warning! No matter whatever is covered in the article above or other articles by TMN, all individuals are advised to get vaccinated fast with the COVID-19 vaccines so that mandates and lockdowns will be eased!)