BREAKING! SARS-CoV-2 BA.5 Variant Spawns A Concerning Divergent Subvariant BA5.3.1.1. That Scientist Have Now Renamed As The BE.1 Sub-lineage
It has already been well known that in the last few months, there has been a concerted effort by those controlling the COVID-19 narratives to block public access to data with regards to emerging SARS-Cov-2 variants and also other emerging virus strains or to delay the release of such information to the public. Some of the strategies being deployed include the threat of stoppage of funding to researchers and owners of public sharing platforms involving genomic sequencings data that do not comply.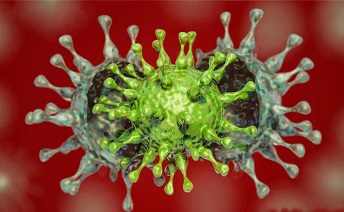 Hence many are not aware of the emergence of new Delta third and fourth subvariants in parts of Middle-east and Africa neither are they made aware of concerning BA.1 and BA.2 subvariants with new mutations that have emerge in Taiwan and Hong Kong that utilize new chemokine receptors to enter the CNS system and brain directly! Similarly, a totally new SARS-CoV-2 variant has emerged in parts of United States including Montana, Nebraskas, Washington and Michigan. Interestingly, a couple of reassortant strains have also emerged in Denmark and the African Continent but the researchers have not made any data publicly available yet. (Note the same scenario happened to the mink variants in Denmark which the data was made public months later and also in a way that did not attract much public attention!)
However, in this scenario, those involved were not able to control the data as too many genomic sequencings across the globe are showing the same concerning BA.5 subvariant emerging ie the BA.5.3.1.1 variant that scientist have now renamed as the
BE.1 sub-lineage
as a result of its divergence from the previous Omicron variants.
Already the BA.2 variant which as many different antigenic and pathogenic properties has been of the concern as it is more immune evasive, more transmissible and itself along with emerging subvariants were also able to cause a lot more of health complications despite many healthy individuals initially displaying asymptomatic or mild symptoms.
The subsequent debut of the BA.4 and BA.5 variants which are even more pathogenic, immune evasive and transmissible with the ability to increase risk of mortality has only just started to spread and globally and their surges are expected shortly after the BA.2.12.1 waves. (Except in South Africa where the BA.4 and BA.5 waves are already affecting the locals.)
https://www.biorxiv.org/content/10.1101/2022.05.26.493539v1
https://www.biorxiv.org/content/10.1101/2022.05.26.493517v1
https://www.biorxiv.org/content/10.1101/2022.05.21.492554v1
However, these BA.4 and BA.5 variants are themselves also spawning newer subvariants to not only fight the various antivirals and monoclonal therapeutics being used besides the antibodies generated by the current vaccines and natural immunity but also in ways to affect more cellular pathways in the human host.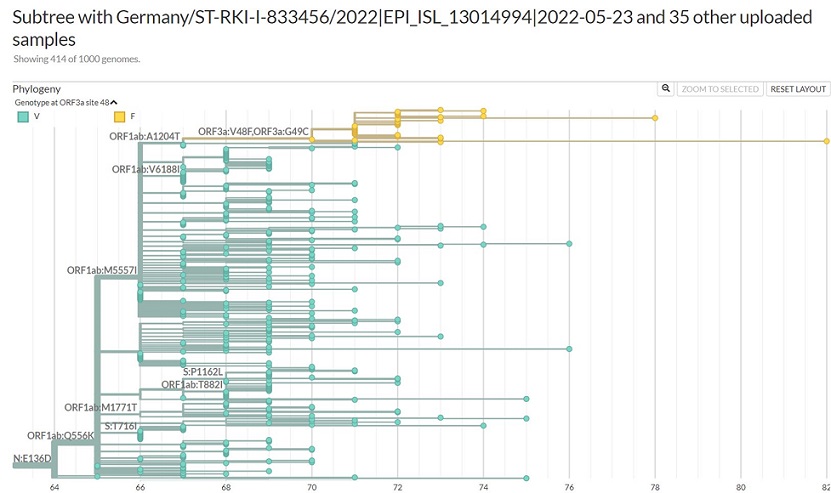 The defining mutations for the new BE.1 sub- lineage are ORF3a:V48F and ORF3a:G49C.
Other mutations found on the BA.5 subvariant included N:E136D, ORF1a: Q556K, ORF1b:M1156I, ORF1a:A1204T.
The BE.1 sub-lineage to date has been though to have originated in South Africa is now found in United Kingdom (the new hub for all sort of new viruses and diseases!), Australia, United States, Germany and Denmark.
https://github.com/cov-lineages/pango-designation/issues/696
The new BE.1 variant is thought to have a growth advantage of 24% or more!
https://cov-spectrum.org/explore/Australia/AllSamples/Past3M/variants?aaMutations=orf1a%3Aq556k%2CN%3AE136D%2CS%3AL452R%2CS%3AF486V%2CM%3AD3N%2CORF1b%3AM1156I&aaMutations1=orf3a%3A49c%2Corf3a%3A48f%2Corf1a%3Aq556k%2CN%3AE136D%2CS%3AL452R%2CS%3AF486V%2CM%3AD3N%2CORF1b%3AM1156I&analysisMode=CompareToBaseline&
Based on preliminary data, the mutations on this sub-lineage is possibly capable of more damage to the host immune system!
So besides being more immune evasive to vaccines, current monoclonal therapeutics and natural immunity, it could possibly cause more damage to the immune system of the human host!
To date, a majority of the sequencings that show this new sub-lineage are from patients who are hospitalized and exhibit disease severity!
It will be fun in coming weeks as this new
BE.1 sub-lineage
spreads globally and gains predominance in circulation.
Thailand Medical News will continue to provide more updates latest research data on the new
BE.1 sub-lineage
.
For more on the
BE.1 Sub-lineage
, keep on logging to Thailand Medical News.