BREAKING! SARS-CoV-2 BA.5 Variant Could be More Neuropathogenic! Urgent Studies Warranted To Assess Long COVID Threats To The Brain And CNS.
Neuropathogenic BA.5 Variant
: Despite studies showing that the BA.5 variant has switched to utilizing the TMPRSS2 proteins more efficiency to gain entry into the host cells and has a tropism towards the lung tissues, we are not witnessing a great increase in numbers of those infected developing ARDs or pneumonia and requiring supplemental oxygen or the need for ventilators except for those who are in the vulnerable groups ie the obese, the aged and those with existing comorbidities.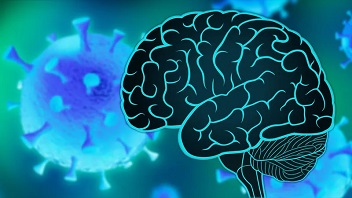 Yes, hospitalizations are increasing in many countries where the BA.4 and BA.5 variants are increasing in circulation but alarmingly most of these hospitalizations are due to an increase of patients exhibiting symptoms similar to meningitis or viral encephalitis.
There are now speculations that the BA.5 variant and its numerous emerging subvariants could be more neuropathogenic ie have enhanced capabilities to spread to and infect the brain and other parts of the central nervous system!
Some of the symptoms that patients are reporting are similar to meningitis ie meningitis is an infection of the protective membranes that surround the brain and spinal cord (meninges) or similar to encephalitis ie brain inflammation and swelling.
Besides symptoms of headaches, cognitive decline, confusion, stiff necks and nerve pains, many patients are reporting sudden high fevers, lack of appetite, sensitivity, difficulty in speaking and even skin rash in some cases.
Some hospitalized have also experienced seizures with brain MRI confirming viral encephalitis!
Even those with mild symptoms are experiencing lots of neurological symptoms especially headaches, stiff necks, body aches and confusion from infections with this new
Neuropathogenic BA.5 variant
including short term fevers.
Urgent investigations are warranted to validate if the new BA.5 variants are indeed more neuropathogenic and to understand the long-term health effects that this variant may cause.
Already it is known that the SARS-CoV-2 causes a wide range of neurological issues ranging from strokes to increasing the risk of developing Alzheimer's disease and also Parkinson's disease and other neurodegenerative issues either directly or indirectly via activation of various cytokines.
A more neuropathogenic variant could be more devastating for the long-term health of even for those who were asymptomatic or only had mild symptomatic conditions upon infection with this new variant.
Furthermore, with growing evidence that the new BA.5 variant can evade both natural immunity an even vaccine induced immunity more effectively while also highly effective at disarming the body's immune responses, viral persistence is going to be a common occurrence for the majority. Viral persistence with a variant that is more neuropathogenic is a serious problem!
Thailand
Medical News
will be continuing to report on this development.
For more about the
Neuropathogenic BA .5 Variant
, keep on logging to Thailand
Medical News
.