BREAKING! Report Claims That During COVID-19 Pandemic In Singapore, Up To 60 Percent Of Excess Deaths Was Due To SARS-CoV-2!
A new startling report issued by the Ministry of health in Singapore has shown that nearly three in five or 60% of all "excess deaths" in Singapore during the COVID-19 pandemic was directly caused by the SARS-CoV-2 coronavirus, and the remainder were patients who had died of other illnesses within 90 days of being infected with the same SARS-CoV-2 virus!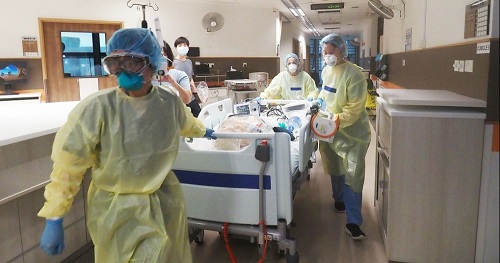 The report was released in the last 24 hours and recorded an estimated 2,490 excess deaths during the pandemic from January 2020 to June 2022.
https://www.moh.gov.sg/docs/librariesprovider5/resources-statistics/reports/report-on-excess-mortality-during-the-covid-pandemic-18sep2022.pdf
It should be noted that Singapore has one of the few transparent governments in the world that has been very open and truthful about the COVID-19 situation to its citizens since the very start of the pandemic and had managed the crisis in a very credible and commendable manner.
The report added that a total of 1,403 Singapore residents died from COVID-19.
In the report, it was defined that the term "excess deaths" referred to the increased death rate during the pandemic, compared to the rate expected in the absence of a pandemic.
The report also indicated that two in five or 40% of excess deaths were individuals who had died from other illnesses after being infected with the SARS-CoV-2 virus.
Indirectly, this meant that the COVID-19 disease aggravated existing illnesses, resulting in death according to the report.
The Singapore Health Ministry noted that compared to other countries, Singapore managed to keep its COVID-19 death toll low.
Singapore health officials also said that the report also explored other possible reasons for the excess deaths such as the pandemic changing people's "health-seeking behaviors", such as putting off health screenings, routine check-ups and medication for chronic illnesses.
However, a more significant explanation as covered by the report is death due to underlying medical conditions made worse by the SARS-CoV-2 infection.
The report stated that "The gap between (the) official death toll and estimated excess deaths can be explained by deaths in patients recently infected with COVID-19 in the past 90 days. "
The report also stated that among COVID-19 deaths, individuals who were not fully vaccinated were "over-represented", accounting for 28 per cent of deaths occurring in the first half of this year, even though only about 5 per cent of the eligible population had not been fully vaccinated as of mid-March.
The Singapore Health Ministry also told Thailand
Medical News
that while Singapore's public hospitals were strained during the pandemic,there were sufficient intensive care beds to be able to support patients with other urgent medical needs.
However, the Singapore Health Ministry urged the public t o "be mindful that when healthcare capacity is overburdened during a pandemic, it will have very adverse impact on health outcomes from other diseases. As such, preserving healthcare capacity and ensuring that our healthcare workers are well-resourced remain priorities".
It should be interesting to see what the detailed profile of excess deaths are like during the last 33 months In Thailand…that is if there are any competent professionals capable of doing such detailed cum accurate monitoring and analysis! Any the moment, even the daily COVID-19 statistics released each day is already accepted as simply fake news by many. There are also occasional coverages by garbage media featuring so called local 'experts' making stupid claims about things they do not know or can even comprehend about! A recent example is some 'expert' claiming that there is no need to worry about the new SARS-CoV-2 variants like BA.2.75 and the BA.2.75.2 sub-lineage as they are mild! We must also not forget, in the early days of the start of the pandemic, many of these Thai 'expert's hilariously announced they found a cure for COVID-19 and most recently concerning the established fact of favipiravir's inability to treat COVID-19, some local 'experts' now claim that Thailand's research and studies are far more 'superior' than that of the countries like the United States, Brazil, etc and that the teratogenic, nephrotoxic and hepatoxic drug favipiravir has efficacy against the SARS-CoV-2 virus based on a small Thai study despite other much more larger and professional international studies showing otherwise! (There are speculations that maybe certain politicians have a vested interest in the usage of the drug despite its inability to treat COVID-19!) Soon some of these local Thai 'experts' will also make claims that they were the first to discover and document Modern Medicine!
For the latest on
COVID-19 Excess Deaths
, keep on logging to Thailand
Medical News
.