Breaking News! CHINA LYING AGAIN? Number Of New Coronavirus Cases Drops To Only 349 While Death Toll is 2124
China has announced that it has changed its counting method for new confirmed
coronavirus
cases as it revises its diagnostic criteria which now discards all CT scans as an additional means of verification and reverts back to only traditional nucleic acid tests (NATs) ,this despite the fact that many false negatives were noted by the previous method.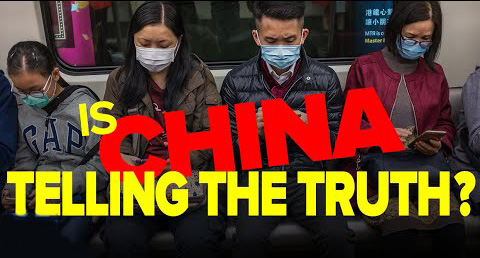 Many Chinese doctors were dismayed by the announcement and said that this is one way that the Chinese government can protect itself while perhaps lying to the world that the situation is getting better because as long as a death or infection occurs but is not tested positive as being due to the new
coronavirus
, it can be classified as anything else from respiratory failure to organ failure to literally anything else.
One Chinese researcher from Shanghai described the new method as not medically full-proof. He also warned that many Chinese citizens would most probably "disappear" from the statistics as large numbers of people nationwide were detained by authorities in the last 48 hours if they looked sick.
Only a day before, a new study by Imperial College, London estimated the number of
coronavirus
infected cases in China could be as high as 19 times more than reported. The report also said that China was grossly under reporting figures.
Many are speculating that China is trying to conceal the actual situation as its facing massive economic losses and is desperately trying to revive its economy.
The Chinese health authorities announced the new number of
coronavirus
infected cases in the last 24 hours as only 349, a sharp contrast from yesterday's figures of nearly 1,700 while it said the death toll is now 2114.
WHO officials have yet to comment on these new developments but most probably its director –general, Ethiopian national, Dr Tedros Adhanom Ghebreyesus would most probably be praising China for its new method of reporting and controlling the number of infected cases!
Meanwhile, European and American politicians are scrambling to issue more stringent measures to prevent the spread of the
coronavirus
into their own countries.
New travel advisories are expected to be announced in text 48 hours by the US, Canada, European countries, Middle-East countries and also India with regards to China and also other high risk countries such as Japan, Singapore etc.
For more updates on the
coronavirus
, check out:
https://www.thailandmedical.news/articles/coronavirus