Breaking News! Coronavirus Cases Emerging All Over Prisons In China, 460 Confirmed Cases In Just Three Provinces With Tens Of Thousands Suspected Of Cases In Prisons Nationwide
China
authorities had more than a dozen prison and justice department officials in three Chinese provinces removed from their posts on Friday, after the prisons reported altogether 460 new cases of the SARS-CoV-2
coronavirus
infection on late Thursday, which epidemiology experts say revealed the blind zones in the national campaign against the
coronavirus
epidemic.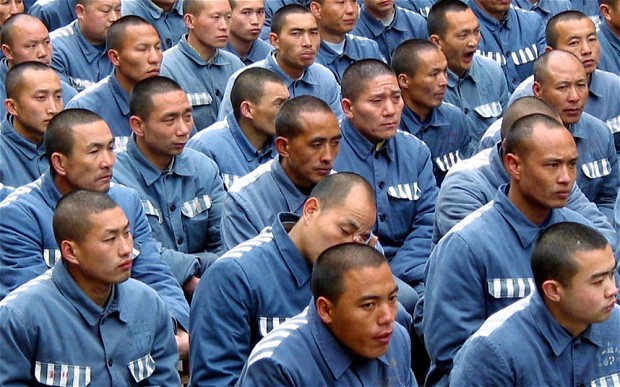 Shandong province reported 202 confirmed cases in Rencheng Prison. Zhejiang province reported 28 cases from Shilifeng Prison. The risks of virus transmission through clustering have been exposed in
China
as prisons with closed spaces and large number of inmates could easily lead to multiple
coronavirus
infections.
In Hubei province, 230 confirmed
coronavirus
infections were detected in Wuhan's women prison.
These are only a few prisons that have been inspected in the three provinces, there are lots more prisons that have yet to have been inspected in the three provinces.
Only about 18 % of the prisons in these 3 provinces have been inspected and even then, only a small percentage of the whole prison population in these inspected prisons had been subjected to testing as only those in severe conditions were first prioritized.
Conservatively,
China
has a prison population of about 3.2 million people in in over 8725 detention centers or prisons nationwide as of 2018.
An prison warden in Southwest
China
who requested anonymity told Thailand Medical New's stringer that prisons are vulnerable to epidemics due to inmates clustering in small and closed spaces and weak medical services.
The warden said, "It's not easy to detect suspected patients and cut off the transmission channels in a timely manner with poor medical facilities in prison."
In the province of Zhejiang, all confirmed
coronavirus
patients in the prison have been sent to hospitals for treatment and no deaths have been reported in the prison, according to Zhejiang's provincial government. The prison has been under lockdown to prevent further spread of the virus.
Rencheng Prison in East China's Shandong Province has reported a total of 207 confirmed patients including seven police officers and 200 prisoners. Among them, 200 were reported on Thursday alone, and the total new confirmed cases in the whole province stood at 202 on Thursday. (
again this was not reported in China health authorities total figures on Thursday or Friday
)
It was reported that the Party chief of the Shandong Provincial Department of Justice has been removed from the post for failing to properly prevent the spread of the
coronavirus
t;in Rencheng Prison.
Currently, among 200 prisoners who were confirmed to have been infected with the virus, 125 are mild and 75 are normal. There are no severe and critical cases. The diagnosed police officers are also light, normal and all patients have stable vital signs, said Shandong health commission director at press conference on Friday.
During the press conference, Wu Lei, vice Party secretary of Shandong provincial department of justice and director of the Shandong Provincial Prison Authority, said that a police officer on duty at the Rencheng Prison was receiving treatment and quarantined by a hospital after cough on February 12 and was confirmed infected the next day. Another officer in preparation of duty was also confirmed infected the same day.
From the daily press briefings by various other agencies and provinces in
China
, it is very apparent that the daily figures issued by the China's Federal government on the total number of infected cases and deaths per day is nothing else but faked figures and lies.
For more details on the
coronavirus pandemic in China
, keep checking at :
https://www.thailandmedical.news/articles/coronavirus