BREAKING! New SARS-CoV-2 Variants Causing Blocked Airways And Respiratory Distress In Children In Hong Kong!
While Hong Kong is facing yet another COVID-19 surge caused by a variety of new SARS-CoV-2 variants, physicians and pediatric specialist are concerned as they are witnessing new clinical symptoms in children infected with COVID-19.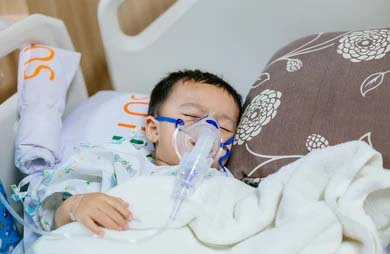 Besides hoarseness seen in most infected children, a growing number of children especially the younger ones of ages between 1 to 8 are also developing inspiratory stridor, a symptom reflecting airway obstruction. Many go on to develop respiratory distress and also hypoxia.
Stridor is a high-pitched sound a person makes make when he or she breathes through a narrow or partly blocked airway. Air can't flow through the lungs smoothly, so it's harder to breathe. Stridor is usually loudest when one breathes in. In inspiratory stridor, the sound occurs when one inhales, or breathes in. It may be because of floppy tissue or even due to tissues that are inflamed around the vocal cords, especially in children.
The latest finding is causing concern in Hong Kong which has seen a 7-day average of almost 8,000 new COVID-19 infections per day with almost 9,896 new cases reported in the last 24 hours.
Though details have not been properly verified, some local researchers say that the new SARS-CoV-2 variants such as BA.5.2.1, BA.2.74 and BA.2.12.1 could be fueling the current surge along with other yet to be identified BA.5 and also B.2.75 subvariants with unique mutations.
Even more worrisome is that the new school year for primary and secondary schools is set to begin on September 1, which could further aggravate the spread and situation.
Director of the Communicable Diseases Division of the Center for Health Protection of the HKSAR Government's Department of Health, Dr Chuang Shuk-Kwan, said that he found many infected children had developed croup which indicates an inflammation of the larynx, windpipe, and bronchial tubes along with many others showing signs of airway obstruction and displaying respiratory distress.
Dr Mike Kwan Yat-Wah, a senior consultant at the department of pediatrics and adolescent medicine at Princess Margaret Hospital, said that the clinical features among children during the fifth wave driven by the Omicron variant differ from those observed in the previous ones.
He told Thailand
Medical News
, "We are not witnessing newer symptoms such as hoarseness and inspiratory stridor in many children. In severe cases it can produce acute obstruction of the respiratory tract and an absence of oxygen supply to an organ or a tissue."
Dr Kwan further added, "This condition can also be caused by various infectious agents, such as parainfluenza virus. However, in the recent COVID pandemic, this condition was nearly all caused by the newly emerging Omicron variants and subvariants."
He also warned about the possibility of prolonged COVID-19 symptoms in children after having observed that about 19 percent of children who have recovered from COVID-19 present with at least one of these symptoms in the outpatient follow-up at his hospital.
Dr Kwan noted, "The most common complaints were memory loss, cognitive deficits, insomnia, he adaches, and discomfort."
He also highlighted two present pediatric cases at his hospital which have been newly classified as "serious" and are documenting the case studies.
One involves a 17-month-old boy who had a fever and convulsions on the night of Friday (26
th
August 2022) and briefly stopped breathing. He got croup after being infected and just received his first dose of vaccine on that day. Expert advisers to the SAR government believed that the boy's condition was caused by the COVID virus.
The other case involves a 10-year-old boy developed a high fever and tested positive on August 22. He sought medical treatment on Thursday for obstructed airway and also respiratory distress.
Dr Chuang predicted that, for the upcoming school season, the proportion of confirmed cases among students and teachers would increase, and that daily tests would be required to prevent transmission on campus.
John Lee Ka-Chiu, the Hong Kong Chief Executive told media last Saturday that current vaccination rates among senior citizens and children were non-ideal and this group of the population reported higher rates of severe illness and death after COVID-19 infection.
He warned, "Among them, about 30 percent of people over 80 years old, 20 percent of people between 3 and 11 years old and 90 percent of people under 3 years old have not been vaccinated."
Hong Kong's current Covid-19 restrictions allows schools to conduct full-day in-person classes if all staff members and 90 per cent of students have received two doses of a Covid-19 vaccine.
On Sunday, Hong Kong reported 9,708 new Covid-19 cases of which 213 infections were imported. The city also recorded 10 new deaths while the day before on Saturday, a total of 8,457 new cases were confirmed and four deaths were reported.
Schools and in-person learning at Hong Kong has been repeatedly interrupted since the COVID-19 pandemic began over two and a half years ago.
Health authorities are still mulling over the decision to conduct in-person classes and the city's education chief has said that if the number of daily COVID-19 infections exceeds 10,000, may suspend full-day in-person teaching.
For the latest
COVID-19 News
, keep on logging to Thailand
Medical News
.