BREAKING! COVID-19 Reinfections: Israeli Doctor Reinfected With SARS-CoV-2 Just 12 Weeks After Recovering, More Reinfections Appearing Globally
COVID-19 Reinfections
: As early as late February, Thailand Medical News was reporting about cases of COVID-19 reinfections occurring in China from data supplied by Chinese researchers on the frontlines,
https://www.thailandmedical.news/news/latest-more-cases-of-coronavirus-reinfections-emerging-among-cured-patients-in-china-causing-concern
but many times Western Researchers (mostly those not involved in any research… sitting in some cozy air-con offices and wanting some publicity would come out with some editorial reports in various medical journals that can be easily bought for coverage these days claiming that reinfections were not possible and that the cases in China were most due to faulty testing or due to dead viral particles that the body's system was still trying to remove but which got picked up by the PCR tests)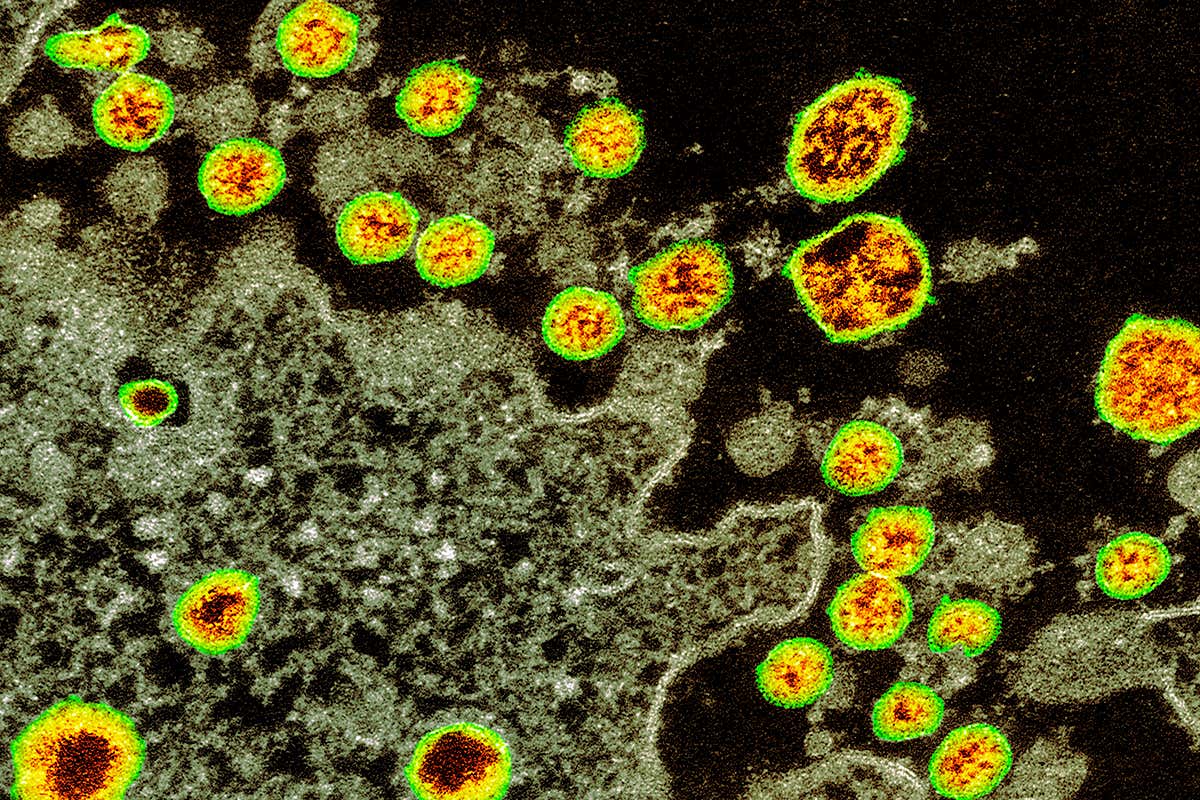 SARS-CoV-2 virus particles (yellow), as seen using an electron microscope
CDC/Science Photo Library
However there are more and more cases of such reinfections occurring around the world that are being documented while many new studies are showing that the antibodies and T-Cells of the human immune system and even vaccines would most probably be able to provide only short term effective protection of anything between 6 to 11 weeks the most.
There were reports of recurring coronavirus cases in other countries, including Canada, Japan, South Korea, and the United States. In these countries, some patients who have previously recovered from COVID-19 became infected by the Novel coronavirus again after about two to three months.
A research published in May by scientists at Columbia University Mailman School of Public Health found that reinfections with endemic human coronaviruses are not uncommon, even within a year of prior infection. The team studied four other types of coronaviruses.
https://www.publichealth.columbia.edu/public-health-now/news/risk-coronavirus-reinfection-remains-after-recovery
and
https://www.medrxiv.org/content/10.1101/2020.04.27.20082032v1
Now a detailed medically documented case of reinfection has been reported in Israel involving a medical doctor as the patient.
https://www.timesofisrael.com/israeli-doctor-diagnosed-with-virus-after-apparently-recovering-from-covid-19
The doctor working at Sheba Medical Center in Tel Hashomer, Israel's Largest Hospital, has tested positive for SARS-CoV-2 just 12 weeks after recovering from the COVID-19 disease.
The female doctor contracted the virus in April during the height of the pandemic in the country. By May and June, swab tests showed that the doctor has fully recovered from the disease. However, when the doctor was tested again in July, results retur ned positive.
A spokesperson from the hospital said that the doctor tested positive again since she has remnants of her first virus still found in the blood. In her April bout, the doctor experienced fever, cough, and body pains but has since recovered from the illness.
In early July however the doctor came in contact with a confirmed case of COVID-19, and after, she tested positive for SARS-CoV-2 again. This case is the latest in a string of incidents of potential reinfection, raising questions on how long immunity against SARS-CoV-2 lasts, or if there is any at all.
The details from various reinfection cases raises concern that the antibodies developed by the body against SARS-CoV-2 may not necessarily protect the body from future infections. If the antibodies do provide protection, they may not last for long.
Israel, for one, launched a widespread serological testing or antibody testing to determine the extent of the pandemic. Since there is a reinfection risk and the antibodies fade out in time, governments and authorities should not use an antibody test as a passport to immunity.
Currently preliminary studies in China, Germany, the UK and elsewhere have found patients infected with the novel coronavirus make protective antibodies as part of their immune system's defenses, but these appear to last a few weeks.
This raises big problems for developers of potential COVID-19 vaccines, experts say, and for public health authorities seeking to deploy them to protect populations from future waves of the pandemic.
Dr Stephen Griffin, a Leeds University Associate Professor of medicine said, "To be truly effective, COVID-19 vaccines will either need to generate stronger and longer-lasting protection or they may need to be given regularly. And those things are not trivial."
For more on
COVID-19 Reinfections
, keep on logging to Thailand Medical News.
Read also:
https://www.japantimes.co.jp/news/2020/02/28/national/coronavirus-reinfection/#.XnSJNIj7TIU