BREAKING! COVID-19 Gut Infection Remains Even After The Virus Is Cleared from Respiratory System. Stool Testing Might Be More Accurate Than Nasal Swabs
COVID-19-Gut
: A new study by researchers from the Chinese University of Hong Kong has found that the SARS-CoV-2 coronavirus may continue to infect and replicate in the digestive tract after clearing in the airways.
https://www.cpr.cuhk.edu.hk/en/press_detail.php?id=3356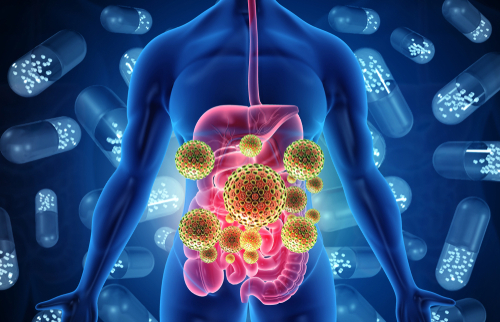 It was also observed that COVID-19 patients have active and prolonged gut viral infection, even in the absence of gastrointestinal symptoms, the scientists in Hong Kong said.
Earlier in the beginning of the COVID-19 pandemic, Chinese researchers had warned that infectious coronavirus in the stool of patients may also play a role in transmission.
https://wwwnc.cdc.gov/eid/article/26/8/20-0681_article
An earlier study in February study of 73 patients hospitalized with the coronavirus in China's Guangdong province found more than half tested positive for the virus in their stool.
https://www.gastrojournal.org/action/showPdf?pii=S0016-5085%2820%2930282-1
The researchers from Hong Kong studied stool samples from 15 patients to better understand the virus's activity in the gastrointestinal tract. The study team found active gut infection in seven patients, some of whom had no nausea, diarrhea or other digestive symptoms. Three patients continued to display active viral infection as long as six days after their respiratory samples tested negative for COVID-19.
Dr Ng Siew Chien, Associate Director of the university's Centre for Gut Microbiota Research told Thailand Medical News, "The study finding highlights the importance of long-term coronavirus and health surveillance and the threat of potential fecal-oral viral transmissions."
It was also noted that gut microbiota of patients with high SARS-CoV-2 infectivity was characterised by enrichment of pathogens and loss of "good" bacteria that are capable of producing short-chain fatty acid.
Dr Ng suggested that treatments that modulate the composition and functionality of the gut microbiome should be explored. The gut bacteria of patients who were particularly infectious showed a loss of protective microbes and a proliferation of disease-causing ones.
The Hong Kong researchers also suggested that stool tests might also be an important mode of screening considering that nasal swab tests might still miss infected individuals with infectious viral shedding abilities.
Furthermore stool tests are more accurate and non-invasive.
The university has offered free screening stool tests to travelers arriving at the airport since late March, and identified six infected children among more than 2,000 samples tested.
In August a 9-month-old baby girl in Macau mistakenly swallowed a broken sampling rod when her throat swab was being collected for virus test. Professor Paul Kay Sheung CHAN, Chairman of the Department of Microbiology and Associate Director of the Centre for Gut Microbiota Research, who is in-charge of the testing service of CU Medicine, added, "The viral load in the stool of infant and children is many times higher than that in adults , and could be equivalent to that of adult respiratory samples. The activity of viral infection and replication also persist longer in the guts of infant and children. Stool specimens are more convenient, safe and non-invasive to collect in the paediatric population and can give accurate results. This makes stool test a better option for COVID-19 screening in babies, young children and those whose respiratory samples are difficult to collect."
Effective this week, up to 2,000 Covid-19 tests will be done daily as part of targeted detection of asymptomatic people.
Significantly more than one patient tested positive during stool testing even though their respiratory samples were negative
, said Dr Francis K.L. Chan, the university's dean of medicine and director of the Centre for Gut Microbiota Research.
Dr Chan stressed, "Stool test is accurate and safe, making it suitable and more effective for COVID-19 screening for specific groups of individuals."
Some regulators including the U.S. Food and Drug Administration have reached out about stool tests.
In the meanwhile researchers are also getting concerned as more and more 'recovered' patients are also complaining of gastroenterological conditions including abdominal pains, hyperacidity, bloating, digestive issues including indigestion, soft stools etc. Some say this could be due to gut inflammation of also due to the gut microbiota being disrupted. The researchers are advocating that more immediate studies are conducted to observe the effects of the SARS-CoV-2 on the digestive tract on recovered patients.
For more on
COVID-19 Gut
issues, keep on logging to Thailand Medical News.