American COVID-19 Scams: Infectious Diseases Society of America (IDSA) Warns Against Use Of U.S FDA Approved COVID-19 Drug Bamlanivimab
American COVID-19 Scams
: The Trump controlled U.S FDA, a regulatory agency that no longer has any credibility has suffered yet another blow as ethical medical professionals are advocating against the use of the overpriced drug bamlanivimab (Eli Lilly) that was granted emergency use authorization (EUA) by the U.S. FDA on the November 10
th
for use in ambulatory patients with mild to moderate COVID-19.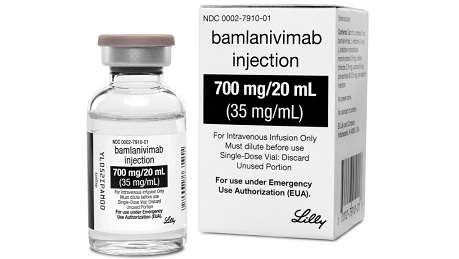 Bamlanivimab (LY-CoV555) is a neutralising monoclonal antibody intended for the treatment of mild to moderate COVID-19. There are no proper studies to really validate it effectiveness despite being overpriced at US$1,500 per 700mg vial. Each patient might need more than 1 vial.
The key issue is that it is very difficult to assess if such drugs really work or have any efficacy as they are being proposed to be given to individuals who contract SARS-CoV-2 in the early stages with mild or moderate symptoms. No one can really predict 100 percent even with existing biomarkers that an individual is going to be headed for disease severity and that the drug protocol saved them! It's a new ruse being deployed by greedy and unethical pharmaceutical and biotech companies and researchers who have been bought.
Fortunately an infectious disease expert panel cautions against routine use of bamlanivimab. The group also said the monoclonal antibodies approved for emergency use by the US Food and Drug Administration (FDA) and still in development does hold much promise and more clinical trial data are needed.
These and other recommendations appear in updated guidelines from the Infectious Diseases Society of America (IDSA), released November 18 and 22 with a conditional 'No' on routine bamlanivimab.
https://www.idsociety.org/practice-guideline/covid-19-guideline-treatment-and-management/#toc-6
Dr Adarsh Bhimraj, MD, co-chair of the IDSA COVID-19 Treatment and Management Guidelines Expert Panel told Thailand medical News, "The guideline panel gave a conditional recommendation
against the routine use of bamlanivimab
."
Dr Bhimraj added, "We did have a remark that it may be used in patients who have increased risk of severe COVID-19, as it is outlined in the FDA Emergency Use Authorization (EUA) issued last week. "
He added that use should follow an informed discussion between provider and patient, one in which "the patient puts a very high value on the uncertain benefits and a low value on uncertain adverse events."
The IDSA panel's rationale was based in part on interim analysis of the phase 2 BLAZE-1 trial, which found 1.6% of people randomly assigned to bamlanivimab had an emergency department visit or hospitalization compared with 6.3% of those receiving a placebo.
Dr Bhimraj, head of the Neurologic Infectious Diseases Section in the Department of Infectious Diseases at the Cleveland Clinic, Cleveland, Ohio added, "We thought the estimate was too fragile because the number in each arm was very low. Even a small change in these numbers could make the differe nce non-significant."
Regeneron Another Trump Controlled U.S. FDA Scam?
Interestingly on November 21, the FDA granted an EUA to the casirivimab and imbdevimab monoclonal antibody combination (Regeneron), indicated to treated mild to moderate COVID-19.
Dr Bhimraj said "
Surprisingly, the preliminary results released in the EUA look a lot like bamlanivimab
."
However unlike bamlanivimab, for which trial details were published, the panel does not yet have the totality of data on casirivimab and imbdevimab, and therefore is not yet making a recommendation.
"We want to be cautious as a guideline panel. We are anxiously awaiting the full publication," he added.
Till then the IDSA does not support the use of Regenerons cocktail antibodies.
Other remaining questions include the degree of efficacy these antibody therapies will have, as well as which patients are most likely to benefit, added Dr Gandhi, who is also a professor of medicine at Harvard Medical School and director of HIV Clinical Services and Education at Massachusetts General Hospital in Boston.
The IDSA also recommends against the use Lopinavir and Ritonavir which was earlier in the year described by the Thai MOPH officials as a breakthrough COVID-19 treatment protocol when used along with Oseltamivir and this 'breakthrough treatment' was developed by so called 'Thai infectious disease experts' who were doctors from Rajvithi Hospital.
The IDSA panel also made their decisions based on part from data from a pre-print of the Solidarity study.
Interestingly the open-label Solidarity trial in 30 countries, sponsored by WHO, assessed hydroxychloroquine, interferon, lopinavir/ritonavir, and remdesivir in people hospitalized with COVID-19.
However none of these drugs showed an effect on mortality, Gandhi said. "Better medicines that improve survival are clearly needed."
Favipiravir another drug that Thai healthcare professionals use to treat COVID-19 is also not advocated for use by the panel as it lacks any proper vivo or clinical studies to back its use plus it has teratogenicity risk. The US CDC has also rejected its use based on studies and clinical trials showing it has no efficacy.
Also another overpriced drug Tocilizumab was also recommend by the panel to be not used.
Despite critical review of the studies that have emerged since the last IDSA recommendation regarding tocilizumab (Actemra) in September, "the panel still stood with the recommendation against routine use of tocilizumab in hospitalized patients with COVID-19," Dr Bhimraj said.
The panel's guidance is based on trials including COVACTA and EMPACTA.
These studies showed that treatment with tocilizumab was not associated with significant differences in mortality. In these and other studies, "we did not really find a significant difference, and that was the reason for the conditional recommendation against routine use of tocilizumab in hospitalized patients," Dr Bhimraj said.
Interestingly, although the trials were blinded, "we know treatment with tocilizumab can cause a reduction in C-reactive protein levels," which could indicate to researchers which participants were receiving active treatment vs placebo, he said.
The U.S. FDA granted an EUA to the combination of remdesivir and baricitinib (Olumiant) on November 19. However, the IDSA panel is reserving its recommendation on this therapeutic combination until more data emerge.
Dr Bhimraj said, "We still don't have complete results of the ACTT-2 study, and the information we do have is what is available in the EUA,"
The IDSA panel expects to issue guidance once the totality of data becomes available.
There are unanswered questions include why investigators chose a 4 mg dose of baricitinib twice the 2 mg dose commonly used for treating rheumatoid arthritis and how many patients in the trial also were treated with steroids.
Dr Gandhi agreed that the proportion of patients taking a steroid is "really an important consideration." He added that dexamethasone has become standard of care because it reduces mortality, as well as the number of people requiring oxygen. He said it will be important to know how the baricitinib/remdesivir combination compares with dexamethasone.
He said, "You don't want to give a drug with less certain benefit over a drug for which there is more certain benefit."
Thailand Medical News would like to add that America has emerged to be the land of scams when it comes to drugs and therapeutics and the Trump administration is one of the most corrupted governments to date. A detailed investigation should be launched against him upon his exit from the White House and also against individuals like Mike Spence, Nick Ayers and also a clandestine business group headed by billionaire Tom Cahill who is speculated to be behind the lobbying for the FDA approvals of overpriced drugs like remdesivir, regenerons antibody cocktails etc and even some of the soon to be approved vaccines.
Already various groups of researchers are sounding alarm bells on the antibody treatments by Eli Lily and Regeneron and also the new vaccines.
https://www.thailandmedical.news/news/experts-warn-that-once-vaccines-and-antibodies-are-used-frequently-in-a-population,-more-antibody-resistant-sars-cov-2-virus-strains-would-emerge
7 more studies have since emerged which Thailand Medical News will be covering the next few days before we stop this website effectively on the 1st of December as the site is losing monies and we do not have any support from any entities or even our readers except for one local donor who helped with hosting costs for a while.
For more on
COVID-19 Scams
, keep on logging to Thailand Medical news till the 1
st
of December.