America COVID-19 News: Universities and Colleges In United States Are The Latest COVID-19 Hotspots And Becoming A National Chaos
America COVID-19 News
: COVID-19 cases are rising in the various campuses of U.S. colleges and universities, leading authorities to react in a vast array of ways including reverting back to classes going online and a sudden rise of disciplinary actions and dismissals as school authorities try to maintain control in the campuses.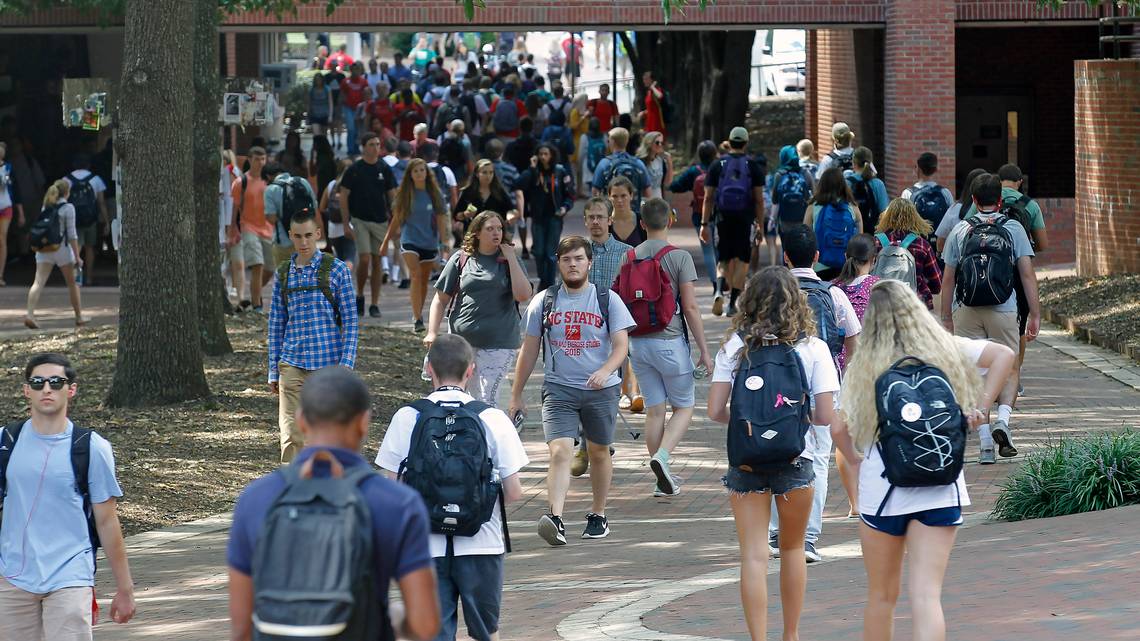 It was found that most of the students breaking social distancing rules and mandatory campus rules to prevent the spread of the COVID-19 disease were basically white rural youths coming from semi-educated households and were either Republican or Trump supporters.
It was reported this week at Northeastern University in Boston, 11 students were dismissed from their program without tuition reimbursement for violating Covid-19 social distancing policies, and the Ohio State University suspended 225 students before classes even began for similar infractions.
https://www.cbsnews.com/news/northeastern-dismisses-11-students-for-violating-covid-19-policies/
and
https://edition.cnn.com/2020/08/25/us/ohio-state-university-suspensions-trnd/index.html
The COVID-19 catastrophe that is unfolding at colleges and universities across the US is affecting millions of students, teachers, and staff as they are being forced to return to campuses for in-person learning amid the raging COVID-19 pandemic.
According to real-time information gathered by the
New York Times
at least 51,000 COVID-19 cases have been reported at over 750 campuses, with at least 64 deaths since they began reopening for the fall semester and these numbers that has increased dramatically in recent weeks is still rising exponentially
https://www.nytimes.com/interactive/2020/us/covid-college-cases-tracker.html
A number of colleges, like the University of North Carolina at Chapel Hill have cancelled in-person classes after students had already paid tuition as a result fo this rise in infections on campuses.
Rising case numbers have also left many students scrambling to find housing off-campus or transportation back home and many are also left stranded.
The exponential increasing infections have left college towns such as Auburn, Alabama, and Ames, Iowa, hot spots for coronavirus outbreaks.
Shockingly more than 1,100 cases have been discovered at University of North Carolina at Chapel Hill, nearly 1,250 at University of South Carolina, nearly 1,500 at the University of Alabama, 550 at the University of Kansas, 760 at Texas A&M, and 965 at University of Iowa.
At James Madison University in Harrisonburg, Virginia, more than 400 cases of the coronavirus were reported less than a week after school started. University President Jonathan Alger announced plans to shift temporarily to online courses primarily and asked most students to leave campus by next Monday. The University of Notre Dame in Indiana has nearl y 600 cases. Classes there switched to online only for two weeks, and the university is resuming in-person learning.
Adrian College, a small private liberal arts college south of Detroit, reported that a staggering 6.5 percent of its 2,235 students and staff have tested positive for the virus after reopening on August 24 with face-to-face classes.
Authorities and university administrators are all handling the surges differently.
Iowa State University in Ames, according to the NYT data, has the highest transmission rate in the country, with a 28 percent positive test rate. Despite this staggering fact, the university president sent an email to staff and students reassuring everyone that the disease is "under control," adding that the "appearance" of spread is just due to a large portion of those tested being positive. This explanation ignores completely the simple fact that there are now 500 more cases at the university than there were a week ago. The president also stated that there is no plan to close the university or move to entirely online classes.
At the moment, around 20 percent of colleges are either primarily or fully in-person, according to a tracker from Davidson College's College Crisis Initiative.
https://collegecrisis.shinyapps.io/dashboard/
More than 33 percent are either fully or primarily offering courses online.
Irwin Redlener, director of the Pandemic Resource and Response Initiative at Columbia University, described the current higher education situation to media as "national chaos."
Certain instituitions, like Boston University and Colby College, University Of California-San Francisco are checking students daily for COVID-19 symptoms.
Some other universities and colleges are setting up quarantine dorms and creating screening stations throughout campus. But many aren't conducting robust testing of students, in fact, the Centers for Disease Control and Prevention didn't recommend testing when some colleges opened for summer instruction.
https://ctbergstrom.com/publications/pdfs/2020CHEb.pdf
Sadly when issues and evens go haywire, it is the students who take the blame for the failure, leading to a rash of suspensions at schools including Syracuse University, the University of Miami, and the State University of New York, among others.
Many are saying that this is an ineffective strategy given the patchwork of policies employed by universities around the country largely fails to protect students.
Dr Julia Marcus, a professor at Harvard Medical School, and Jessica Gold, a professor at Washington University in St. Louis, wrote in to the media this summer, "Relying on the self-control of young adults, rather than deploying the public-health infrastructure needed to control a disease that spreads easily among people who live, eat, study, and socialize together, is not a safe reopening strategy and yelling at students for their dangerous behavior won't help either."
Many schools that are seeing high case numbers are forced to move instruction online.
Many students are frustrated at sudden changes, and upset to learn they would not be attending class in person after paying tuition or making travel plans.
The University of North Carolina at Chapel Hill held in-person classes for only one week before shutting down on August 17.
While students have been asked to vacate dormitories, many low-income students are being put in this position of wondering whether their housing will be refunded, or if they'll have enough money to get food if dining halls close down."
As COVID-19 cases continuing to climb, colleges are now faced with a new problem-Whether to send students back home to communities where they could continue to spread the virus, as Dr. Anthony Fauci has warned against doing, or risk keeping them on campuses to wait out a pandemic. It's another piece of the complexities of education in 2020 — but one that many see as a problem that could have been avoided.
https://www.nbcnews.com/health/health-news/covid-19-colleges-fauci-urges-schools-keep-students-campus-outbreaks-n1238997
Trumps administration and the Republicans forced policies of reopening schools is going to lead to not only a surge of COVID-19 cases but is going to act as a major catalysts for an impending health and medical disaster that will ultimately not be manageable.
America has become the laughing stock globally as the way the whole COVID-19 crisis is being managed by the Trump administration is simply shocking and Americans who are the end losers are not doing anything to oust the madman or what some have described as the "anti-Christ" out of office.
There are no concerted efforts nationwide to organize uprisings, mass mobs and strikes to get Trump and the Republicans out of office and into prison instead of waiting for the elections in which more damage might be done by then and more Americans dead. To date more than 188,650 Americans have died from the COVID-19 crisis and more than 6.25 million Americans have been affected. The US CDC has already said that the figures can be ten-fold while many are saying that Republican controlled states have been under reporting figures.
The White House has also put new measures into place so that infected figures and death rates will start to look low from now till the elections. The Trump administration and the Republicans are also now aggressively controlling the US FDA and other entities such as the CDC and NIH and making new decisions that will have very little scientific rationale or evidence to back anything up just like they did when they approved chloroquine, hydroxycholoroquine and remdesivir. It is also expected that vaccines that will have very little protective effects but could result in certain adverse effects are likely to be approved fast by the Trump administration to boost his election campaign.
Alarmingly, a widely cited model from the University of Washington predicts worsening outbreaks as winter returns to the Northern Hemisphere, with daily deaths expected to reach as high as 30,000 deaths during December. The new COVID-19 death toll could total 2.8 million by January 1, about 1.9 million more from now until the end of the year.
Dr Christopher Murray of the Institute for Health Metrics and Evaluation (IHME) at the University of Washington said," We are facing the prospect of a deadly December, especially in the United States. The IHME model projects the wave will start rise in the United States in a month or two at about 2,900 deaths per day and will exponentially thereafter."
For more on
America COVID-19 News
, keep on logging to Thailand Medical News.