UK Study Shows That More Than 50 Percent Of Individuals With Monkeypox Infections Typically Develop Neurological and Psychiatric Issues!
Monkeypox Research
: A new UK study that involved researchers from Barts Health NHS Trusts, Queen's University Belfast, University of Cambridge, Queen Mary University of Medicine, King's College London, University of Edinburgh, University of Liverpool and University College London has alarmingly found that more than 50 percent of individuals who contracted the monkeypox virus typically develop neurological and psychiatric issues. (UK is going to have lots of 'loony gays fruitcakes' packing its streets soon!..lol!)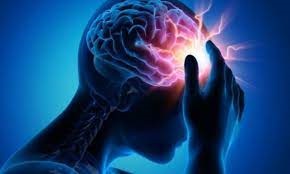 To date, neuropsychiatric presentations of monkeypox (MPX) infection have not been well characterized, despite evidence of nervous system involvement associated with two related Orthopoxviruses, in the case of smallpox infection (with the variola virus) and smallpox vaccination (which contains live vaccinia virus).
The
Monkeypox Research
team in this systematic review and meta-analysis, aimed to determine the prevalence and describe the spectrum of neurological and psychiatric presentations of monkeypox infections.
The study team conducted a systematic review and meta-analysis of relevant published data from MEDLINE, EMBASE, PsycINFO, AMED and pre-print server (MedRxiv) searched up to 31/05/2022. The publications covered any study design of humans infected with MPX that reported neurological or psychiatric presentation. Studies which included more than ten individuals, and symptoms that were reported in a minimum of two separate studies were eligible for meta-analysis.
Results were pooled with random-effects meta-analysis to calculate generalized linear mixed models and corresponding 95% confidence intervals for each prevalence outcome. Heterogeneity was measured with the I2 statistic. All included studies are summarized through a narrative synthesis. Risk of bias was assessed with the Newcastle Ottawa Scale and the Joanna Briggs Institute quality assessment tool.
From over 1,702 unique published studies, the study team extracted data on 19 eligible studies (1,512 participants, 1,031 with confirmed infection using CDC criteria or PCR testing) most of which were cohort studies and case series with no controlled populations. Study quality was generally moderate.
Six clinical features were eligible for meta-analysis, of which the most prevalent were myalgia in 55.5% [95%CI 12.1-91.9%], headache 53.8% [30.6-75.4%], fatigue 36.2% [2.0-94.0%], seizure 2.7% [0.6-10.2%], confusion 2.4% [1.1-5.2%] and encephalitis 2.0% [0.5-8.2%]. Heterogeneity significantly varied across clinical features (I2=0%-98.7%). Other reported presentations not eligible for meta-analysis included sensory-perceptual disturbance (altered vision, dizziness, and photophobia) and psychiatric symptoms (anxiety and depression).
The study findings showed that there is preliminary evidence for a range of neurological and psychiatric presentations of MPX, ranging from commonly reported and nonspecific neurological symptoms (myalgia and headache) to rarer but more severe neurological complications, such as encephalitis and seizures. There is less evidence regarding the psychiatric sequelae of MPX, and although there are multiple reports of anxiety and depression the prevalence of these symptoms is unknown.
MPX-related nervous system presentations may warrant surveillance within the current MPX outbreak, with prospective longitudinal studies evaluating the mid to long-term sequelae of the virus. Robust methods to evaluate the potential causality of MPX with these clinical features are required at an individual and epidemiological level.
The study findings were published on a preprint server and are currently being peer reviewed.
https://www.medrxiv.org/content/10.1101/2022.07.03.22277069v1
This is the first systematic review and meta-analysis study to date to assess the types and prevalence of neurological and psychiatric symptoms associated with monkeypox virus infection in humans.
The study team identified a range of neurological symptoms with mild to severe intensities.
The monkeypox virus is a zoonotic virus belonging to the Orthopoxvirus genus of the Poxviridae family. Although present in monkeys and rodents since 1958, the first human case of monkeypox infection was identified in Central Africa in 1970.
Thereafter numerous cases of monkeypox infection have been identified in West Africa as well as in some non-African countries. The viral strain circulating in West Africa (mortality rate: less than 3%) is relatively less virulent than the Central African strain (mortality rate: 1 – 10%). The West African strain is responsible for the recent outbreaks in non-African countries, including the USA and the UK.
However, it should be noted that the current strain is highly mutated and perhaps evolved and are displaying symptoms not seen in previous infections.
Typically, the most common symptoms of monkeypox infection in humans include fever and skin rashes. However, neurological and psychiatric symptoms might also be present because the virus belongs to the same family of viruses as smallpox and smallpox infection is associated with a range of neurological manifestations, including encephalitis, seizures, and stroke.
The study team in the current systematic review and meta-analysis have outlined the range of neurological and psychiatric symptoms associated with monkeypox infection in humans. In addition, they have determined the prevalence of these symptoms.
In all, a total of 1,702 studies investigating neurological and psychiatric symptoms in monkeypox-infected humans were selected for the study. Of these studies, 19 met the final eligibility criteria and were included in the systematic review. The total number of participants in these studies was 1,512.
Research and studies conducted on more than ten individuals, and symptoms reported in at least two separate studies were included in the meta-analysis.
Hence this led to the inclusion of six clinical symptoms in the meta-analysis, including myalgia, headache, fatigue, seizure, confusion, and encephalitis.
Most of the studies included in the review were from the USA, followed by Nigeria, the Democratic Republic of Congo, the Republic of Congo, and the UK. Most of the studies were cohort studies and case series without controlled populations.
Interestingly, a wide variation in neurological and psychiatric symptoms was observed across the studies. The most frequently reported symptoms were headache, myalgia, seizure, confusion, encephalitis, and fatigue.
Shockingly, the study findings of the meta-analysis revealed that myalgia has the highest prevalence (55%), followed by headache (53%), fatigue (36%), seizure (2.7%), confusion (2.4%), and encephalitis (2%).
It should be noted that other neuropsychiatric symptoms that were not included in the meta-analysis were dizziness, pain, altered vision, encephalopathy, photophobia, depression, anxiety, and suicidal tendency were also discovered as being prevalent among the infected or post-infected.
To date, this is the first systematic review providing a comprehensive overview of the prevalence of a range of neuropsychiatric symptoms commonly observed in individuals infected with the monkeypox virus.
It was also found that among various symptoms, myalgia and headache were present in more than 50% of the study population. However, more severe neurological complications including encephalitis, confusion, and seizure have a low prevalence among monkeypox-infected individuals.
The study team said that a high prevalence of non-specific symptoms such as myalgia and headache could be due to a common systemic reaction to viral infection. These symptoms might not be associated with direct neurological damage.
Also, it was found that studies reporting psychiatric symptoms have indicated that the presence of anxiety, depression, or low mood is common among hospitalized patients with monkeypox infection.
The study team however warned that none of these studies have assessed psychiatric symptoms using standardized scales. This makes it difficult to understand the clinical significance of these symptoms.
Considering the prevalence of neuropsychiatric symptoms, the study team recommends long-term monitoring of clinical consequences associated with monkeypox infection, as well as the implementation of a psychological support system for isolated/quarantined patients who are more prone to emotional distress.
Thailand
Medical News
would also like to note that already the ongoing COVID-19 pandemic is causing a wide range of neurological issues in those infected and also in Long COVID. With monkeypox soon to be just as widespread, we can expect a catastrophic effect among the majority of the population in coming months and years.
For the latest
Monkeypox Research
, keep on logging to Thailand
Medical News
.