U.S.COVID-19 Crisis: President Elect Biden Sets Up Coronavirus Task Force, Time For America To Set Aside Differences And Unite
U.S.COVID-19 Crisis
: Hope is finally returning to America. It is time to throw aside any blame games and instead focus on the current COVID-19 crisis that is plaguing America. As of today the total number of COVID-19 infections in America has reached 9,862,715 while the CDC and NIH are saying that the actual numbers could be far more than that. Between 80 to 95 percent of these people are also going to experience long term health complications from the COVID-19 disease which is going to put a huge burden on the public health infrastructure.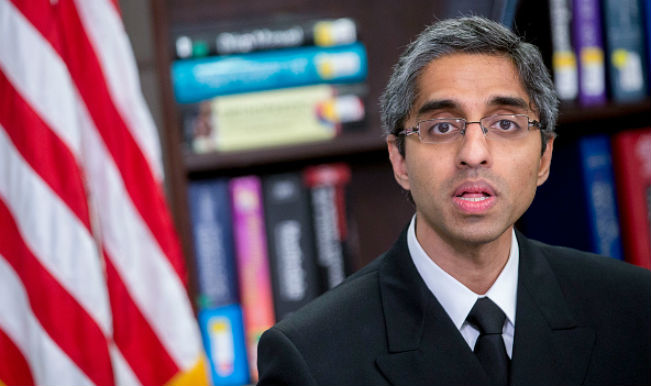 Dr Vivek Murthy
Already more than 63,000 Americans are hospitalized countrywide due to COVID-19 and more than 22,000 are in critical care.
A total of more than 237,812 Americans have died from the COVID-19 pandemic so far.
On a daily basis for the last few days, America had been witnessing more than 100,000 new COVID-19 infections a day and also more than 1,000 deaths a day. As the situation is worsening with no drugs or therapeutics in sight, proper public health policies and preventive measures needs to be reviewed and reformulated possibly with no lock downs that will result in economic losses for everybody.
With such a view in sight, the President elect Joe Biden has already gone ahead to start setting up a new coronavirus task force. He said that he would name a group of leading scientists and experts to his coronavirus task force on Monday, who would build an "action blueprint" that could be deployed as soon as he is inaugurated in January.
The new task force will be headed by three co-chairs: former Surgeon General Dr Vivek Murthy, former Food and Drug Administration Commissioner Dr David Kessler and Dr Marcella Nunez-Smith, an associate professor of medicine and epidemiology at Yale University's School of Medicine.
There will be more professionals roped in along the way but it is not sure if Dr Anthony Fauci would be included in as well. Many are saying that its best to leave him out and even get rid of him as he is controversial as well considering that it was his department that was financing the development and the research of remdesivir and numerous vaccine programmes which are all turning out to be not effective, many are also asking for him to be investigated with regards to the various private patents he has and also to investigate all money trails linked to him and various pharmaceutical and biotech companies.
In his remarks on Saturday night, Biden promised to get the pandemic "under control" so Americans could reclaim their most precious moments from visiting with their grandchildren to celebrating weddings and graduations.
As mentioned throughout the campaign, Biden spoke to the grief that many Americans have experienced during the pandemic, alluding to the loss of his own son Beau Biden, the former attorney general of Delaware who died of brain cancer at the age of 46.
Capturing the faith that sustains him, Biden quoted from a Catholic hymn "On Eagle's Wings" that he said had meant a great deal to his family and to Beau Biden.
Biden said, "I hope it can provide some comfo rt and solace to the Americans who have lost a loved one to this terrible virus this year. My heart goes out to each and every one of you."
Dr Vivek Murthy who will be maintaining a key role is this new coronavirus task force was originally born in England, to immigrants from Karnataka, India. In 1978 the family crossed the Atlantic to Newfoundland, where his father worked as a District Medical Officer. When he was three years old, the family relocated to Miami, Florida where both his parents who are doctors established their medical practice.
During his days as a Harvard freshman in 1995, Murthy co-founded VISIONS Worldwide, which he led for eight years. The nonprofit organization focused on HIV/AIDS education in the U.S. and India. In 1997, he co-founded the Swasthya Community Health Partnership to train women as community health workers in rural India.
Murthy completed his Internal Medicine residency at Brigham and Women's Hospital and Harvard Medical School in Boston, Massachusetts where he also led and managed medical care teams as a faculty member.
Dr Murthy is also a founder and president of Doctors for America, a group of more than 15,000 physicians and medical students supporting high quality affordable care for all. As part of this work, he developed and led national and local initiatives centered upon coverage and prevention.
In 2011, Murthy was appointed by U.S. President Barack Obama to serve on the U.S. Presidential Advisory Council on Prevention, Health Promotion, and Integrative and Public Health within the U.S. Department of Health and Human Services.The group advises the National Prevention Council on developing strategies and partnerships to advance the nation's health through prevention.
Dr Murthy is also the co-founder and chairman of TrialNetworks, a cloud-based Clinical Trial Optimization System for pharmaceutical and biotechnology trials that improves the quality and efficiency of clinical trials to bring new drugs to market faster and more safely. He founded the company as Epernicus in 2008, originally, to be a collaborative networking web platform for scientists to boost research productivity.
Dr Murthy is married to Dr Alice Chen, an American internal medicine physician whose parents were immigrants from China. She trained at Yale, Cornell and UCLA, and was the executive director of Doctors for America from 2011–2017. Dr Chen also serves as adjunct assistant clinical professor at UCLA, and an assistant clinical professor at George Washington University. The couple lives in Washington, D.C., with their son and daughter who are both doctors as well.
With Dr Murthy at the helms of the new coronavirus task force, many are expecting positive changes in policies and a better scientific approach to tackling the crisis in America.
Thailand Medical News will be providing more updates on this new task force and the profiles of the rest of the team members.
For more on the
U.S. COVID-19 crisis
, keep on logging to Thailand Medical News.