Thailand COVID-19 News: Thai Health Authorities Shockingly Announces Total Of 548 New Confirmed Local Transmissions Of COVID-19 Disease!
Thailand COVID-19 News
: Thai health officials from the CSSA (Centre for COVID-19 Situation Administration) made a shocking announcement on Saturday December 19
th
at about 9pm Bangkok time that there were a total of 548 new confirmed cases of local transmission of COVID-19 in Thailand at Samut Sakhon province.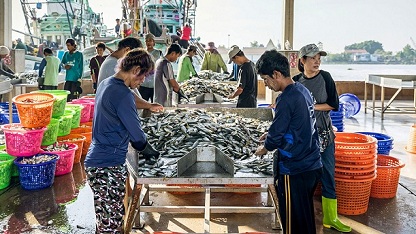 Myanmar Migrant Workers Sorting Seafood At Samut Sakhon
What was shocking was not the number of new local COVID-19 infections but that the Thai authorities were actually forthcoming and announcing such high figures!
Dr Opaskarn Kawinpong, MD, the Director-General from the department of disease control along with other relevant agencies made the media announcement.
It said that most were foreign workers working in the seafood markets and industries in Samut Sakhon and some were linked to the initial case of an elderly 67 year old woman who was a wholesale shrimp vendor and had developed symptoms and was hospitalized and now critically ill. Numerous other members of her family also subsequently tested positive for COVID-19 along with some of her Myanmar workers.
Samut Sakhon is less than 40 minutes away from Bangkok and is a agricultural- and fisheries-based province and also has a huge amount of factories totaling more than 6,700 factories. There is a lot of inter travel and movements between the province and Bangkok and it is speculated that the virus could have already been unknowingly and silently spread to nearby provinces of Samut Prakarn and the capital Bangkok by now.
According to local health authorities migrant workers are suspected of being the source of the spread of Covid-19 in Samut Sakhon, as three close relatives of an infected shrimp wholesaler in the province have also tested positive for the virus.
It was reported that a total of 1,192 cases were screened in the latest round of testings in the province and that 516 individuals were found confirmed with with COVID-19, or 43 percent bringing the total in the province to now 548 .
It was said that 90% of those infected were found to be asymptomatic and most were Myanmar workers.
The spike in the seafood processing hub just east of Bangkok was the biggest one-day total by far since the pandemic began.
Breaking News: Samut Sakhon Governor Announces Lockdown.
The Samut Sakhon Governor Weerasak Wijitsaengsri has announced an immediate lock down of the province but will announce details and measures in the next few hours.
He said the latest increase in infections was beyond expectations.
All public gatherings etc will be restricted and also schools and restaurants, entertainment venues are to be closed.
Also the province COVID-19 alert level would be elevated until Jan 3, with the Talad Klang King or Central Shrimp Market and Sri Muang dormintory designated as off-limits areas so that disease control operations can be carried out.
It was said that other locations in the province that will be closed temporarily include all sports stadiums, b oxing stadiums, other educational institutions, tutorial schools, shopping malls, cinemas and spas.
Restaurants that sell alcohol are allowed to sell only takeaway, while convenience stores will be closed between 10pm and 5am, the order said.
No locals or foreigners are allowed to enter or leave the province.
Health officials are asking all those who have left the province since the 1
st
of December to quarantine for 14 days and to report to the nearest hospitals should they exhibit any symptoms.
To date, Thailand has managed to controlled the COVID-19 crisis in the country by strict emergency laws and online laws that prohibits any media, doctors or anyone from reporting about the local COVID-19 situation except when decided by the government authorities.
Even the recent spike in cases in the Northern Province of Chiangrai was downplayed.
The Thai government has assured all that it has the current situation under control and even if more cases emerge it can manage the situation plus it has its own protocols of treating COVID-19 and soon there will even be a Thai vaccine that is developed by Chulalongkorn University . The university is appealing for all to donate Bt 500 each to help with the vaccine programme. (This despite the Thai government spending billions on unnecessary initiatives including a recent one where they intend to launch a spacecraft to the moon!)
Locals in general should not be worried about the COVID-19 situation in Thailand but expats residing here and also all incoming visitors should start doing some due diligence and start making preparations especially after learning from experiences from the beginning of the COVID-19 crisis when in some cases local shops refused to sell mask to foreigners etc
We shall not be reporting on the current total COVID-19 infections or COVID-19 death tolls in the country as we have no way of checking how reliable any of these figures are.
For more
Thailand COVID-19 News
, keep on logging to Thailand Medical News.