The Senza Omnia spinal cord
neurostimulation
system for chronic pain management by Nevro, a firm based in Silicon Valley, has secured US FDA approval.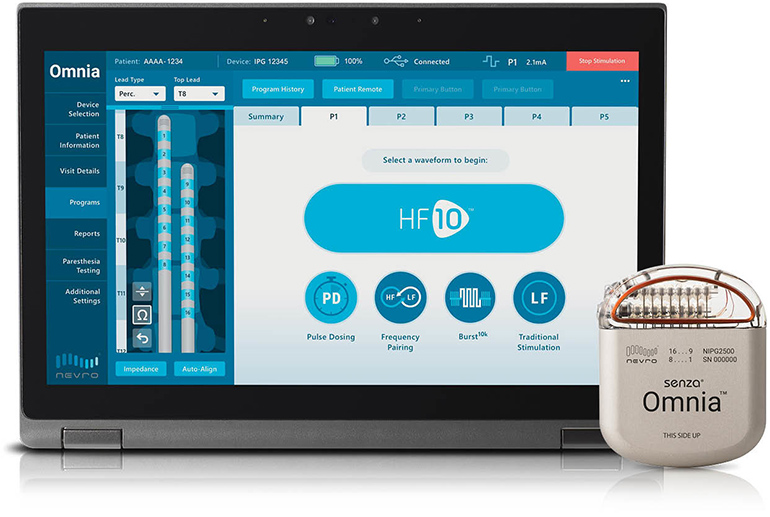 The stimulator device can deliver traditional spinal cord stimulation at frequencies below 1.5 kHz, along with Nevro's proprietary HF10 stimulation that goes up to 10 kHz. Both low and high frequency therapies can even be provided at the same time.
The new stimulator, Senza Omnia can operate at frequencies between 2 and 10,000 Hertz, a range unheard of in a spinal cord stimulator. It is a rechargeable
device
and is guaranteed to maintain functionality for at least ten years, regardless of the stimulation regimen that ends up working best for the patient.
Treating pain requires flexibility and persistence. Omnia offers the most waveforms in a single product and can be programmed to provide waveforms independently or pair HF10 with other waveforms, enabling dual mechanisms of action that no other system can offer.
The Omnia system is comprised of three new components. The first is a new programmer that will make it easy for physicians to offer a wider array of waveforms across the full SCS frequency spectrum, either separately or paired together. The second element of the system is a redesigned patient remote that is smaller and more intuitive for patients to use and enhances their experience. The new remote supports greater programming capacity, allowing for the flexibility to expand on the HF10 algorithm by giving physicians the ability to provide additional waveforms. Lastly, the system comes with an updated and upgradeable implantable pulse generator. Unlike non-rechargeable systems, the Omnia system is designed to last over ten years no matter what stimulation profile is used, has conditional full body MRI approval and will be upgradeable to future waveforms and frequencies.
The device also is MRI-conditional, meaning that patients will be able to safely receive MRI scans, as long as certain precautions are taken.
Keith Grossman, Chairman and CEO of Nevro told
Thailand Medical
News, "We are excited to launch Nevro's next-generation spinal cord stimulation system as we believe it will allow physicians to help even more patients. The Omnia system was developed based on feedback from the pain community and has resulted in a product that Nevro is uniquely able to provide. Omnia not only offers HF10, the most studied therapy available in the market that physicians have provided to over 53,000 patients, but it also gives physicians access to all other SCS frequencies, either independently or paired with HF10. With Omnia, our goal is to provide physicians the peace of mind that when they implant the system, they will have the versatility needed to achieve the best possible outcomes for their patients."
The new Senza Omnia appears to be an improved version of the company's original Senza that introduced high frequency spinal cord stimulation for pain control. The Omnia features a new physician programmer that should be easier to operate, a new patient remote control that has been slimmed down and made more intuitive, as well as the implant being more amenable to future upgrades with newly developed waveforms or frequencies.
In addition to the U.S. approval for Omnia, international approvals are expected in Europe during the first half of 2020 with Australia sometime during the latter part of 2020.
For more information about the OMNIA system, visit www.nevro.com/Omnia.