Second Wave: Record 11,005 COVID-19 Deaths In Last 24 Hours, Cases Surging Everywhere From Europe, Japan, India, U.S., Russia, Malaysia Except Thailand!
COVID-19 Second Wave
: The COVID-19 second wave is finally here and by the way things look, nothing is going to for well for the next 3 to 4 months. Already another new record number of global COVID-19 deaths was recorded in the last 24 hours at 11,005. As of today, the official total number of people worldwide who have been infected with the SARS-CoV-2 coronavirus stands at more than 56.4 million while the total number of people who have died from this coronavirus is more than 1.35 million individuals.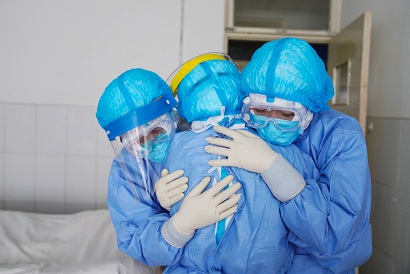 In America alone, reported figures show that more than 11.53 million Americans had been infected with the novel coronavirus while sadly more than 250,592 Americans have died.
COVID-19 cases are surging around the world from Europe, Japan, United States, Brazil, India, Myanmar, Malaysia etc. The only country in the world surprisingly that is not affected by the COVID-19 crisis is Thailand where strict online and offline laws with regards to dissemination any information pertaining to local COVID-19 situation is strictly prohibited unless it comes from the government sources. Hence we can safely conclude that strict media censorship laws have effectively keep the COVID-19 numbers low in Thailand despite having a relatively high number of patients that are currently hospitalized and deemed as PUI or patients under investigations. Even information on PUI patients are highly regulated at the moment hence we do not hear about them anymore in daily COVID-19 briefings.
Thailand has been praised by numerous paid entities around the world for the way it has handled the COVID-19 crisis ie from limited testings, having found a cure for COVID-19 by doctors from Rajvithi Hospital involving the usage of Lopinavir/ritonavir and oseltamivir, to developing antigen and rapid test kits that do not have any supporting studies on its efficacy or even obtained any FDA approvals yet. There are rumours and speculations going around that there will soon be an announcement that they have developed a COVID-19 vaccine that is 101 percent effective! Some of the top health officials have also effectively stopped the spread of the virus from Europeans and Americans by effectively but sadly calling white Caucasians abusive derogatory names in public!
Thailand is also the hub of COVID-19 research as the local virus specialists have announced that based on their own research (which is not even published in any preprint format let alone in any medical journals!) it is ok to cut down the quarantine periods of international travellers arriving to Thailand from 14 days to 10 days or less. Part of this strategy is in order to open the country to the Chinese travellers (wanting to come to Thailand to usurp local businesses!) and also to only the rich 'Farang' and 'Kek' travellers from Europe, United States, Middle East and India (note all countries with dangerous mutated strains circulating around!) wanting to come here especially for medical tourism and even for post COVID-19 rehab (despite most local healthcare professionals not even aware of what long haul COVID is all about!)
America virus death toll passes 250,000, New York closes schools
Meanwhile, US coronavirus deaths passed a quarter of a million people Wednesday as New York announced it would close schools to battle a rise in infections and anti-restriction protests in Europe turned viol ent.
The United States has now registered 250,592 fatalities, according to a running tall, by far the highest reported national death toll.
Many American states and cities were imposing a raft of new restrictions, including home confinement, the closure of indoor dining and a limit on gatherings as cases soar across the country, with more than 157,950 new infections recorded over the past 24 hours on Wednesday.
Mayor Bill de Blasio of New York said the city's 1,800 public schools would revert to remote learning beginning Thursday after the Big Apple recorded a seven-day average positivity rate of three percent.
He said, "We must fight back the second wave of COVID-19."
The new toughened measures in America's most-populous city came despite pharma giant Pfizer boosting hopes of a possible end to the pandemic by announcing improved results for its vaccine.
Europe remains the hardest-hit region, accounting for 46 percent of new global cases and 49 percent of deaths last week, according to the World Health Organization (WHO).
The European figures additionally showed the only region where cases and deaths declined last week was Southeast Asia.
Globally, more than 1.35 million people have died of COVID-19 and over 56 million have been reported infected with the virus since it first surfaced in China late last year, according to a tally from official sources.
It was reported that In Switzerland, one of the worst-hit countries in Europe, the Swiss Society for Intensive Care Medicine (SSMI) warned that intensive care units "are practically all full."
Additional beds have been added, and the Swiss military has been called in to support efforts in several areas.
Numerous European countries are extending heavy restrictions on daily life in attempts to curb the spread of the virus.
Reportedly a French government spokesman said authorities are unlikely to lift a partial lockdown any time soon while Portugal's government was preparing to extend measures for two more weeks.
Also in Hungary, a state of emergency that enables partial lockdown measures has now been extended until February.
In Germany, police fired water cannon to disperse thousands of unmasked protesters demonstrating against tightened restrictions.
It was said that the protesters, who have equated the restrictions to Nazi-era rules, responded by chanting "Shame! Shame!"
The public protest came a day after clashes with police at a similar demonstration in the Slovak capital Bratislava attended by thousands of far-right supporters.
Also despite the impact of the virus, efforts to tackle the pandemic were expected be sidelined at Thursday's EU summit due to a row stemming from Hungary and Poland's opposition to Brussels' oversight over the rule of law.
Iranian President Hassan Rouhani said he would impose "severe restrictions" in many areas of his country from Saturday.
Sadly in Central America coronavirus efforts are being threatened by the hurricane season, according to the Pan American Health Organization, which said it anticipates an increase in infections in the wake of Iota and Eta which wreaked havoc on the region over the past weeks.
Also South Australia announced a six-day "circuit-breaker" lockdown for its population of nearly two million people Wednesday to contain an outbreak that ended a month long streak of no infections. Schools, shops, pubs, factories and even takeaway restaurants were told to close and stay-at-home orders were issued for residents.
The country of Japan was on "maximum alert" after logging a record number of daily coronavirus infections, leaving authorities to consider restrictions like limiting groups allowed in restaurants.
Pharma giant Pfizer offered some relief by saying a completed study of its experimental vaccine showed it was 95 percent effective.
The PR announcement came after another US firm involved in the vaccine race, Moderna, said this week that its own candidate was 94.5 percent effective.
Russia COVID-19 Crisis Spiraling Out of Control
Russia's total coronavirus caseload surpassed two million on Thursday as officials registered record increases in new infections and virus-related deaths
President Vladimir Putin voiced alarm at Russia's rising fatality rate but stopped short of introducing strict measures seen in many European countries.
Russia has witnessed a surge in cases over recent weeks but authorities have stopped short of reintroducing stringent lockdown measures like several European countries.
Government officials reported 23,610 new infections Thursday and 463 virus-related deaths, both record highs since the beginning of Russia's outbreak.
The Kremlin spokesman Dmitry Peskov described the outbreak as "very worrying" and said it was President Vladimir Putin's "top priority".
Total COVID-19 infections stood at 2.02 million, the fifth-highest caseload in the world while deaths reached 34,850 in the country of 145 million.
The country has reported a much lower fatality rate compared with other badly hit countries, raising concerns that authorities are playing down the severity of the pandemic.
The Russian statistics service published data this month that showed excess deaths of more than 117,000 year-on-year between March and September, indicating that virus fatalities could be much higher.
President Putin acknowledged that some regions were experiencing medicine shortfalls and extended waiting times for ambulances but said that the authorities have the situation under control.
Meanwhile Health Minister Mikhail Murashko said Monday that 84 percent of the country's hospital beds allocated for coronavirus patients were occupied.
Also on Monday, Prime Minister Mikhail Mishustin criticized heads of regions beyond Moscow, which have less funding than the capital, for not reintroducing restrictions.
Russia hopes to avoid a second nationwide lockdown by accelerating the production of vaccines.
Russia has so far registered two, and on Thursday Putin said they would soon be made widely available.
Japan's Daily Virus Cases Exponentially Surging Past Previous Record Highs
It was reported that Japan's new coronavirus infections hit a record high Thursday, and the prime minister urged maximum caution but stopped short of calling for restrictions on travel or business.
The Japanese Health Ministry reported 2,179 new cases, the first time Japan has had more than 2,000 daily cases since the pandemic began. The previous high for new cases was 1,723 on Nov. 14.
However compared to many other countries, Japan has done well with its efforts to combat the virus, reporting 122,966 infections, with 1,922 deaths, since the pandemic began. But it has seen an uptick in cases recently, with record highs both nationally and in Tokyo, the country's largest city.
The Japanese metropolitan government on Thursday reported 534 new cases, a record high, and raised its alert level to "red," the highest on a scale of four. Tokyo's previous record was 493 set Wednesday. Before that Tokyo's numbers peaked in August during an earlier surge.
The country wide spikes, especially in the populated capital region and Hokkaido in the north, are alarming experts ahead of an upcoming three-day weekend and the winter holiday season of traveling and parties. They have called on officials to step up preventive measures.
Advisors on Tokyo's coronavirus panel called Thursday for officials to secure more beds for patients and hotel rooms for those with less serious symptoms before infections further accelerate.
Yoshihide Suga, the Japanese Prime Minister said Thursday that he has instructed Cabinet ministers to do their utmost to prevent infections from escalating and he urged the thorough use of masks. But he said his government's tourism and dining incentives will continue.
Interestingly the "GoTo eat" dining campaign aimed at supporting the restaurant and tourism industry should be limited to groups of up to four people, Suga said. He also asked people to wear masks when dining; removing them only when they put food in their mouths and immediately put them back on while talking quietly.
Suga said, "I ask the people to quietly dine with masks. I will start thoroughly doing that myself."
Health experts say Japan's wide use of face masks and other common preventative measures, as well as cultural traditions that lack handshakes and kissing, might have helped keep the country's caseload low.
COVID-19 infections have gradually climbed back as the government tries to balance disease prevention and the economy without curbing business activity.
A leading government panel expert, Shigeru Omi, told a parliamentary session Wednesday that infection clusters are now occurring in a variety of situations, making preventive measures more challenging and requiring the scaling down of economic and social activity.
The Japan Medical Association President Toshio Nakagawa urged Tokyo residents to stay home over the weekend.
The Economy Revitalization Minister Yasutoshi Nishimura told reporters late Wednesday that groups in the service industry are revising their safety guidelines to step up preventive measures at restaurants and bars where risks are deemed high.
It was reported that government officials are reluctant to scale back businesses at a time when the economy is still struggling. The resurgence could also complicate things as Tokyo prepares to host the Olympics next summer after a postponement due to the pandemic.
The country declared a state of emergency in April and May, making nonbinding stay-at-home and business closure requests. The number of cases leveled off thanks to the measure, even though many people still commuted, picnicked in parks and dined at restaurants that stayed open despite the requests.
Please help support this website by kindly making a donation to sustain this website and also all in all our initiatives to propel further research:
https://www.thailandmedical.news/p/sponsorship
For more on the COVID-19
S

econd Wave
, keep on logging to Thailand Medical News.