Scientists From Estonia Discovers Long-Term Elevated Inflammatory Protein Levels in Asymptomatic SARS-CoV-2 Infected Individuals. Alarming Implications!
To date, almost 235 million people globally have been infected with the SARS-CoV-2 coronavirus according to official figures but in reality, as even proposed by the WHO and US CDC, these figures are much higher and could be even as high as five to eight fold!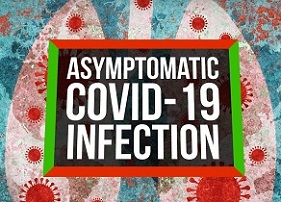 However a majority of individuals upon infection with the SARS-CoV-2 virus are either asymptomatic or only suffer mild conditions of the COVID-19 disease.
Many of these
asymptomatic COVID-19
and mildly symptomatic individuals unfortunately assume that getting infected with the SARS-CoV-2 coronavirus is something that is not serious and often neglect to do follow up medical or health checks. To make matters worse, many asymptomatic individuals never even knew they were infected as they had never been tested.
Some may develop medical or health conditions weeks or months later without realizing any correlations to the SARS-CoV-2 infection or that they could be suffering from Long COVID or PASC (Post-acute Sequelae of COVID-19).
A new study by researchers from the University of Tartu-Estonia has alarmingly revealed that majority of SARS-CoV-2 infected individuals who were asymptomatic exhibited long term elevated inflammatory protein levels.
The study findings showed that the four inflammatory biomarkers S100A12, TGF-alpha, IL18, and OSM remain elevated up to 7 to eight months and in some cases even longer and still ongoing in the asymptomatic individuals. These biomarkers are all associated with activated macrophage-monocytic cells.
The study findings also show that the lungs of those who were asymptomatic might continue to be silently affected by the inflammatory processes and ultimately be damaged!
Their study findings were published in the peer reviewed medical journal: Frontiers in Immunology.
https://www.frontiersin.org/articles/10.3389/fimmu.2021.709759/full
So that readers understand the alarming implications of the study findings, when one is living with long term inflammation, the body's inflammatory response can eventually start damaging healthy cells, tissues, and organs. Over time, this can lead to DNA damage, tissue death, and internal scarring. When left untreated, prolonged chronic inflammation can increase one's risk for diseases like diabetes, heart disease, cancer, rheumatoid arthritis and various autoimmune diseases.
Comprehending the persistence of immune responses in asymptomatic individuals merit special attention because of their importance in controlling the spread of the infections and also understanding possible arising long term health conditions.
The research team studied the antibody and T cell responses, and a wide range of inflammation markers, in 56 SARS-CoV-2 antibody-positive individuals, identified by a population screen after the first wave of SARS-CoV-2 infection.
These, mostly asymptomatic individuals, were reanalyzed 7-8 months after their infection together with 115 age-matched seronegative controls.
The study team found that 7-8 months after the infection their antibodies to SARS-CoV-2 Nucleocapsid (N) protein declined whereas th e team found no decrease in the antibodies to Spike receptor-binding domain (S-RBD) when compared to the findings at seropositivity identification.
In contrast to antibodies to N protein, the antibodies to S-RBD correlated with the viral neutralization capacity and with CD4+ T cell responses as measured by antigen-specific upregulation of CD137 and CD69 markers.
Unexpectedly the study found the asymptomatic antibody-positive individuals to have increased serum levels of S100A12, TGF-alpha, IL18, and OSM, the markers of activated macrophages-monocytes, suggesting long-term persistent inflammatory effect associated with the viral infection in asymptomatic individuals.
S100A12 is known as a lymphocyte-activating alarmin, expressed by activated monocyte-macrophages and neutrophils. The upregulated serum levels of S100A12 and OSM are characteristic for patients with severe COVID-19, but as they are overexpressed at sites of inflammation, their serum levels correlate with the disease activity of many inflammatory diseases, including sepsis and other pulmonary infections.
Hence the study findings strongly suggest a persistent pulmonary inflammation process even in patients with asymptomatic or mild SARS-CoV-2 infection. The inflammation process may be associated with prevalent radiological findings of lung opacities and airway abnormalities in a third of the asymptomatic cases but its long-term persistence months after the infection is unexpected.
The study findings support the evidence for the long-term persistence of the inflammation process and the need for post-infection clinical monitoring of SARS-CoV-2 infected asymptomatic individuals.
For more about
Asymptomatic COVID-19
cases, keep on logging to Thailand Medical News.