MUST READ! More Cases Being Reported In China Of Recovered Covid-19 Patients Dying Suddenly
Hanyang Guobo Fangcang Hospital in Wuhan, China has reported on that a 36-year-old man died of
Covid-19 disease
that is caused by the
SARS-CoV-2 coronavirus
just days after being declared recovered from the disease and discharged from a hospital, raising fresh questions about the risk of recurrence, the criteria used by hospitals to define recovery and the effects of residual viral loads in the human body. He is one of the many cases of such occurrences all over in China over the last two weeks. On Feb. 27, another patient died after being reported recovered in Shanxi province and similar documented occurrences were reported in Zhejiang, Sichuan and Guangdong besides Hubei.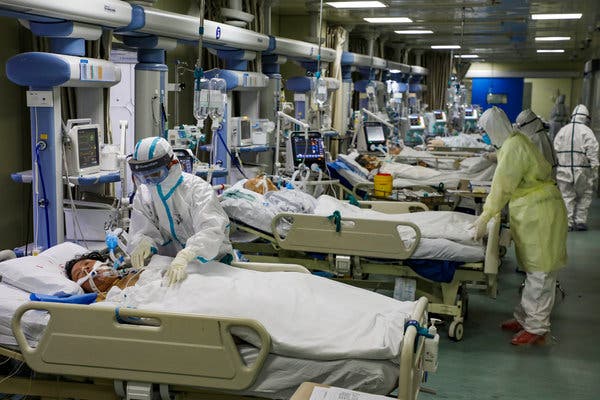 In this documented case, the patient, Li Liang, died Monday during post-recovery quarantine at a designated quarantine location in Wuhan, the epicenter of the outbreak. He was supposed to be fully released on March 10 after 14 days of further observation.
The patient was discharged from the hospital and moved into a quarantine hotel, as he was exhibiting full recovery and was up and about, and clinical assessments indicated that he had recovered.
His condition suddenly deteriorated in a matter of a few hours on Monday, and he died in the afternoon. Doctors attributed his death to Covid-19, respiratory tract obstruction and respiratory failure.
Though medical experts are unclear whether Li died after a recurrence of the disease, his death fueled concerns over whether the current diagnosis criteria are accurate enough for determining Covid-19 patients' recovery or if there are other new developments that the coronavirus is causing that medical experts are not aware of.
Prior to this, there were already a lot of documented reports that a number of recovered patients across China being tested positive again later, raising puzzling questions whether such patients could still be infectious.
However this new emergences of recovered patients dying suddenly due to rapid deterioration is causing concern among medical experts in China and also elsewhere.
Currently, as per China's national treatment guidelines , patients can be declared recovered if their body temperature remains normal for more than three days and if they display clear improvements in respiratory symptoms, show recovery from lung infections in CT scans, and more importantly, test negative on two consecutive nucleic acid tests.
In the case of the patient from Hanyang Guobo Fangcang Hospital, when the patient Li was declared recovered, he met the official diagnostic standard of recovery and had twice tested negative for the virus.
However his CT scans of his lungs still showed slight symptoms of viral pneumonia. Some medical experts suggested Li may have been released too soon.
Dr Yang Xinghai, director of Hanyang Guobo Fangcang Hospital, where Li was hospitalized, said the hospital has now suspended discharging recovered patients on China authorities' orders. "We are not the only hospital stopped," Dr Fang stressed.
It was documented that on Feb. 25, the hospital decided that Li had met the recovery standards based on expert assessments and could be discharged the ne xt day. Li was then transferred to the quarantine hospital for post-recovery observation under current rules.
However medical experts questioned whether Li's remaining lung infection was overlooked in the hospital's decision. A Wuhan doctor said, "CT scans often play a minor role" in some hospitals' determination of recovery.
Dr Yang however defended the accusations saying that the hospital applies stricter standards compared with the national criteria to judge patients' recovery.
Dr Yang said. "Whether a patient can be released needs to be approved by different levels of doctors and experts,"
A Wuhan based intensive care doctor commenting on basis of anonymity said that many Covid-19 patients showed complicated conditions and returned to critical illness even after virus tests came back negative. The occurrence of many recovered patients suddenly dying was also very high but being covered up by Chinese authorities. He suggested that hospitals enhance monitoring and management of recovered patients even after they are discharged.
Two other Wuhan doctors said their hospitals also encountered deaths of recovered Covid-19 patients. Although there is no conclusion on whether death was directly caused by the disease, there is great value in studying such cases, the doctors said.
Thailand Medical News
would like to stress that to date, no detailed studies have been done to check the viral loads in so called recovered patients and also to check as to what effects the residual virus loads can have on the health conditions of such patients.
Also, it is interesting to note that China is not reporting these figures (of recovered patients getting reinfected or dying) in its daily toll figures.
For more on latest developments on
coronavirus

research
, keep logging on to
Thailand Medical News

Please also help share our site and articles online as being a poor entity that is not profit orientated, we do not have any support from any Thai Government or private companies as most Thai companies and corporations do not think that health of medical issues are of importance as they are more busy with their own greed. We also do not also get any support from the local private hospitals and pharma companies, hence we do not have monies to pay American social media platforms like Facebook, LinkedIn and Twitter whose local offices and regional offices in Singapore, Thailand, and India will lower your feed exposure as you are not advertising with them. For example with LinkedIn, though we have like 12,000 followers on our personal acct,but less than 200 can actually see our daily news postings as LinkedIn lowers the feed. We have the same problem with Twitter as well . We are basically a Thai medical mediatech and general mediatech startup that has never received any support from any entities in Thailand due to the prevalence of nepotism, corruption and also ego and incompetence on the part of certain senior executives and also the fact that Thais do not know how to collaborate and work together!

We like to thank the 3.2 million odd regular readers who have been following us so far.