Must Read! Covid-19 Tips: Could TCM Herbs Be The Reasons Between The Stark Contrast Of Infections And Fatalities In The US And UK Versus China?
COVID-19 Tips
: Although the SARS-CoV-2 coronavirus originated from China and also spread to the rest of the world as a result of the incompetence and selfish attitude of the Chinese government, China did manage despite all the cover ups and censorship, to control the number of infections and fatalities after weeks of lockdowns. Even now, despite there still being many cases of infections, reinfections all the country which is being concealed, China has still maintained low figures unlike the United States and Britain, where despite claims of the epidemic peaking by government and health authorities, the number of new infections and deaths are ever spiraling out of control on a daily basis and it is expected to get worse.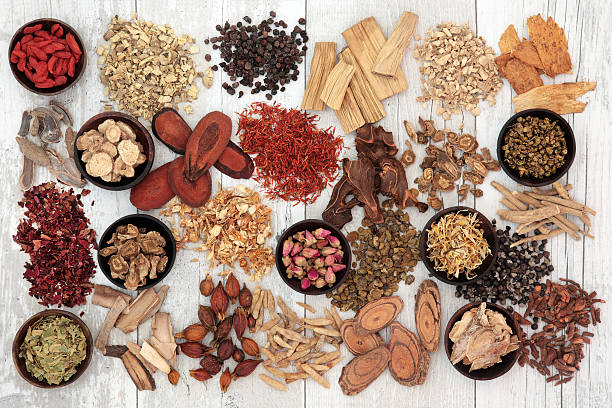 Many of the current medical guidelines used in US and UK to treat COVID-19 involved the usage of many unproven antivirals which are very toxic.
Despite all the studies that originally originated from China claiming efficacy about the use of various antivirals such as Favipiravir, Lopinavir-Ritonavir, Hydroxychloroquine and Interferon-α, new credible studies have revealed that none of them are able to treat the COVID-19 disease.
However China did use TCM or Traditional Chinese Medicine herbs in treating the various stages of COVID -19 and it seems to have worked.
However China concealed many of these TCM formulations and even did not allow any of the clinical trial and studies to be made public so that it would not fall in the hands of other countries. China has also made it illegal to export any of these TCM herbs and formulations out of the country.
In fact it has emerged that China has been playing a very conceited game of not revealing a lot of critical details and studies about the COVID-19 disease to the rest of the world.
One of the main TCM protocols that China had used and is still using today is a modified version of the Qingfei Paidu decoction(QPD).
https://www.thailandmedical.news/news/must-read-china-s-secret-to-controlling-the-covid-19-outbreak-is-traditional-chinese-medicine-concoctions-used-alone-or-in-conjunction-with-antiviral-
This formulation was shown to have demonstrated the highest efficacy of eradicating the SARS-CoV-2 coronavirus and also preventing or reducing the cytokine storms according the Chinese health authorities.
It was found to be highly effective in treating those with mild to moderate symptoms and also prevented patients from progressing into severe stages.
https://www.sciencedirect.com/science/article/pii/S1043661820307556?via%3Dihub
The Chinese authorities are even using same modified formulation today in which pre-packed versions of the herbs are given to its citizens where it is mandatory to consume the concoctions made by boiling these herbs.
https://www.thailandmedical.news/news/t raditional-chinese-medicine-(tcm)-to-treat-coronavirus-china%E2%80%99s-latest-strategy-to-keep-the-coronavirus-pandemic--under-control
Outside of China, with the exception of countries like Hong Kong, Taiwan and certain other South-East Asian using some of these TCM herbs, the rest of the world is totally oblivious to the presence of these TCM herbs.
There are about 16 clinical trials ongoing on TCM herbs however many or them are having problems procuring all the necessary ingredients and also most do not have access to right formulations.
https://covid19-trials.com/
Most health authorities in Western countries should focus on studying and conducting clinical trials to test the efficacy of these TCM herbs and also include it into their medical guidelines.
Thailand Medical News has access to two TCM suppliers who are able to supply readers in the US and UK only, the modified Qingfei Paidu decoction(QPD) TCM formulation at a price of US$ 320 for two packs of the pre-prepared dried herbs (enough for a single person for a 4 day dosage) not including DHL charges. There are discounts for bigger orders. However there are only limited stocks. Those interested are advised to email directly to the supplier with your contact address and telephone detail to viktorthanis@gmail.com . Anonymous emails and time wasters will not be entertained. However Thailand Medical News does not make any claims that these TCM herbs can cure, treat or help with the COVID-19 disease and readers have to do their own due diligence and also consult a licensed doctor preferably prior to consuming anything to treat COVID-19 disease.
For more
COVID-19 tips
, keep logging to Thailand Medical News.
Please Help!
Kindly help to sustain this website and all our efforts to propel further research by making a donation via paypal. We need your help and support. Thank You.
https://www.thailandmedical.news/p/sponsorship
Additional Research:
Ho LTF, Chan KKH, Chung VCH, Leung TH. Highlights of traditional Chinese medicine frontline expert advice in the China national guideline for Covid-19. European Journal of Integrative medicine. June 2020. https://www.sciencedirect.com/science/article/pii/S1876382020303899
Luo E, Zhang D, Luo H, et al. Treatment efficacy analysis of traditional Chinese Medicine for Covid-19. Chinese medicine, 2020, 15(34): 1-13. https://cmjournal.biomedcentral.com/articles/10.1186/s13020-020-00317-x (PDF File)
Ye Yong-an, G-CHAMPS collaborative group. Guideline-based Chinese herbal medicine treatment plus standard care for severe coronavirus disease 2019: evidence from China. (preprint version) https://www.medrxiv.org/content/10.1101/2020.03.27.20044974v1
Luo H, Tang QL, Shang YX, et al., Can Chinese medicine be used for prevention of covid-19? A review of historical classics, research evidence and current prevention programs. Chinese J. Integrative Medicine. (PDF File)
Zhang DH, Wu KL, Zhang X, et al., In silico screening of Chinese herbal medicines with the potential to directly inhibit 2019 novel coronavirus. Journal of Integrative Medicine. https://doi.org/10.1016/j.joim.2020.02.005 (PDF File)

In this study, researchers execute a rational screen to identify Chinese medical herbs that are commonly used in treating viral respiratory infections and also contain compounds that might directly inhibit 2019 novel coronavirus (2019-nCoV), an ongoing novel coronavirus that causes pneumonia.
Yu SW, Wang JW, Shen HT. Network pharmacology-based analysis of the role of traditional Chinese herbal medicines in the treatment of COVID-19. Ann Palliat Med 2020;9(2):437-446 (PDF File)

In this article, researchers analyzed the effectiveness and possible molecular mechanisms of Chinese Herbal Medicine formulas for the prevention of COVID-19.
Ang L, Lee HW, Choi JY, Zhang JH, Lee MS. Herbal medicine and pattern identification for treating COVID-19: a rapid review of guidelines. Integrative Medicine Research. 2020 (PDF File)

This review aimed to summarize and analyze the herbal formulae provided by 26 Chinese and 2 Korean guidelines for their Oriental Medicine pattern identifications and compositions of herbs to treat patients with COVID-19.
Wang ZW, Chen XR, Lu YF, Chen FF, Zhang W. Clinical characteristics and therapeutic procedure for four cases with 2019 novel coronavirus pneumonia receiving combined Chinese and Western medicine treatment. BioScience Trends. 2020 (PDF File)

Researchers report in this paper the clinical characteristics and therapeutic procedure for four patients with mild or severe 2019-nCoV pneumonia admitted to Shanghai Public Health Clinical Center.
Chan KW, Wong VT, Tang SCW. COVID-19: An Update on the Epidemiological, Clinical, Preventive and Therapeutic Evidence and Guidelines of Integrative Chinese-Western Medicine for the Management of 2019 Novel Coronavirus Disease. The American Journal of Chinese Medicine. 2020 (PDF File)

Researchers reviewed the latest national and provincial clinical guidelines, retrospective cohort studies, and case series regarding the treatment of COVID-19 by add-on Chinese medicine. They also reviewed the clinical evidence generated from SARS and H1N1 management with hypothesized mechanisms and latest in silico findings to identify candidate Chinese medicines for the consideration of possible trials and management
Yang Y, Islam MS, Wang J, Li Y, Chen X. Traditional Chinese Medicine in the Treatment of Patients Infected with 2019-New Coronavirus (SARS-CoV-2): A Review and Perspective. International Journal of Biological Sciences. 2020 (PDF File)

In this article, relevant published literatures are thoroughly reviewed and current applications of TCM in the treatment of COVID-19 patients are analyzed
Ling CQ. Traditional Chinese medicine is a resource for drug discovery against 2019 novel coronavirus (SARS-CoV-2). Journal of Integrative Medicine. 2020 (PDF File)

In this article, the author reviews a study on a series of in silico analyses for Traditional Chinese Medicine (TCM) used in the treatment of COVD-19 and discusses the potential for TCM as a source for drug discovery against the disease
Ding YW, Zeng LJ, Li RF, et al. The Chinese Prescription Lianhuaqingwen Capsule Exerts Anti-influenza Activity Through the Inhibition of Viral Propagation and Impacts Immune Function. BMC Complementary and Alternative Medicine (2017) 17:130 (PDF File)

Lianhuaqingwen Capsule (LH-C) is a traditional Chinese medicine (TCM) formula used to treat respiratory tract infectious diseases in Chinese. The aim of this study was to determine the antiviral activity of LH-C and its immunomodulatory effects on viral infection