Traditional Chinese Medicine (TCM) To Treat Coronavirus ? China's Latest Strategy To Keep The Coronavirus Pandemic Under Control!
Traditional Chinese Medicine
or
TCM
is now being deployed by China to help fight the
coronavirus
threat according to a press conference this morning at Hubei organized by China health officials.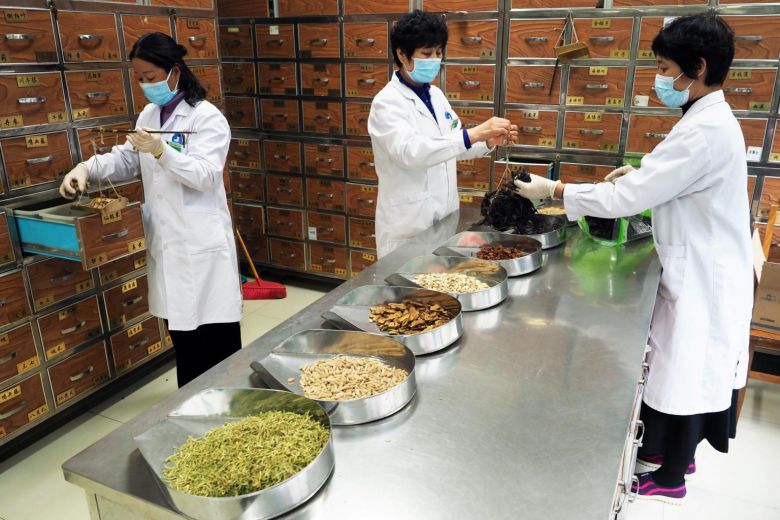 Traditional Chinese medicine (TCM) experts at a hospital in
Binzhou, Shandong province, China.
Photo credit : REUTERS
It was revealed during the press conference by a top Chinese health official, Mr Wang Hesheng that China was administering its ancient traditional medicine on patients affected by the
coronavirus
disease,
Covid-19
.
Ongoing trials are already being conducted in Wuhan hospitals which combine
traditional Chinese medicine
, popularly known as
TCM
, and western medicines.
Mr Wang Hesheng who is the new health commission head in Hubei, the province that is the epicenter of the
coronavirus
outbreak said that more than 50 per cent of all infected cases in Hubei was already on treatment protocols that include
traditional Chinese medicine
(
TCM
).
Mr Wang said at media conference on Saturday (15
th
February), without going into details, "Our efforts have shown some good result, and we have top
traditional Chinese medicine
(
TCM
) experts currently in Hubei to conduct more research and administer treatments."
When asked whether patient's rights were being respected and official consents and international regulatory standards of drug or treatment trials were being adhered to, he did not reply. There were already reports and complains that
coronavirus
patients in China are being experimented on in ways that would violate many human rights laws. (refer to:
https://www.th ailandmedical.news/news/disturbing-:-allegations-of-humans-being--treated-like-guinea-pigs-in-china-hospitals,-world-leaders-and-media-not-speaking-up
)
To date, no pharmaceutical preparations, drugs or preventives have yet been approved against the
coronavirus
, which has already claimed the lives of 1,526 people in China and affected about 66,630 people with more than 11,000 in severe critical condition at the moment and are literally battling for their lives.
During The SARS outbreak and just after it, numerous research studies were done on one ingredient in traditional Chinese medicine: licorice root, as it was found that during the outbreak certain family members of infected patients did not contract the SARS virus even in close proximity as it was discovered that they had been consuming the herb.
T

hailand Medical News
did bring this up to public on 20
th
of January but received a lukewarm response (refer to:
https://www.thailandmedical.news/news/further-research-into-the-phytochemicals-contained-in-licorice-root-might-yield-a-treatment-for-the-new-coronavirus-strain-in-china
)
Initial reports of treatments and vaccines against those infected have caused pockets of excitement but later died down as it was found some the earlier antiviral protocols used were no longer working due to possibility of resistance or that the virus was evolving. The reported use in America of an experimental Gilead Sciences Inc drug called Remdesivir to fight the
coronavirus
has encouraged doctors to support further testing of the medication.
Mr Wang further added that some 2,200
traditional Chinese medicine
(
TCM
) experts have been sent to Hubei.
Mr Wang Hesheng is one of the key officials at the forefront of an effort by Beijing to reset its approach to the
coronavirus
outbreak, after criticisms and anger escalated across China at a lack of transparency and the massive lockdowns of cities.
China sacked the top leadership in the embattled province, including Mr Wang's predecessor earlier this week and Mr Wang, who is also deputy head of the National Health Commission, was appointed a member of Hubei's standing committee, the province's top decision-making body.
Immediately after his appointment, health officials in Hubei announced a new development in the adjustment of its method of counting infections to include those diagnosed with CT scans, a move that added nearly 15,000 cases to Hubei's total count and dashed hopes the
coronavirus
epidemic was being contained.
The current situation in Hubei is not the least improving with new numbers of infected each day, medical facilities that are overflowing with patients, medical staff and medical supply shortages and total chaos in cities all over the province.
The government has invoked 'wartime measures' to control the situation in Hubei and all over China, which many are saying infringes on basic human rights issues. Anyone who appears sick or is suspected to be sick, even though they might be suffering from other ailments, are detained by government forces and placed under detention while housing complexes etc are having their gates and doors welded shut!