Medical News: Fungal Meningitis Outbreak In Mexico That Has Killed 35 So Far Linked To Adulterated Medications Used By Doctor!
Medical News
: Various news outlets were abuzz in the last 48 hours about a mysterious meningitis outbreak in the Northern Mexico City of Durango that has to date killed 35 people and infected more than 79 other individuals.
https://www.reuters.com/business/healthcare-pharmaceuticals/death-toll-mysterious-meningitis-outbreak-mexico-35-2023-02-06/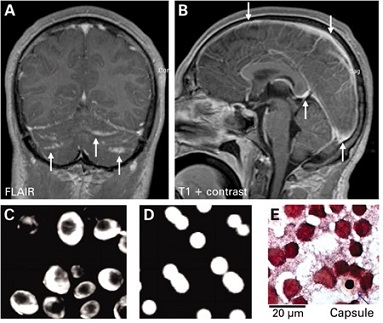 However, the mystery has been solved and a doctor has been arrested for using adulterated and contaminated medications that lead to the development of fungal causing meningitis in the patients he was treating who were mainly women coming in for obstetric procedures.
The doctor in question was a trained and practicing anesthesiologist who was found to be bringing in his own contaminated and adulterated medications for use on patients during various obstetric practices at various private hospitals that he was working at in Durango.
He has been arrested in the last 24 hours and investigations are underway.
Contrary to earlier speculations by various online 'experts' that a new SARS-Cov-2 variant was at play or that COVID-19 induced immunodeficiency was the cause behind the cases in Durango, Mexico, the infections were found to be simply fungal based meningitis brought about by the contaminated medications used.
Meningitis is often associated with painful inflammation of the brain and spinal cord, often caused by a virus or in some cases bacteria or a fungal infection.
It was reported that the first case of meningitis in Durango was confirmed late last year when doctors diagnosed several cases of aseptic meningitis, an especially harmful inflammation of the brain.
The WHO (World Health Organization) investigators initially found that the infected patients in Durango had all been subjected to surgeries that used spinal anesthesia in private hospitals in the sprawling Northern state's capital, also known as Durango.
Since the start of 2023, Durango health authorities have reported new cases nearly every day, as well as hospitalizations and fatalities caused by the disease.
According to Durango state prosecutor Sonia Garza, the affected patients in Durango were likely infected by fungal meningitis while having procedures in the same hospitals where the doctor worked. The doctor's full name was not disclosed.
The state prosecutor told media including Thailand
Medical News
, at a news conference yesterday that the first procedures associated with the infected patients took place last August and that many of them had been administered anesthesia for obstetric procedures.
Ms Garza added, "This specialist carried out procedures with no restraint," adding that he brought his own medication for patients, including unauthorized controlled drugs.
It is believed that the number of fatalities so far could even be much higher than initially though as the doctor in question worked at more than 4 different hospitals and various clinics across the city and it was also believed that he freelanced over we ekends at hospitals in nearby cities as well!
Investigations are currently underway but the Mexican health ministry did not immediately respond to a request for comment about the extent of damage.
Ms Garza added that the detained doctor was the only physician who conducted procedures at the four hospitals where the infections have been observed. She said that he denied using his own medications at a hearing before prosecutors.
For the latest
Medical News
, keep on logging to Thailand Medical News.