European Society of Cardiology (ESC) Warns That Breathlessness In Post COVID Individuals Reflects Heart Issues That Warrants Urgent Medical Attention
COVID-19-Heart Issues
: Th European Society of Cardiology (ESC) has published on its website a warning based on the study findings that showed that 'recovered' COVID-19 patients who continue to be short of breath during physical activity one year after recovering from the infection may have suffered heart damage and that such individuals should seek medical advice and treatments immediately as it can sometimes lead to fatal outcomes.
https://www.escardio.org/The-ESC/Press-Office/Press-releases/breathlessness-in-patients-with-long-covid-may-signal-heart-problems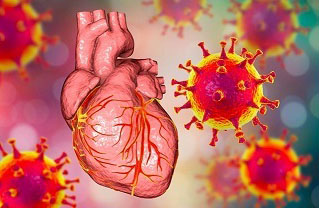 Despite denials from various health authorities across the globe and also by certain researchers that are being paid by those controlling the COVID-19 narrative, the excess death rates across the world of individuals who have died from heart failures and heart related issues have rose exponentially over the last two years and most of these excess deaths can be attributed to COVID-19. Aside from myocarditis, (Many previous studies have already shown that the SARS-CoV-2 is able to cause myocarditis) many emerging studies are showing that the SARS-CoV-2 virus along with its viral proteins and peptides has multitude of ways of affecting heart functions, cells and tissues and cause serious heart issues.
A recent new study by researchers from nference Labs-Bengaluru-India, nference Labs-Cambridge-USA and Southcoast Health-Massachusetts for instance found that the SARS-CoV-2 replicase polyprotein 1a/1ab (Kialkggk) could be mimicking human cardiac protein MYH6 and causing cardiac injury.
https://www.thailandmedical.news/news/breaking-sars-cov-2-replicase-polyprotein-1a-1ab-kialkggk-could-be-mimicking-human-cardiac-protein-myh6-resulting-in-cardiac-injury
The incidence of heart related fatalities among otherwise health young individuals can be corroborated by many who have seen friends, colleagues, relatives and neighbors die from sudden heart related issues in the last two years, correlating with the emergence of the SARS-CoV-2 coronavirus from Wuhan, China.
The
COVID-19-Heart Issues
findings from the study in the European Society of Cardiology (ESC) site could help to explain why some patients with long COVID still experience breathlessness one year later and indicate that it might be linked to a decrease in heart performance.
Study author, Dr Maria-Luiza Luchian from the University Hospital Brussels-Belgium told Thailand Medical News, "There is increasing evidence of cardiovascular complications due to COVID-19 and of long-lasting symptoms such as dyspnea (shortness of breath), known as long COVID."
The study investigated whether subclinical heart abnormalities were more common in long COVID patients with dyspnea hence thereby potentially explaining the reason for their symptoms.
The research included 66 patients without previous heart or lung disease who were hosp italized with COVID-19
between
March and April 2020 at University Hospital Brussels. At one-year after hospital discharge, spirometry together with chest computed tomography were used to assess lung function and possible sequela of COVID-19.
Cardiac ultrasound was also performed to examine heart function and included a new imaging technique called myocardial work which provides more precise information on heart function than previous methods.
The study participants average age were 50 years and 67% were men. At one year, 23 patients (35%) had shortness of breath during effort.
The study team examined the association between imaging measures of heart function and shortness of breath at one year after adjusting for age and gender.
The detailed analysis alarmingly showed that abnormal heart function was independently and significantly associated with persistent dyspnea. Cardiac imaging revealed poorer heart performance in patients with versus without dyspnea at one year after hospitalization due to COVID-19.
"The research findings shows that more than a third of COVID-19 patients with no history of heart or lung disease had persistent dyspnea on effort a year after discharge from hospital. When looking in detail at heart function by cardiac ultrasound, we observed subtle abnormalities that might explain the continued breathlessness," said Dr Luchian.
The study team concluded: "Myocardial work could be a new echocardiographic tool for early identification of heart function abnormalities in patients with long COVID-19, who might need more frequent and long-term cardiac surveillance. Future studies including different COVID-19 variants and the impact of vaccination are needed to confirm our results on the long-term evolution and possible cardiac consequences of this disease."
Importantly the study findings stress that those who are 'deemed' recovered from COVID-19, should pay extra attention to their heart health and arrange for frequent check-ups and screenings with their cardiologists.
We are making a special appeal to all readers to please help to sustain this site and also all our research and community initiatives by making a donation. Your help means a lot and helps saves lives directly and indirectly and we are in dire need of funds now for some of these urgent new projects. Please do help. Thank You. (We also apologize for disturbing readers with this urgent appeal)
https://www.thailandmedical.news/p/sponsorship
For the latest on
COVID-19-Heart Issues
, keep on logging to Thailand Medical News.