Crimean-Congo Hemorrhagic Fever Surge Continues In Iraq With Disease Now Spreading As Far As The Kurdistan Regions. 162 Confirmed Cases, 27 Deaths And 348 Suspected Cases!
The Crimean Congo Hemorrhagic fever disease surge in Iraq is slowly gaining momentum as the disease has now even spread to the northern Kurdistan regions and to date, the number of official cases has reached 162 with 27 individuals already dead and the remaining cases are all in critical care. Another 348 individuals who are also hospitalized are pending lab validation while thousands more are being investigated. (Sources: Alahad News)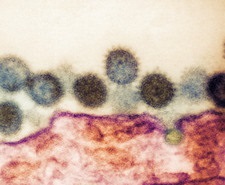 The country is facing a crisis as there are shortage of properly equipped laboratories that can test for the viral disease coupled with the fact in many rural areas, cases are going unreported as there is a lack of any medical staff or clinics.
Thailand Medical News had reported about the outbreak in Iraq on the 29th Of May 2022.
https://www.thailandmedical.news/news/breaking-emergence-of-new-surge-of-crimean-congo-haemorrhagic-fever-in-iraq-and-sporadic-cases-elsewhere-worries-the-world-health-organization
Since then in the last two weeks, caseloads are rising and not much help nor aid has come from the WHO or other Middle-Eastern countries.
Reports of emerge that cases have also been detected in Afghanistan, Iran, Syria, Yemen.
A single case involving a child who family has recently traveled to Iraq and returned was reported in Malaysia.
Scientists are warning that if these situation is not controlled, the disease will spread and become a major crisis for the Middle-east region.
CCHF or Crimean-Congo haemorrhagic fever in humans is a disease caused by the CCHF virus (CCHFV). CCHFV is transmitted by bites from infected ticks (mainly of the Hyalomma genus) or by direct contact with blood or tissues of infected ticks, viraemic patients or viraemic livestock.
Due to the involvement of ticks and vertebrates in the life cycle of the virus, and the environmental factors that influence the virus's reservoirs, hosts and vectors, CCHF is a typical example of a disease that benefits from a One Health approach, which addresses health threats from a multisectoral perspective. Infected individuals present a variety of symptoms, ranging from asymptomatic or mild febrile illness to severe disease characterized by haemorrhagic manifestations, multi-organ failure and shock. The case fatality rate is approximately 30% among hospitalized patients.
The CCHF virus belongs to the genus Orthonairovirus (family Nairoviridae, order Bunyavirales).
The disease was first identified in 1944 in Crimea (Crimean haemorrhagic fever), while the virus was first isolated in 1956 in Congo (Congo virus), resulting in the current name of the virus and the disease.
The CCHF virion is spherical with an approximate diameter of 80–100 nm. The CCHFV genome consists of three segments of single-stranded negat ive sense RN — the small (S), medium (M) and large (L) segments — which encode the viral nucleocapsid, the glycoprotein precursor (which is cleaved into two envelope glycoproteins, GN and GC, and various non-structural proteins) and the polymerase, respectively. Based on the S segment sequences, the currently identified CCHFV strains can be classified into seven genotypes (genotypes I to VII), with genotype IV divided further into two subgenotypes (IVf and IVg). The CCHFV phylogeny differs in the three segments due to reassortment events among strains of different genotypes.
In March 2021, the International Committee on Taxonomy of Viruses updated the taxonomy of the phylum Negarnaviricota (which includes the orders Bunyavirales and Mononegavirales). One of the changes included the assignment of CCHFV genogroup VI into a novel species of the Orthonairovirus genus named Congoid orthonairovirus, which includes the prototype strain AP-92 isolated in 1975 from Rhipicephalus bursa ticks sampled in Vergina (ancient Aigai) in northern Greece, and it has now been renamed Aigai virus
It has been found that the incubation period of CCHF is three to seven days (range: 1–14 days); it is generally shorter after a tick bite or needle-stick injury than following contact with infected blood.
Seroprevalence studies show that the majority of CCHF cases (>80%) are asymptomatic or mild. Children usually present a milder form of the disease. In severe cases, the main pathophysiology features are increased vascular permeability and cytokine storm.
Typically, the disease is characterized by a sudden onset of flu-like symptoms (fever, headache, myalgia and malaise), photophobia, abdominal pain, diarrhea and vomiting. Haemorrhagic manifestations can be present in severe cases, ranging from petechiae, epistaxis and ecchymoses at venepuncture and injection sites to severe haemorrhages from various systems. Few patients may present mood swings, confusion and aggression.
It has been found that the virus enters the host through the epithelial cells and, after a local amplification, enters the lymphatic system and infects the organs- specifically the liver and spleen, but also other organs - leading to multi-organ failure.
Severe cases follow a typical course with four distinct phases: incubation, pre-haemorrhagic, haemorrhagic and, if the patient survives, convalescence.
The case fatality rate in hospitalized patients is approximately 30%.
In survivors, improvement is seen 9 to10 days after symptom onset, at which time they are discharged from the hospital. Recovery may be slower in a small proportion of patients.
Observed hematological and biochemical abnormalities include thrombocytopenia, leukopenia, transaminasemia, prolonged coagulation times, elevated D-dimers, decreased fibrinogen levels, and elevated levels of creatine phosphokinase and lactate dehydrogenase. High viral load, severe thrombocytopenia, elevated liver enzymes and prolonged bleeding times are predictors of severe disease and fatal outcome.
Most wild and domestic animals are susceptible to CCHFV infection and serve as hosts of the virus. When infected, they become viraemic for approximately 2–15 days, but they do not present clinical symptoms.
The Crimean Congo Hemorrhagic Fever virus circulates in nature between ixodid ticks and vertebrate hosts. It is transmitted to humans by bites from infected ticks or by direct contact with blood or tissues of infected ticks, viraemic patients or viraemic livestock.
Interestingly, there have been a few reports of infection after drinking unpasteurized milk or after consumption of raw meat from freshly slaughtered livestock. CCHFV is usually inactivated in meat due to post-slaughter acidification.
It has been found that Hyalomma ticks (mainly H. marginatum, H. anatolicum, H. rufipes and H. asiaticum) are competent CCHFV vectors and reservoirs.
The Crimean Congo Hemorrhagic Fever virus is transmitted among ticks transstadially, transovarially and venereally, while transmission by co-feeding may also occur. After infection, ticks remain infective for their whole life.
Most hospital-acquired infections can occur due to direct contact with blood or tissues of viraemic patients or improperly sterilized medical devices.
CCHF cases in pregnant women are rare, but the risk for maternal and foetal mortality is high, and nosocomial transmission in this group has been reported. The epidemiological and behavioural factors contributing to acquisition of CCHFV infection differ among countries.
Although the incubation period of CCHF is three to seven days (range: 1–14 days), early and accurate diagnosis of CCHF is critical for the patient's life and for timely response and control measures.
Laboratory diagnosis in the acute phase of the disease is achieved mainly by detection of CCHFV RNA using molecular methods, but also by detection of CCHFV antigen and isolation of the virus (in high containment facilities). Prolonged detection of CCHFV RNA has been reported, but in general molecular methods are helpful during the first week of illness.
It should be noted that the high genetic variability of CCHFV strains may diminish the efficacy of molecular tests, affecting their diagnostic potential.
Metagenomic next generation sequencing can support pathogen identification, especially in cases with complicated symptomatology. CCHFV-specific IgM and IgG antibodies are detectable after the fifth day of the disease using serological methods (ELISA or indirect immunofluorescence).
Unfortunately such test platforms are not available in countries like Iraq, Iran, Afghanistan, Syria or Yemen.
The CCHFV infection can be confirmed by detection of IgM antibodies or seroconversion, or four-fold increase in IgG antibody titres in serial serum samples. It should be noted that antibody response is often absent or delayed in severe or fatal cases.
Normally, a combination of molecular and serological methods is the best diagnostic approach. Obtaining a detailed medical history from a potential CCHF case, as well as understanding the virus kinetics in the blood and antibody responses, will support health practitioners to make an accurate diagnosis.
At present, no specific antiviral drug is currently available for CCHF treatment. Therefore, medical management consists of monitoring a patient's fluid and electrolytes balance and organ functions, including their coagulation system.
The broad-spectrum antiviral drug Ribavarin, can be given early after symptom onset to prevent severe infection or as post-exposure prophylaxis.
The antiviral Favipiravir has been studied in vitro and in animal models and results are encouraging.https://pubmed.ncbi.nlm.nih.gov/24786461/
Administration of human anti-CCHFV immunoglobulins from convalescent patients has been reported for prevention and treatment in some countries. Early clinical suspicion and laboratory confirmation are essential for successful treatment of patients and for prompt implementation of appropriate infection control measures to mitigate disease spread. Strict barrier nursing procedures should be applied for suspected and confirmed CCHF cases.
For more on the Crimean Congo Hemorrhagic Fever which is expected to become widespread in the Middle-east soon, keep on logging to Thailand Medical News.