COVID-19 Face Mask: Guidelines To Treating Skin Conditions That Results From Wearing Face Masks
COVID-19 Face Masks
: As a result of the need to use protective face mask during theCOVID-19 pandemic, many individuals are complaining of skin conditions and irritations on the face that are emerging.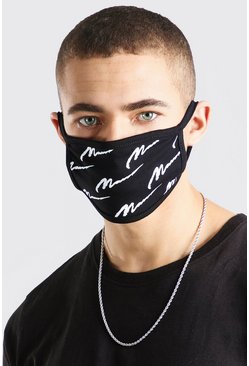 According to various dermatologists, "Individuals are getting friction and irritation across their nasal bridge, behind their ears and perhaps under their chin. That happens because of natural wear but also because the masks are tight, which is well-intentioned, but can put pressure on the skin."
Doctors are saying that the mask should not be loose and should be worn firmly against the skin, but not so tight it bruises the skin.
Some dermatologists are also recommending using zinc oxide. Zinc oxide is the white hypoallergenic chemical that has very soothing anti-inflammatory properties, and one can put a thin layer across the nasal bridge, also behind one's ears or under the chin, basically in places where the mask will rub."
The zinc oxide serves as a barrier to the friction without affecting or decreasing the effectiveness of the mask.
According to leading dermatologists the first step for mask use and sensitive skin is to put it on only after one has washed and patted one's face dry. Then apply hypoallergenic moisturizer that's identified as face moisturizer. Apply the lotion or cream twice, leaving a thick layer.
For areas that are irritated, when one gets home, indulge in a vinegar soak by using a washcloth and lay it across one's face for about 15 minutes especially on the areas that are irritated.
A great recipe for a vinegar soak is to put a teaspoon of white vinegar in a glass or small bowl of warm water, soak a clean washcloth, then rest it on your face.
Try to repeat that two to three times a day, if possible and one will find that this humidifying method is very helpful.
Skin issues on the face and neck that are not related to COVID-19, where the mask rests or rubs, are likely to be exacerbated by the friction of the mask and sweating, since some individuals get warm wearing them. Some examples of such developing condition includes acne, rosacea and psoriasis.
For these conditions, individuals should wash the face gently with soap and water, twice daily. The apply prescribed topical medications that doctors have suggested including steroids or antihistamine creams etc
Always consult your dermatologist or primary health care provider if a new rash erupts or if the current skin condition changes appearance or is not responding to treatment.
It is also critical ad important to wash cotton face masks to keep them clean.
Washing by hand is gentler on the mask. However, remember to wash adequately with soap and hot water.
Other important points to note when wearing mask are:
-Always replace ties or elastic, as needed, if they wear.
-Always replace the mask if it tears or develops holes or the fabric is falling apart.
-Always wear the mask over the nose and mouth and not just the mouth.
&nb sp;
-Never forget about potential irritation behind the ears and under the chin.
-never wear mask that are dirty or stained.
For more about
COVID-19 Face Mask
, keep on logging to Thailand Medical News
AN URGENT APPEAL
: Please help support this website by kindly making a donation to sustain this website and also all in all our initiatives to propel further research:
https://www.thailandmedical.news/p/sponsorship