COVID-19 Drugs: Niclosamide Emerging As Another Potential Repurposed Drug Candidate To Treat COVID-19
COVID-19 Drugs
: The second wave of the COVID-19 pandemic is currently taking a toll on numerous countries around the world with daily global infection rates now surpassing 700,000 and daily COVID-19 deaths now exceeding 13,000 (On December 16th new records were reported with more than 725,950 COVID-19 infections in 24 hours and 13,558 COVID-19 deaths).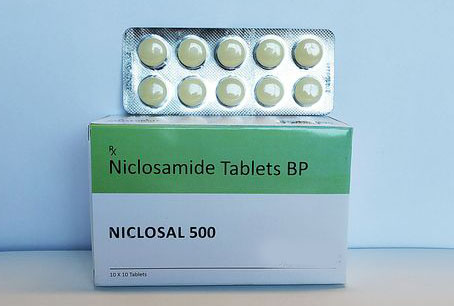 As of Friday, (9am Bangkok time), the total number of COVID-19 infections have now reached 75,251,516 and the total global COVID-19 deaths have reached 1,667,161. (Source: Worldometer)
The United States, sadly the worst hit country in the world now has more than 17 million COVID-19 infection cases and more than 310,425 Americans have died from the SARS-CoV-2 infection. Hospitalizations have now reached a record of more than 115,000 and more than 23,000 Americans are in ICU with about 8,074 on ventilators. These figures are expected to rise exponentially the next few weeks and it is expected that by end of January 2021, close to half a million Americans would be dead as a result of the COVID-19 disease.
To date there are no effective drugs or antivirals to treat COVID-19 except a few drug scams perpetrated by America authorities and certain pharmaceutical and biotech companies to promote toxic and ineffective drugs such as hydrochloroquine and overpriced remdesivir and also certain expensive monoclonal antibody treatments.
There has been numerous generic drugs that deserves more attention and studies as they could be repurposed to treat COVID-19 including ivermectin (more than 5 randomized trials to date showing its effectiveness), famotidine etc. The same goes for supplements like melatonin and numerous herbs including licorice, honeysuckle, nigella sativa etc.
However there is a concerted effort originating in America and involving countries like the United Kingdom and France to basically suppress any research on supplements, herbs and cheap generic drugs to treat COVID-19. Perpetrators involved include the American authorities and health agencies and regulatory bodies along with the support of unethical researchers and American universities and medical schools that can easily be bought by the big pharma and government monies. The pharmaceutical companies have even bought the support of the American mainstream media, French and American wire agencies, American social media and even search engines.
An interesting generic drug that warrants further studies as a potential antiviral drug candidate to treat COVID-19 is niclosamide.
Indian researchers from National Centre for Biological Sciences (TIFR)-Bengaluru, India University of Trans-Disciplinary Health Sciences and Technology (TDU)-Bengaluru ,Institute for Stem Cell Science and Regenerative Medicine (inSTEM)-Bengaluru, CSIR - Indian Institute of Integrative Medicine-Jammu and the India Manipal Academy of Higher Education (MAHE)-Karnataka have in a new study showed that niclosamide has the potential to be repurposed as an antiviral to treat COVID-19.
Many viruses utilize the host endo-lysosomal network to infect cells. Tracing the endocytic itinerary of SARS-CoV2 can provide insights into viral trafficking and aid in designing new therapeutic targets.
The study team demonstrated that the receptor binding domain (RBD) of SARS-CoV2 is internalized via the clathrin and dynamin-independent, pH-dependent CLIC/GEEC (CG) endocytic pathway. Endosomal acidification inhibitors like BafilomycinA1 and NH4Cl, which inhibit the CG pathway, strongly block the uptake of RBD.
Using transduction assays with SARS-CoV2 Spike-pseudovirus, the study team confirmed that these acidification inhibitors also impede viral infection. By contrast, Chloroquine neither affects RBD uptake nor extensively alters the endosomal pH, yet attenuates Spike-pseudovirus entry, indicating a pH-independent mechanism of intervention.
The study team screened a subset of FDA-approved acidification inhibitors and found Niclosamide to be a potential SARS-CoV2 entry inhibitor. Niclosamide, thus, could provide broader applicability in subverting infection of similar category viruses entering host cells via this pH-dependent endocytic pathway
The detailed study findings were published on a preprint server and are currently being peer reviewed.
https://www.biorxiv.org/content/10.1101/2020.12.16.422529v1
Thailand
Medical News
had published an earlier article in June showing Korean research of the efficacy of niclosamide to treat COVID-19 in animal models.
https://www.thailandmedical.news/news/niclosamide-shows-efficacy-against-covid-19-in-animal-tests-according-to-south-korean-pharmaceutical-giant-daewoong
Past research showed that in the laboratory the antiviral effect of niclosamide was much greater than that of chloroquine, remdesivir, or lopinavir or other drugs being considered to fight the COVID-19 pandemic.
https://aac.asm.org/content/64/7/e00819-20
Biotech firm ANA Therapeutics has already begun Phase II/III trial to analyse the safety and efficacy of its oral niclosamide (ANA001) formulation for treating patients with moderate COVID-19.
https://clinicaltrials.gov/ct2/show/NCT04603924
The clinical trial is a first-of-its-kind in the US, analysing niclosamide, traditionally used for treating tapeworm infections, against COVID-19.
Detailed pre-clinical data from an independent academic group showed that niclosamide prevented viral replication in vitro and was more potent than remdesivir. It works as an SKP2-inhibitor, reducing viral replication.\
Niclosamide has also demonstrated anti-inflammatory activity through NF-κB and STAT3, transcription factors that stimulate the expression of molecules that propel inflammation.
Dr Nadja Mannowetz , ANA Therapeutics chief scientific officer told Thailand Medical News, "Niclosamide has demonstrated antiviral as well as immune-modulating activities in preclinical studies. This trial provides the first opportunity to evaluate its safety and potential to improve clinical outcomes and reduce hospital stay by reducing viral load, inflammation linked to cytokine dysregulation, acute respiratory distress syndrome, and disease-related blood coagulation."
The large multi-centre, randomized, placebo-controlled trial will take place in two parts across 20 clinical sites in the US.
For the trial, hospitalized patients with moderate Covid-19 who do not require ventilators will receive a seven-day course of niclosamide capsules.
Key primary objectives of the second part are to analyze niclosamide's efficacy, safety and tolerability. While secondary goals will analyse clinical improvement and the need and duration for rescue therapy.
The novel formulation of niclosamide used in the study enters the bloodstream to target the virus.
Dr Andrew Bartynski, ANA Therapeutics co-founder and COO added, "The original niclosamide product was designed to work in the gut, where tapeworms reside, and not enter the bloodstream. We have developed a proprietary formulation intended to enable the drug to readily enter the bloodstream at levels sufficient to stop the virus from replicating."
There are also trials ongoing in Korea by Daewoo using niclosamide to treat COVID-19 patients ranging from mild to severe cases.
Another published study has also advocated the usage of niclosamide to treat COVID-19 as an antiviral.
https://www.ncbi.nlm.nih.gov/pmc/articles/PMC7195103/
The Indian study team concluded their study findings on niclosamide, "In conclusion, our study reports the high capacity CG pathway as a potential endocytic route for SARS CoV2. We further show that endosomal acidification is critical for SARS-CoV2 entry and infection and can be a promising therapeutic target as observed by the results seen with Niclosamide, BafilomycinA1 and NH4Cl. This study also paves way for large-scale screens to repurpose FDA-approved drugs as acidification inhibitors and scrutinize for more Niclosamide-like drugs that might have better bioavailability or can be used in combination with other antiviral drugs. Moreover, the methods described in our study can effectively be extended and better represented with clinical isolates of viruses to assess their infective journey in primary cells that represent the more natural hosts for infection.
Thailand Medical News will provide updates on further research and also the outcomes of clinical trials under way.
Please Help Donate To Sustain This Website And All Our Research Initiatives.
https://www.thailandmedical.news/p/sponsorship
Wishing all our readers a Merry Christmas and A Great And Happy New Year 2021. But Please Stay Safe.
For more on
COVID-19 Drugs
, keep on logging to Thailand Medical News.