Breaking! Yale Study Discovers That SARS-CoV-2 Infects Immune Cells Directly Causing Inflammasome Activation That Leads To Hyperinflammation In Lungs!
A new study by researchers from Yale University-USA has found that the SARS-CoV-2 coronavirus directly infects certain immune cells that leads to inflammasome activation that ultimately contributes to the hyperinflammatory state of the lungs.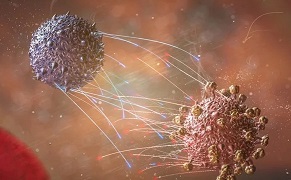 Typically, severe COVID-19 is characterized by persistent lung inflammation, inflammatory cytokine production, viral RNA, and sustained interferon (IFN) response all of which are recapitulated and required for pathology in the SARS-CoV-2 infected MISTRG6-hACE2 humanized mouse model of COVID-19 with a human immune system.
It has already been found that blocking either viral replication with antivirals or the downstream IFN stimulated cascade with anti-IFNAR2 in vivo in the chronic stages of disease attenuated the overactive immune-inflammatory response, especially inflammatory macrophages.
The study team found that the SARS-CoV-2 virus infection and replication in lung-resident human macrophages is a critical driver of disease. In response to infection mediated by CD16 and ACE2 receptors, human macrophages activate inflammasomes, release IL-1 and IL-18 and undergo pyroptosis thereby contributing to the hyperinflammatory state of the lungs. Inflammasome activation and its accompanying inflammatory response is necessary for lung inflammation, as inhibition of the NLRP3 inflammasome pathway reverses chronic lung pathology. Remarkably, this same blockade of inflammasome activation leads to the release of infectious virus by the infected macrophages.
Hence, inflammasomes oppose host infection by SARS-CoV-2 by production of inflammatory cytokines and suicide by pyroptosis to prevent a productive viral cycle.
The study findings were published in the peer reviewed journal: Nature.
https://www.nature.com/articles/s41586-022-04802-1
The study team identified a particular immune response pathway that leads to severe illness and death in people infected by the SARS-CoV-2 virus.
It has already been known that once the COVID-19 virus infects the lungs it can trigger what has been called a "cytokine storm," or an overactive immune response that leads to deadly inflammation in the lungs.
The study team lead by postdoctoral fellow Esen Sefik, who is part of the lab of senior author Dr Richard Flavell, studied the effects of SARS-CoV-2 infection in mice engineered to have a human immune system.
Shockingly, the study findings showed that the immune cells themselves, not just epithelial cells lining the lung, can harbor the virus.
It was found that when the body detects the virus in these cells, inflammasomes, part of the immune system's early warning system, produce and release cytokines which prompt these immune cells to commit suicide in an attempt to abort infection. However, the cytokines also recruit even more inflammatory cells to the lungs from the blood, which drives a vicious cycle that leads to pneumonia.
Dr Richard Flavell, Sterling Professor of Immunobiology and investigator for the Howard Hughes Medical Institute told Thailand
Medical News
, "It's like a broadcast system, but in this case the message is lethal ."
Importantly, in the mouse model of COVID-19, the study team were able to rescue infected mice from pneumonia by blocking the NLPR3 inflammasome pathway. With the inflammasome pathway blocked, immune system cells were still infected. But they were no longer inflammatory and therefore could not contribute to damaging levels of inflammation, the study team found.
However, one byproduct of this rescue is that the cells no longer die and as a consequence release more virus.
The study team however says that blockade of the inflammasome pathway along with antiviral treatment could provide a way to treat COVID-19 pneumonia and prevent severe cases of COVID -19.
Though there are no approved drugs that block the NLPR3 pathway, several pharmaceutical and biotech companies are developing them, Dr Flavell said.
Thailand
Medical News
would like to add however that the cheap and easily available supplement, Melatonin is able to inhibit NLPR3 inflammasome activation. Melatonin prevents NLRP3 inflammasome activation by inhibiting NF-κB signaling via RORα and silent information regulator 1 (SIRT1)-dependent deacetylation of NF-κB. ROS is a main trigger of NLRP3 inflammasome activation.
https://www.ncbi.nlm.nih.gov/pmc/articles/PMC8300798/
It was also found that melatonin is able to reduces NLRP3 Inflammasome activation by increasing α7 nAChR-mediated autophagic flux.
https://www.ncbi.nlm.nih.gov/pmc/articles/PMC7767051/
Numerous other studies have also showed that melatonin inhibits NLRP3 Inflammasome activation.
https://onlinelibrary.wiley.com/doi/10.1111/jpi.12322
https://link.springer.com/article/10.1007/s11064-021-03450-7?utm_source=xmol&utm_medium=affiliate&utm_content=meta&utm_campaign=DDCN_1_GL01_metadata
https://journals.sagepub.com/doi/10.1177/20587384211036819?icid=int.sj-abstract.similar-articles.1&
Many studies have already demonstrated that melatonin is useful in treating COVID-19.
https://www.thailandmedical.news/news/study-shows-that-melatonin-based-drugs-inhibit-sars-cov-2-entry-into-the-brain-and-prevent-damage-of-cerebral-vessels-might-be-good-for-long-covid
https://www.thailandmedical.news/news/covid-19-supplements-yet-another-study-indicates-that-melatonin-can-prevent-severe-covid-19
https://www.thailandmedical.news/news/covid-19-supplements-cleveland-clinic-study-highlights-efficacy-of-melatonin-to-help-treat-covid-19
https://www.thailandmedical.news/news/melatonin-covid-19-columbia-university-study-shows-that-melatonin-increases-survival-rates-of-covid-19-patients-on-ventilators
https://www.thailandmedical.news/news/melatonin-and-covid-19:-more-studies-emerging-that-melatonin-is-useful-as-an-adjuvant-treatment-for-covid-19-due-to-its-anti-inflammatory-properties-
https://www.thailandmedical.news/news/breaking-covid-19-supplements-melatonin-helps-lessen-severity-risk-in-covid-19-patients-by-preventing-cytokine-storms
For more on
SARS-CoV-2 And NLRP3 Inflammasome Activation
, keep on logging to Thailand Medical News.