BREAKING! WHO Researchers Warns Of New Super Drug Resistant Strain Of Neisseria Gonorrhoeae Originating From South-East Asia Now Spreading In Europe!
Researchers from the WHO Collaborating Centre for Gonorrhoea and other
STIs
at Örebro University- Sweden along with medical scientists from the Austrian Agency for Health and Food Safety-Austria, LKH Hochsteiermark, Leoben-Austria and the University College London-UK are warning of the spread of a new super drug resistant strain of Neisseria Gonorrhoeae that is thought to be originating from countries in South East Asia including Cambodia and also another country infamous for its sex industry after a few documented case reports in various parts of Europe including Austria have emerged.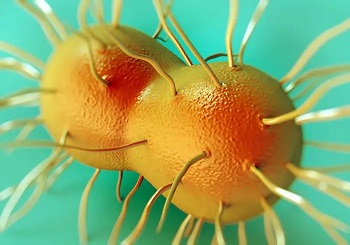 Considering that there is no vaccine available against gonorrhea, diagnosing this sexually transmitted infection early, treating it effectively and notifying sexual partners are cornerstones of controlling disease spread. However, Neisseria gonorrhoeae has developed resistance to all classes of antimicrobials since the beginning of treatment with them in the 1930s.
Typical first-line treatment approach and current guidelines recommend either monotherapy with ceftriaxone or a combination of it with azithromycin but resistance or decreased susceptibility to both has been reported worldwide in recent years.
The research team warned that they discovered a new extensively drug-resistant (XDR) Neisseria gonorrhoeae strain that shows high-level resistance to azithromycin and resistance to ceftriaxone, cefixime, cefotaxime, ciprofloxacin and tetracycline.
In simple terms, this new strain is completely resistant to ceftriaxone plus azithromycin.
The latest documented case involved a patient from Austria who had unprotected sex with a commercial sex worker from Cambodia.
The strain was detected after the heterosexual male patient in Austria presented with symptoms in April 2022. The study team noted a possible gonorrhea treatment failure with ceftriaxone and azithromycin as no post-treatment gonococcal isolates were available. Following the initial treatment course, the test of cure was negative, but a polymerase chain reaction test from the urethral swab culture sample was positive for Neisseria gonorrhoeae.
https://www.eurosurveillance.org/content/10.2807/1560-7917.ES.2022.27.24.2200455
The study team said that subsequent molecular investigation of the isolate establishes the detected strain in Austria as the second global gonococcal strain with ceftriaxone resistance combined with high-level azithromycin resistance and relatively close relationship with the "WHO Q" reference strain.
The "WHO Q" strain has been associated with three cases of gonorrhea notified in the United Kingdom and Australia in 2018 with reported links to South East Asia.
https://www.eurosurveillance.org/content/10.2807/1560-7917.ES.2018.23.27.1800323
Since the identification of the new "WHO Q" strain, more case reports have appeared all over Europe.
In February 2022, a few cases were identified in UK.
https://www.telegraph.co.uk/global-health/climate-a nd-people/new-super-gonorrhoea-cases-uk-spark-track-and-trace-investigation/
At present there are another 27 cases being investigated including cases reported in UK, Germany, France, Sweden, Denmark and Netherlands.
It has been reported that all these new cases involved travel to Cambodia or to another South-Easts country that is world famous for its female and male prostitutes and which just recently resumed it night-life industry and relaxed all COVID-19 travel rules to the country as it is in desperate need for the tourism dollar due to the country being in a bad economic shape after being mismanaged the last few years via a military dictatorship.
Interesting the commercial sex worker in Cambodia that was mentioned in te case report is not a Cambodian but rather from that other South-East Asian country!
It is believed that due the easy availability of antibiotics as OTC drugs in that country coupled with the fact that many of its stupid doctors are simply lazy and overprescribe antibiotics without properly managing the cases could be contributing factors to the emergence of these new extensive drug resistant STI strains. The spread of this new gonorrhea strain is also due to many cheap European sex tourists especially for the UK that are looking bargains in that country in South-east Asia unaware that many of the locals there are literally walking cesspools of various
STIs
and other pathogens.
It should be noted that multidrug- and extensively drug-resistant Neisseria gonorrhoeae strains are a global public health concern given the limited remaining treatment options.
Such emerging strains with sustained transmission might make many gonorrhea cases untreatable.
The study team stresses that "enhanced antimicrobial resistance surveillance (ideally including test of cure and whole-genome sequencing), nationally and internationally, particularly in Asia where many ceftriaxone-resistant strains appear to have emerged, is of highest importance. Ultimately, novel antimicrobials for effective treatment of gonorrhea and/or a sufficiently effective gonococcal vaccine will be crucial".
European health authorities are expecting more such case reports as the sex industry in that particular South East Asian country resumes service and as more cheap Europeans travel to that country.
For more on drug-resistant (XDR) Neisseria gonorrhoeae, keep on logging to Thailand
Medical News
.