BREAKING! Study Finds That Upregulated Interleukin-6 Drives Development Of Rare Liver Cancers! COVID-19 Infections Causes Elevated IL-6 Levels In Many!
A new study by researchers from German Cancer Research Center (Deutsches Krebsforschungszentrum, DKFZ) and the Hebrew University in Jerusalem have identified in mice the cell of origin of combined liver/biliary duct carcinomas, a rare type of cancer of the liver. The pro-inflammatory immune messenger interleukin 6 (IL-6) was found to be the driver of carcinogenesis. Blocking of IL-6 reduced both the number and size of tumors in mice.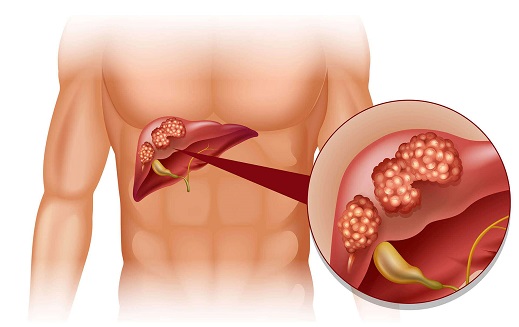 Primary liver cancers include: Hepatocellular carcinoma (HCC), intrahepatic cholangiocarcinoma (CCA) and combined HCC-CCA tumors (cHCC-CCA). It has been suggested, but not unequivocally proven, that hepatic progenitor cells (HPCs) can contribute to hepatocarcinogenesis. Combined hepatocellular carcinoma – cholangiocarcinoma is the third prevalent liver cancer.
The study team aimed to determine whether HPCs contribute to HCC, cHCC-CCA or both types of tumors.
In order to trace progenitor cells during hepatocarcinogenesis, we generated Mdr2-KO mice that harbor an YFP reporter gene driven by the Foxl1 promoter which is expressed specifically in progenitor cells. These mice (Mdr2-KOFoxl1-CRE;RosaYFP) develop chronic inflammation and HCCs by the age of 14-16 months, followed by cHCC-CCA tumors at the age of 18 months, as the study team have first observed.
In this Mdr2-KOFoxl1-CRE;RosaYFP mouse model, liver progenitor cells are the source of cHCC-CCA tumors, but not the source of HCC. Ablating the progenitors, caused reduction of cHCC-CCA tumors but did not affect HCCs.
Importantly, RNA-seq revealed enrichment of the IL6 signaling pathway in cHCC-CCA tumors compared to HCC tumors. ScRNA-seq analysis revealed that IL6 is expressed from immune and parenchymal cells in senescence, and that IL6 is part of the senescence-associated secretory phenotype (SASP). Administration of anti-IL6 Ab to Mdr2-KOFoxl1-CRE;RosaYFP mice, inhibited the development of cHCC-CCA tumors. By blocking IL6 trans-signaling, cHCC-CCA tumors decreased in number and size, indicating that cHCC-CCA is dependent on IL6 trans-signaling. Furthermore, the administration of a senolytic agent inhibited IL6 and the development of cHCC-CCA tumors.
The study findings demonstrate that cHCC-CCA, but not HCC tumors, originate from HPCs, and that IL6, which derives in part from cells in senescence, plays an important role in this process via IL6 trans-signaling. These findings could enhance new therapeutic approaches for cHCC-CCA liver cancer.
The study findings were published in the peer reviewed Journal of Hepatology.
https://www.journal-of-hepatology.eu/article/S0168-8278(22)02995-6/fulltext
The term liver cancer includes hepatocellular carcinoma, intrahepatic carcinoma of the bile duct, and a mixed form, combined liver/biliary duct cacrinoma (cHCC/CCA). The cells of cHCC/CCA exhibit features of both forms of cancer. This rare cHCC/CCA is considered very aggressive and responds extreme poorly to current treatments.
Thailand
Medical News
would to add that interestingly, the incidence of such once rare liver cancers have been rising exponentially in the last 18 months and it should also be noted that SARS-CoV-2 infections typically results in elevated levels of interleukin-6 and in many cases, the upregulated levels are persistent over time.
https://www.nature.com/articles/s41577-021-00553-8
https://ejhp.bmj.com/content/27/5/297
https://www.ncbi.nlm.nih.gov/pmc/articles/PMC8172271/
https://link.springer.com/article/10.1007/s12291-021-00989-8
https://www.ncbi.nlm.nih.gov/pmc/articles/PMC7237916/
https://www.ncbi.nlm.nih.gov/pmc/articles/PMC7804215/
There is a very high possibility that SARS-CoV-2 infections are also driving the occurrence of such rare liver cancers.
In order to identify potential targets for new therapies for such liver cancers, the study team led by Dr Mathias Heikenwälder of the German Cancer Research Center and Dr Eithan Galun of the Hebrew University in Jerusalem searched for the cellular origin of these tumors.
The study team conducted their research using animal models such mice that were genetically modified to develop chronic liver inflammation and hepatocellular carcinoma at an older age, and later also developed cHCC/CCA. The molecular profile of the cHCC/CCA tumor cells in these animals largely matched that of human cHCC/CCA cells.
Interestingly, the study team found that cHCC/CCA develops from degenerate liver cell precursors. In contrast, hepatocellular carcinoma most likely arises from damaged mature liver cells.
The study team found that in cHCC/CCA cells, genes of the pro-inflammatory interleukin 6 (IL-6) signaling pathway are particularly active. The source of the IL-6 that activates this signaling pathway are aging immune cells. The hallmark of cell aging, which scientists refer to as "senescence", is the release of a whole cocktail of pro-inflammatory signaling molecules, among which IL-6 plays the main role.
The study team also found that by blocking the IL-6 action by specific antibodies reduced both the number and size of cHCC/CCA tumors in the mice. It was found that using an agent that drives senescent cells into programmed cell death apoptosis, thereby drying up the source of IL-6, also inhibited the development of cHCC/CCA.
So far, the most effective current therapy for cHCC/CCA is surgical removal of the tumors. It is only successful if the cancer is detected at a very early stage.
Co-corresponding author, Dr Mathias Heikenwälder added, "Blocking of IL-6 or agents that kill senescent IL-6-producing cells could now be further tested as promising treatment approaches against this type of cancer."
Dr Heikenwälder further added," There is now growing evidence that tumors actually diagnosed as hepatocellular carcinoma also partially contain cells of a cHCC/CCA. This means that potential therapeutic approaches against cHCC/CCA could also benefit some patients with hepatocellular cancer."
Thailand
Medical News
would like to add that there are also other studies indicating that COVID-19 or SARS-CoV-2 infections will lead to liver cancers.
https://www.thailandmedical.news/news/breaking-sars-cov-2-infection-induces-increase-of-gp73-that-causes-dysglycaemia-increased-gp73-could-also-imply-future-liver-disease-and-liver-cancer
https://www.thailandmedical.news/news/researchers-alarmingly-find-that-metabolic-associated-fatty-liver-disease-mafld-may-be-a-prevalent-long-covid-manifestation
For the latest on
Liver Cancers
, keep on logging to Thailand
Medical News
.
Read Also:
https://www.thailandmedical.news/news/belgium-researchers-warn-that-more-hospitalized-covid-19-patients-are-manifesting-a-rare-chronic-liver-disease-known-as-sclerosing-cholangitis-could-b
https://www.thailandmedical.news/news/coronavirus-news-german-study-confirms-that-sars-cov-2-coronavirus-can-invade-and-damage-the-liver