BREAKING! COVID-19 News: Swiss Doctors Warn That SARS-CoV-2 Can Be Found In Gallbladder Of Patients And Infections Can Mimic Acute Cholecystitis
COVID-19 News
: Doctors and researchers from the department of Digestive Surgery, University Hospitals of Geneva, Switzerland have discovered that the SARS-CoV-2 coronavirus can be found in the gallbladder wall of COVID-19 patients and that
COVID-19 can also mimic acalculous acute cholecystitis.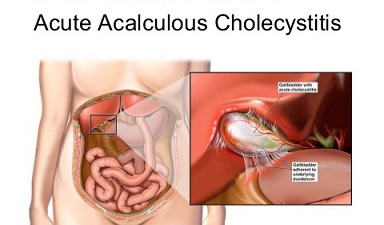 Two case reports of COVID-19 patients developing cholecystitis were mentioned in a study finding published in the journal: Hepatology
https://www.journal-of-hepatology.eu/article/S0168-8278(20)30550-X/fulltext
or
https://www.ncbi.nlm.nih.gov/pmc/articles/PMC7467103/
Corresponding author Dr Alexandre Balaphas from University Hospitals of Geneva, "Along with the typical upper and lower respiratory symptoms of COVID-19, attention should also be paid to extra-respiratory manifestations of the disease."
Co-researcher, Dr Christian Toso of University Hospitals of Geneva said, "Acute abdominal pain can also be a preliminary clinical feature of COVID-19.The study findings suggest that clinicians should be aware of this type of rarer presentation, especially in areas of high COVID-19 prevalence, and primarily direct patients toward conservative, non-surgical, management, considering the fatal outcome in one of our patients."
The team of doctors from the University Hospitals of Geneva describe an 84-year-old woman who was presented to the emergency department with a urinary tract infection and fever for 24 hours. The initial diagnosis was sepsis due to pyelonephritis and she was given ceftriaxone and supportive care.
However on day three, she experienced right upper quadrant pain, and on day five, a positive Murphy sign was detected. Gallbladder perforation was ruled out and she underwent laparoscopic cholecystectomy on day eight.
The patient after extubation developed acute respiratory distress syndrome, and nasopharyngeal swabs confirmed the presence of 2019-SARS-CoV2 RNA.
The patient passed away from multi-organ failure on postoperative day five.
According to the doctors, the gallbladder was not inflamed
, but SARS-CoV-2 was found in the gallbladder wall.
In another case also at the same hospital, an 83-year-old diabetic man on dialysis with arterial hypertension and moderate aortic stenosis was admitted for fever, but had no other symptoms.
However on day five, he developed right upper quadrant pain with a positive Murphy sign, degradation of his inflammatory markers and increased liver enzymes. Ultrasonography showed thickening of the gallbladder wall, presence of peri-vesicular liquid, but no gallstones.
By using conservative management with ceftriaxone and metronidazole, it led to a slow recovery. On day six, he experienced respiratory symptoms and COVID-19 was confirmed.
The study team commented, "
The presence of SARS-CoV-2 in t he gallbladder wall may result from a direct pathogenic effect of the virus on the gallbladde
r. Larger series are required to determine the incidence of abdominal presentation in patients with COVID-19, and further investigation is needed to better understand the suspected direct pathogenic impact of the virus on the gallbladder."
A New York doctor who was not involved with the study commented, "This is a thought-provoking topic that needs more research and studies. I have seen a few COVID-19 patients with new-onset biliary issues but at the same time, they also had other risk factors, which could be a confounding variable for their gallbladder issues."
He added, "Patients can have high levels of virus during active infection and we need more studies to decide whether it's an innocent bystander in the biliary issues or partaking in the etiology."
Other experts are saying that as the angiotensin converting enzyme-2 receptor that SARS-CoV-2 uses to enter cells is found on multiple tissues throughout the body, including the gut, it is not surprising that SARS-CoV-2 was found in a patient's gallbladder, and may have been found even without having developed gallbladder problems."
However the key question is what was the role of SARS-CoV-2 in the gall bladder inflammation?
As in the case of the 84-year-old woman, even without COVID-19, she had risk factors which could have led to acalculous cholecystitis. But it is not unreasonable to expect that SARS-CoV-2 induced inflammation made a potential situation go over the edge, resulting in the need to urgently remove her gall bladder.
There were also other documented case reports of COVID-19 resulting in cholecystitis including in Italy.
https://wjes.biomedcentral.com/articles/10.1186/s13017-020-00320-5
And in a case study of a COVID-19 patient at the Hospital of the University of Pennsylvania, the patient also subsequently developed cholecystitis.
https://www.onlinejcf.com/article/S1071-9164(20)30349-3/fulltext
It is already known that COVID-19 can affect the liver in a variety of ways
https://www.thailandmedical.news/news/breaking-covid-19-research-studies-warn-of-high-prevalence-of-liver-injury-in-covid-19-patients and the SARS-CoV-2
coronavirus is able to induce hepatitis.
https://www.sciencedirect.com/science/article/pii/B9780123858856000092?via%3Dihub
And
https://link.springer.com/article/10.1007/s10238-020-00648-x
Hence it is not surprising that the gall bladder can also be affected. Physicians are warned to pay attention to COVID-19 patients experiencing abdominal pains and also suggest that detailed abdominal ultrasonography and thoraco-abdominal CT be deployed to detect any abnormalities.
For the latest
COVID-19 News
, keep on Logging to Thailand Medical News.