BREAKING! China Losing Fight Against New BA.2 Variants, 13,146 New COVID-19 Infections In Last 24 Hours Despite Stringent Lockdowns And Measures!
China COVID-19 News
: Despite stringent lockdowns and measures, China is losing the battle against the SARS-CoV-2 BA.2 variant and its emerging subvariants plus recombinant variants that are far more transmissible and fast spreading.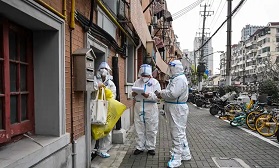 Chinese health authorities announced 13,146 new COVID-19 infections in the last 24 hours with Shanghai alone registering 8,226 new COVID-19 infections.
According to medical researchers working at the Chinese Academy of Sciences at Beijing and also at the Pasteur Institute in Shanghai, the actual cases of infections, hospitalizations and even deaths could be far more higher but the Chinese central government is trying to conceal data to prove that stringent lockdowns and measures can work to control to spread and are actually planning to put more cities into lockdown the next few days.
The scientists at the Institute of Pasteur have also revealed that about 3 different BA.2 subvariants and 2 recombinant BA.1 plus BA.2 variants are at play in China at the moment including the BA.2.2 variant which is most predominant at the moment.
However, the scientists are concerned as a number of newer sub-lineages spotting both spike and nucleocapsid mutations have spawned from the BA.2.2 subvariant and seems to be exhibiting disease severity. These occurrences were reported in the city of Jilin where patients were treated with both imported Paxlovid and Molnupiravir!
China COVID-19 News
will be providing more updates on these as we get more updates.
Meanwhile Hong Kong health authorities on Saturday asked the entire population of more than 7.4 million people to voluntarily test themselves for COVID-19 at home for three days in a row starting next week.
The sudden announcement by Chief Executive Carrie Lam came as the southern Chinese city is struggling to contain its worst outbreak with authorities sending mixed signals about testing and lockdowns.
The gloomy prospect of further school closures and other disruptions has the government caught between calls for loosening restrictions and Beijing's demand for an extreme "zero-COVID" approach mandating lockdowns and mass testing.
Hong Kong reported another 5,820 cases Friday as the latest surge begins to taper off.
In Shanghai to the north, provincial authorities are struggling to meet requirements for a lockdown on many of the city's 26 million residents…the largest such undertaking by China since the virus was first detected in the central city of Wuhan in late 2019.
It was reported that Shanghai is implementing a two-stage, eight-day lockdown, but many of those on the eastern, or Pudong, side of the city who should have been free to leave their compounds on Friday have remained in isolation.
Chinese health authorities have meanwhile placed the other half of the city, Puxi, under isolation with non-essential businesses and public transport brought to a stop and roads cleared of cars and people.
A total of 15 million Puxi residents were tested on Friday, according to state media.
Many residents under isolation complained of difficulty obtaining food, household item s and medications, while beds and staff at isolation centers were reportedly insufficient for the number of asymptomatic patients and others being brought there for observation.
When compared to Wuhan in 2020, Shanghai has benefited from China's experience and is better prepared, even though the outbreak is wider in scale, Chen Erzhen, commander of the third contingent of medical teams dispatched to the city, was quoted as saying by the official Xinhua Daily newspaper. That's because the omicron BA.2 variant is more infectious though less virulent, leading to the large number of asymptomatic cases, which China has categorized separately from "confirmed" cases.
Chen said, "There is more pressure because the larger number of patients increases the task of controlling the outbreak. But at present, Shanghai's situation is under control and we'll continue to treat and isolate as necessary."
Despite all the assurances and controlled narratives, local Chinese physicians say that in a matter of weeks, the whole county will be in midst of a major healthcare crisis as caseloads increase.
For the latest
China COVID-19 News
, keep on logging to Thailand Medical News.