448 Cases Of Monkeypox Now In 25 Countries With Another 17 Probable Cases Pending Test Results, 1086 Suspected Cases Being Investigated. UK Leads With 107 Cases!
Monkeypox cases have grown to 448 cases spanning 25 countries in the last few hours. Another 17 probable cases are pending confirmatory test results while another 1086 individuals suspected to have contracted the disease are being investigated.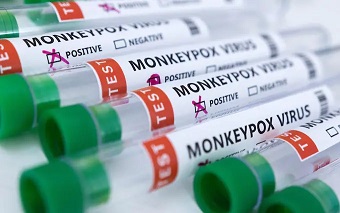 The United Kingdom leads the race with 107 human primates confirmed being infected with the
monkeypox
virus.
The other countries in which cases have been identified includes Spain (98), Portugal (74), Canada (63), Germany (22), Italy (13), Netherlands (12), United States (13), France (8), Belgium (7), Czech Republic (6), Switzerland(4), Iran (3), Slovenia (2), Australia (2), Sweden (2), Denmark (2), Argentina (2), Israel (2), Finland (1), Austria (1), United Arab Emirates (1), Sudan (1), Ecuador (1), Bolivia (1) .
UPDATE: 2 hours Ago, 2 more cases confirmed in Argentina bringing the emergence of the monkeypox virus in a total of 26 countries and the total number of confirmed cases to 450.
In Asia, suspected cases in Singapore, Indonesia, India and Vietnam are being investigated.
There are no cases of monkeypox in Thailand so far and the government and health authorities should be commended for finally taking a serious approach towards the potential threat in Thailand and have stepped up surveillance and testing at airports and borders. In particular they should pay attention to gays and sex tourists arriving from destinations like the United Kingdom, Germany, India, Singapore and the African continent.
A local popular gay app that is Chinese owned is promoting a gay event in Bangkok in the coming September and the local health authorities should pay attention to this event as it could be a potential super spreader event. Already a lot of gay events in the past by organizers from Singapore and China are helping to spread HIV infections as during these events as a lot of HIV positive Singaporeans, British and Australians would normally frequent these events and spread the virus to unsuspecting local Thai gay men.
Most of the initial cases of monkeypox in the United Kingdom, Spain and Portugal were contracted via sexual contact at gay related events. However, the monkeypox virus has since spread to also others including females and children through possible airborne transmissions.
Despite stupid Western so-called 'experts' claiming that the monkey pox strains currently spreading belonged to the Western African clade and were not mutated, new emerging studies have showed otherwise.
https://www.reuters.com/business/healthcare-pharmaceuticals/who-says-no-evidence-monkeypox-virus-has-mutated-2022-05-23/
https://www.thailandmedical.news/news/monkeypox-currently-circulating-around-is-unlike-former-strains-and-contains-new-mutations-despite-some-garbage-western-experts-claiming-that-they-are
It will be fun to watch the monkey pox virus surge in the United Kingdom along with the surge of new SARS-CoV-2 variants such as BA.2.12.1 and the BA.4 and BA.45 variants. Most of the British medical 'experts' are so rude and arrogant despite being stupid and the locals there also like to assume that only their British 'experts' knows what is best.
The irony is that despite having so many 'experts', the United Kingdom with a population of 68.5 million human organisms, is among one of the few countries with the highest SARS-CoV-2 infections so far, with 22,277,696 individuals who have been infected to date (actual figures could be as high as 1.6 fold!) and 178,465 Brits have died so far from COVID-19 and the excess death rate in the country since 2020 to now has been exponentially high.
A latest report on the unexplained issue of hepatitis in children has indicated that as of date, of the 665 cases reported globally, again the United Kingdom leads the race with more than 222 cases so far.
https://www.precisionvaccinations.com/acute-hepatitis-cases-children-2022
The United Kingdom is also one of the few places in the world seeing a rise in Syphilis and other STI related diseases including a new super Gonorrhea strain, Herpes and even HPV as most of the locals there are simply filthy and unhygienic!
https://www.economist.com/britain/2022/01/01/syphilis-rates-are-rising-relentlessly-in-britain
https://www.telegraph.co.uk/global-health/climate-and-people/new-super-gonorrhoea-cases-uk-spark-track-and-trace-investigation/
For the latest
Monkeypox News
and about the Mortality Rates in the United Kingdom, keep on logging to Thailand Medical News.