WHO Stupidly Declares Monkeypox A Global Health Emergency While The World Health Network Headed By Charlatans Will Soon Lobby For Mandatory 'Arse Mask'!
In the last hour, the WHO stupidly declared the monkeypox disease a global health emergency although to date, there has only been about 16,000 cases globally with 97 percent of all cases occurring in gay men and bisexuals and has only been basically manifested as a sexually transmitted infection. If we were to look in the number of cases of syphilis, gonorrhea, HPV, herpes etc including some that are drug resistant…the WHO might need to declare all these as global health emergencies as well!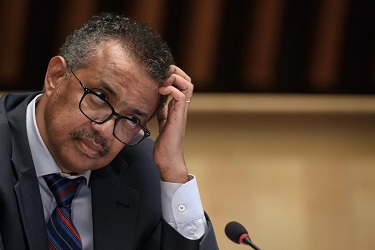 This new rare designation means the WHO now views the outbreak as a significant enough threat to global health that a coordinated international response is needed.
WHO last issued a global health emergency in January 2020 in response to the COVID-19 outbreak.
According to the WHO, Europe is the epicenter of the outbreak with men who have sex with men at highest risk.
The declaration by the WHO does not impose requirements on national governments, it serves as an urgent call for action. The WHO can only issue guidance and recommendations to its member states, not mandates. Member states are required to report events that pose a threat to global health.
The WHO declined last month to declare a global emergency in response to monkeypox.
However, increasing infections and pressure from those with a vested interest in vaccines and mandates such as the World Health Network lead by a Jew charlatan from the NECSI (the same charlatan was behind the endcoronavirus org that advocated for lockdowns and stupid unfounded measures) and an American Chinese twitter scammer, along with various pharma giants have pressured the WHO head Tedros Adhanom Ghebreyesus to issue the highest alert.
The number of confirmed monkeypox infections rose 77% from late June through early July, according to WHO data. Men who have sex with men are currently at highest risk of infection.
Only five deaths from the virus have been reported in Africa this year. No deaths have been reported outside Africa so far.
The U.S. CDC says that most individuals recover from monkeypox in two to four weeks.
The monkeypox virus causes a rash that can spread over the body. Individuals who have caught the virus said the rash, which looks like pimples or blisters, can be very painful.
The only thing unusual about the current monkeypox outbreak is that it is spreading widely in North American and European nations where the virus is not usually found. Historically, monkeypox has spread at low levels in remote parts of West and Central Africa where rodents and other animals carried the virus.
Due to the behavior of irresponsible gays indulging in public or group sex in gay saunas, gay dungeons, cruising joints and chemsex parties, Europe is currently the global epicenter of the outbreak, reporting more than 80% of confirmed infections worldwide in 2022. The U.S. has reported more than 2,000 cases across 43 states, Washington, D.C. and Puerto Rico.
The United Kingdom in early May reported a case of monkeypox in a person who recently returned from travel to Nigeria.
https://www.thailandmedical.news/news/breaking-uk-health-authorities-con firms-first-case-of-monkey-pox-imported-from-nigeria-with-more-individuals-under-investigation
Days later, the U.K. reported three more cases of monkeypox in people who appeared to have become infected locally. Other European nations, Canada and the U.S. then also began confirming cases. It's unclear where the outbreak actually began but gay pride events in Europe were fueling its spread and rise.
Dr Rosamund Lewis, the WHO's lead expert on monkeypox, , told media in May that the U.N. health agency was not concerned about monkeypox causing a global pandemic. She said public health authorities had a window of opportunity to contain the outbreak.
However, many Western infectious disease experts are concerned that health authorities have failed to contain the outbreak, and monkeypox will permanently take root in countries where the virus wasn't previously found with the exception of isolated cases linked to travel.
It should be noted that in contrast to COVID-19, monkeypox is not a new virus. Scientists first discovered monkeypox in 1958 in captive monkeys used for research in Denmark, and confirmed the first case of a human infected with the virus in 1970 in the nation of Zaire, now called the Democratic Republic of the Congo.
The Monkeypox is in the same virus family as smallpox, though it causes milder disease. The WHO and national health agencies have decades of experience fighting smallpox, which was declared eradicated in 1980. The successful fight against smallpox, and the tools developed against it, will provide health officials with important knowledge to combat monkeypox.
The World Health Organization last issued a global health emergency in January 2020 in response to the Covid-19 outbreak and two months later declared it a pandemic. The WHO has no official process to declare a pandemic under its organizational laws, which means the term is loosely defined. In 2020, the agency declared COVID a pandemic in an effort to warn complacent governments about the "alarming levels of spread and severity" of the virus.
We can next expect dubious entities like the World Health Network to start lobbying for lockdowns and even mandatory 'arse masks'! For sure mandatory monkeypox vaccines, monkeypox jab passports and compulsory anal swabs are all on the cards soon.
No authorities in Europe for the last 2 months have dared ordered gay entities like the gay saunas, gay dungeons, gay cruising joints and gay clubs to be shut down temporarily to curtail the spread and most of these places are still busy as usual with many gay men oblivious to the monkeypox threat. Worse, many of the gay men now think that by merely getting vaccinated, they are protected and are still frequenting all these places and indulging in unprotected group and public sex. Its only a matter of time before a vaccine resistant strain emerges!
For more on the stupid declaration by the WHO about monkeypox, keep on logging to Thailand
Medical News
.