WARNING! More BA.2 Subvariants With The Concerning Mutations L452Q Or L452R That Increases Fusogenicity And Infectivity Are Emerging And Spreading Globally!
Scientist and health officials around the world are raising alarms about the emergence and spread of more BA.2 subvariants and third generation subvariants bearing the concerning mutations L452Q or L452R that are known to increase fusogenicity and also increase risk of disease severity and risk of mortality. These emerging BA.2 subvariants and third generation subvariants also have increased infectivity and transmissibility.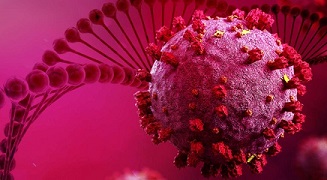 These L452Q and L452R mutations were last seen in the Lambda variant and are known to cause increased cell fusogenicity and also increases host glycolysis.
https://www.nature.com/articles/s41392-022-00941-z
https://pubmed.ncbi.nlm.nih.gov/34683488/
https://www.ncbi.nlm.nih.gov/pmc/articles/PMC8683271/
https://www.sciencedirect.com/science/article/pii/S1931312821002845
BA.2.12.1 Causing Alarms In New York And The Rest Of United States.
An example of one such BA.2 subvariant is the third generation subvariant, the BA.2.12.1 aka
BA.1.1.529.12.1 variant with the spike mutation: L452Q.
The BA.2.12.1 subvariant is predicted to have a global growth advantage of 32% over BA.2 and 105% over BA.1.1.
https://www.pango.network/summary-of-designated-omicron-lineages/
New York health authorities are raising concerns about this new variant that was first detected in March this year but has since be rising in numbers and fueling infections in New York State.
In a statement, New York Health officials said that the BA.2.12.1 is one of the two new BA.2 subvariants that is of concern at the moment, the other being the BA.2.12 subvariant. The statement said that these two subvariants accounted for more than 70% of new cases in March, and now account for more than 90%. One in five coronavirus cases in the Finger Lakes region are caused by the two subvariants.
https://www.health.ny.gov/press/releases/2022/2022-04-13_covid-19.htm
New York State Health Commissioner Dr Mary Bassett said in the statement, "We are alerting the public to two Omicron subvariants, newly emerged and rapidly spreading in upstate New York, so New Yorkers can act swiftly. While these subvariants are new, the tools to combat them are not. These tools will work if we each use them: get fully vaccinated and boosted, test following exposure, symptoms or travel, consider wearing a mask in public indoor spaces, and consult with your health care provider about treatment if you test positive."
It was reported that the two new viruses appear to be about 25% more contagious than BA.2, which was more contagious than any previous variant of the coronavirus. One of the subvariants has a mutation that has been shown to help evade the body's immune defenses, health officials said.
Alarmingly, many who had th e BA.2.12.2 subvariant exhibited disease severity and typically needed to be hospitalized and many also died.
The BA.2.12.2 subvariant has already been detected in more than 30 U.S. states and over 40 other countries, said Kirsten St. George, a virologist for New York State.
Italian Researchers Warns About New Omicron Variants Including BA.2 Variant With L452R Mutation Emerging In Northern Italy.
Italian researchers have also raised alarms with the report of 25 new cases of Omicron infections with the L452R mutations. All infected were hospitalized and displayed disease severity.
The report was published in the U.S. CDC journal of Emerging Infectious Diseases.
https://wwwnc.cdc.gov/eid/article/28/6/22-0210_article
Emergence Of A BA.2 Subvariant With L452R Mutation In Portugal
Scientists have also reported the emergence of BA.2 variants with
the
L452R mutation in Portugal. They have been monitoring a cluster of BA.2 sequences with the additional mutation S:L452R. The mutation "markers" of this cluster are S:L452R (nt: T22917G) and N:L221F (nt: G28936T). The first case was detected on 01 March 2022. Since then, this sub-lineage has been consecutively detected in our weekly nationwide random surveys, including cases in four regions (North, Center, Lisbon region and Alentejo)
https://github.com/cov-lineages/pango-designation/issues/554
New BA.2.11 Subvariant With S:L452R Mutation And Also ORF1a:S2519P Mutation In France.
Researchers have identified the BA.2.11 subvariant aka BA.1.1.529.2.11 variant that is currently prevalent in France with the key mutations ORF1a:S2519P+S:L452R.
COV-spectrum predicts a global growth advantage of 55% over BA.2 and 149% over BA.1.1
https://github.com/cov-lineages/pango-designation/issues/491
South Africa Finds BA.2 Variant With S:L452R And S:F486V
Scientists have also detected 79 sequences as of 2022-04-05 in South Africa of a BA.2 variant with S:L452R And S:F486V mutations.
https://github.com/cov-lineages/pango-designation/issues/517
BA.2 Subvariants With S:L452R Found In UK, Denmark, Germany, Thailand And South Korea
In the last 30 minutes, we have also received word from other scientists that BA.2 subvariants sequences with S:L452R mutations have also been found in UK, Denmark, Germany, Thailand and South Korea and these should be updated in the various online genomic databases in coming days.
Both BA.4 and BA.5 Variants Also Carry The S:L452R Mutations And Are Gradually Spreading Globally.
It should also be noted that the new Omicron BA.4 and BA.5 mutations also carry the
S:L452R
mutations and are also spreading globally but not as fast as the emerging BA.2 subvariants spotting these L452Q or L452R mutations.
https://www.thailandmedical.news/news/breaking-debut-of-sars-cov-2-ba-4,-ba-5-variants,-recombinant-xe-variant-and-more-than-34-other-subvariants-heralds-doomsday-scenario
It has already been found that despite being fully vaccinated and already infected previously with earlier Omicron variants, these new BA.2 subvariants with L452Q or L452R mutations can also cause reinfections!
Thailand
Medical News
predicts that in coming weeks, these new BA.2 subvariants with the L452Q or L452R mutations will be leading new surges globally.
For more on the
BA.2 subvariants with L452Q or L452R mutations
, keep on logging to Thailand Medical News.