US COVID-19 News: Trump, Fauci and The US FDA Does It Again. First It Was Chloroquine And Now Remdesivir
US COVID-19 News
: Innocent and suffering Americans are getting their lives placed on risk again, this time as the incompetent and fraudulent team comprising of President Trump, Dr Anthony Fauci and the US FDA has rapidly approved Remdesivir as a drug to treat COVID-19 despite conflicting study results and the fact that the drug does not clearly demonstrate any specific efficacy against the SARS-CoV-2 coronavirus.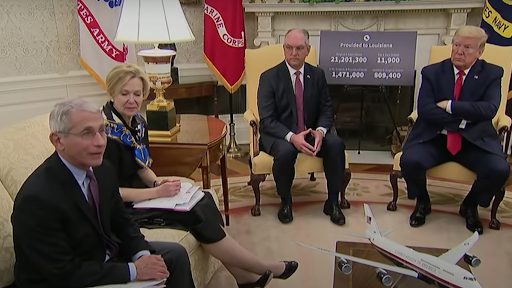 To make matters worse the drug has known hepatoxicity effects coupled with even slight indications of nephrotoxicity and even cardiotoxicity and there are insufficient studies to demonstrate its safety on humans.
Dr Anthony Fauci has been touting the Pharma giant's remdesivir a COVID-19 drug based only on vague results that it shortened hospitalization time of patients in small group studies.
https://www.thailandmedical.news/news/united-states-covid-19-crisis-most-mismanaged-country-in-the-world,-now-dr-fauci-peddling-remdesivir-with-more-lies--1-06-million-americans-tested-pos
A draft study abstract released inadvertently by the World Health Organisation (WHO) last week said remdesivir failed to improve patients' condition or reduce the pathogen's presence in the bloodstream.
However, it should be noted that big pharma companies have deep pockets to manipulate studies and research, buy media and also government officials.
The desperate President Trump who is responsible for placing America in such a mess with more than 1.13 million Americans confirmed infected with the COVID-19 disease and more than 65,780 Americans dead (as of Saturday, 8.30am) had earlier strongly advocated the use of the lethal chloroquine and hydroxychloroquine which could kill individuals with induced heart related issues, subsequently went on to propose other ridiculous treatment protocols such as UV light therapy, injecting humans with disinfectants and is now supporting Dr Fauci in pushing remdesivir on Americans.
The same President Trump in the initial stages of the Covid-19 crisis had refuted medical expert's views and labelled it as a mild flu. His response has not only led to thousands of deaths all over America but has led to the shutdowns that have caused massive unemployment and a major economic mess. Had he reacted earlier by closing the country borders to all travellers and not just Chinese and started aggressive testing, America would not in such a position.
Though the pharma company is also donating 1.5 million vials of remdesivir for use in America, many professional healthcare officials are calling this dangerous
It is as if President Trump, Dr Fauci and The US FDA are indirectly giving blessings to test an unproven but toxic drug on millions of Americans.
Overseas health experts looking at the developments are shocked at the speed an unproven drug with substandard research findings and is highly toxic is being rapid deployed across America.
Unlike other already approved drugs that were being studied as candidates in drug repurposing studies for COVID-19, remdesivir was never appro ved and was originally developed for Ebola and there are not much studies on its safety in humans.
For more on
US Covid-19 News
, keep on logging to
Thailand Medical News
.
Urgent Plea for help. We need help to financially sustain our website and also our other research and international community projects. Please support us by making a donation via paypal. Thank You
.
https://www.thailandmedical.news/p/sponsorship