U.S. COVID-19 News: Kamala Harris Might Be America's Answer For A Better Managed COVID-19 Approach To Contain The Crisis
U.S. COVID-19 News
: Simply forget about the Presidential elections for a moment, forget about Trump or Biden (both as equally hopeless!), forget about the Republicans or Democrats but focus on the sufferings of the American people and the current pandemic and the mess the whole country is in.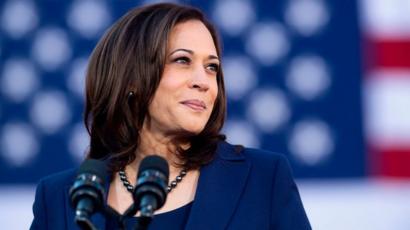 To date more than 5.2 Americans have been infected with the SARS-C0V-2 coronavirus with the US CDC saying the real figures could be ten fold. Forget about recovery as emerging data is showing there is going be wide array of long term medical complications in all those who were infected, even the mild cases are going to have to deal with these. So far more than 166,000 Americans have died and more are expected to die soon sadly.
Now forget about Kamal Harris political affiliations but focus on what she had done in the past and her track record and her manner of tackling issues and problems, always with American people at the heart.
That is what America needs and the kind of leadership it needs especially to manage the COVID-19 crisis and get America out of the ruck.
Senator Kamala Harris on Wednesday blamed President Donald Trump for the severity of the coronavirus outbreak in the United States.
During a press event, she said, "This virus has impacted almost every country, but there is a reason it has hit America worse than any other advanced nation. His refusal to get testing up and running, his flip-flopping on social distancing and wearing masks, his delusional belief that he knows better than the experts all of that is the reason and the reason an American dies of Covid-19 every 80 second."
Senator Harris was speaking in Wilmington, Delaware, during her first joint appearance with former Vice President Joe Biden since she became his running mate on Tuesday.
However, the White House did not immediately respond to a request for comment. But in response to Harris' remarks, Trump campaign communications director Tim Murtaugh said the president "has been leading the nation through the coronavirus crisis and restricted travel from China, and then Europe, way back in January."
Murtaugh added, "Joe Biden called it xenophobic and fear-mongering. We now know that the President's decision saved countless thousands of American lives and that Joe Biden would not have done it. If Joe Biden had been president, we would be in a much worse situation today."
Although Trump has repeatedly blamed China for causing the pandemic and exacerbating it in the U.S., saying China early on hid the extent of its outbreak, he has done little to punish China or even the WHO.
That is another factor that might determine who will win the elections as majority of Americans want to see vengeance meted out at China or in simple terms China has to pay along with the WHO its co-conspirator. Trump has an edge over Biden in that at least he has made threats but both do not seem capable of carrying out any major measures against China or WHO while Harris coming from a legal background seems to be a capable candidate to do the right things that will most probably pacify American anger.
Public health experts blame the surge of cases in the U.S. on failures in the Trump administ ration, saying it failed to act quickly to contain the virus, still lacks a coordinated response between the federal government and states and made early missteps on testing.
Harris said, "When other countries are following the science, Trump pushed miracle cures he saw on Fox News. While other countries were flattening the curve, he said the virus would just, poof, go away, quote 'like a miracle.' So when other countries opened back up for business, what did we do? We had to shut down again."
At the same event, Biden vowed, if he is elected, that his administration "will have a comprehensive plan to meet the challenge of Covid-19 and turn the corner on this pandemic." But it is most likely Harris who would be capable of handling the whole task considering her track record.
Biden added"Masking, clear science-based guidance, dramatically scaling up testing, getting states and local governments the resources they need to open the schools and businesses safely." He asked Trump and Vice President Mike Pence to "take responsibility" for the outbreak.
When Biden announced Harris as his running mate, fulfilling his pledge to select a woman and making Harris the first Black woman ever to appear on a major party ticket, many Americans from both camps were happy as when considering both candidates ie Trump and Biden, Harris seems the only one who could pull off the mammoth task of getting America back on its feet.
Many are saying that Biden's pick of Harris as his vice presidential candidate brings him a powerful ally in the fight against the coronavirus if the Democratic Party slate wins the 2020 presidential election.
Senator Harris has pushed for free Covid-19 testing and free masks as well as legislation aimed at addressing health-care disparities in communities of color as the virus continues to rapidly spread throughout the United States. The senator from California has called for a slew of changes aimed at protecting Americans, including federal laws barring landlords from evicting renters and monthly checks for people who make less than $120,000.
It seems that Senator Harris might be America's might savior after all and hopefully with Biden's aging issues, she might actually take the seat that she rightfully deserves eventually.
For more on
U.S.COVID-19 News
, keep on logging to Thailand Medical News.