The Evolving Projects Of CP Medical Center Co. Ltd.
The Thai conglomerate, Charoen Pokphand Group is one of the world's largest. It is also Thailand's largest private company. With investments in over 30 countries and a huge presence in the Chinese market the group employs over 350,000 staff.
It's 3 core businesses operate in:
Agribusiness & Food
Retail & Distribution
Telecommunications industries
So, it was with surprise to some that late last year the group announced it was entering the
Thai health care sector
.
While it may have surprised some, those who are aware of the CP Group's pharmaceutical interests in China through CP Pharmaceutical Group were perhaps not so taken aback by the announcement.
One thing is for sure, the revelation of such plans reveal that the CP Group intend to enter the Thailand health care sector in a big way.
While extensive details of their huge
medical center and health care project
are still being closely guarded, here's information that has been gleaned to date:
Name of new company - CP Medical Center Co Ltd:
The Head Office of CP Medical Center Co. Ltd., is located at 18, Ratchadaphisek Road Huai Khwang, Bangkok. Wholly owned by CP group, the company is now a fully-fledged CP subsidiary and has been set up to run the entire medical center operating unit.
Investment:
The entire project has been estimated at 15 billion baht over a 5-year period. It is understood that the venture is in talks with a number of international foundations to join CP in this funding. The intention is to go for stock-market listing, but as yet, it is unclear whether
this will be in Thailand or abroad.
Location:
A 50-Rai site has already been earmarked and its location is on Bang Na-Trat Road KM6. The new complex is understood to be constructed into 3 zones:
An R&D center: This will specialise in the development of biotechnology for the Thai market
An institute for medical teaching: Offering advanced learning facilities for recent medical graduates with CP's intention that it will compete favourably with top foreign medical universities
A hospital: It is understood facilities will major on Asian and Thai patients and with the continuing rise in Thailand as a hub for medical tourism, surely China will be a major focus here.
Commencement and completion of the project:
Construction has been slated to begin in 2019 with completion in 2021. Assuming schedules are adhered to, 2021 would mark the 100
th
anniversary of the CP Group foundation (1921).
Focus:
The timing of the project announcement follows on from the Thai government's committed policy in terms of promoting the Kingdom as a major global hub for healthcare and medical services.
Next generation health data platform and system:
CP Medical Center are already working with Liberty Biosecurity and this is evidenced by the MOU signed on November 13
th
2018 between Siriraj, Liberty Biosecurity and CP Medical center to work together on a joint research program on cancer precision medicine.
-align: center;">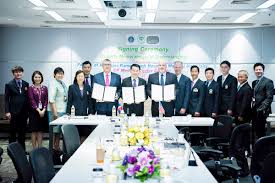 However, it is the more recent announcement of plans to proceed with a population health project that must be seen as one of the more controversial aspects of the proposed CP Medical Center initiatives.
Plans are underway to work with Liberty Biosecurity in the following areas:
Precision population health for under-studied populations across Asia
Implementation of a Diagnostic Management Team to improve diagnosis accuracy and efficiency
Development of an AI-ready Digital Health Data System capable of providing early warning of disease and to drive innovative preventative medicine.
Controversial or necessary progression?
It is understood that the intention is to create from scratch a "next generation health data platform and system" to benefit the country's population.
For this to be achieved it is understood that plans are afoot to gather medical and health data from all Thai employees in the CP Group. This extensive data-harvesting project would involve gathering details on such things as:
Genomic Data
Microbiome Data
Family History
Establishment of an electronically stored medical records system
A requirement for those involved to use wearable health monitors
While the aim of the project is understood to be spurred by the fact that very little is known about the Thai genome, the possible controversy relates to the ethical and privacy questions that such research raises.
CP Medical in conjunction with Liberty Biosecurity have stated that all such research would only take place after extensive and informed consent by those personnel involved.
This will be an interesting aspect of such a project and one wonders how CP staff will accept such close examination of their personal information.
Further developments awaited:
There is little doubt that such a huge new medical center can only benefit the Kingdom.
While little further information regarding the CP Medical Center is currently publicly available it is seriously hoped that details and information on such an exciting project will soon begin to flow from the center's senior management as the project develops.