Thailand Coronavirus News: Local Transmissions In Many Provinces And Bangkok In Last 48 Hours. Local Cases Increasing And Have Exceeded 700
Thailand Coronavirus News
: Local transmissions of COVID-19 are increasing in Thailand after the initial reported cases in Samut Sakhon province.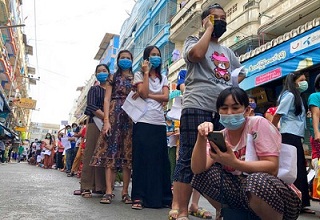 Myanmar Workers at Samut Sakhon made to queue up
in public to take COVID-19 tests without any social distancing etc!
Samut Sakhon
: The first patient of this outbreak was a 68 year old Thai woman who has never gone out of the country, meaning the source of the virus must have come from others, a DDC (Department of Disease Control ) official said.
As of Sunday night, there has been a total of 694 local COVID-19 infections in Samut Sakhon linked to the shrimp market alone and the numbers are still expected to climb the next few hours. Most are migrant workers from Myanmar.
The province has been put into lock down with schools, malls, factories, markets, entertainment outlets etc being closed.
COVID-19 patients in other provinces were customers of the shrimp market, which provincial health officers are now investigating for close contact.
Samut Prakarn
: Three cases of local COVID-19 transmissions have been identified at the Pak Nam market and more tests are being conducted among vendors at the market.
Bangkok
: A 78-year-old woman in Bangkok whose is residing in the Prachachuen area also was found to infected with the Covid-19 virus on December 19.
Investigation revealed that she had visited Mahachai Market in Samut Sakhon province in early December.
It was reported that on Dec 18, she went to Kasemrad Hospital in Prachachuen for a checkup and tested positive for COVID-19.
On Dec 19, she was sent to Mongkutwattana Hospital
Another case was also reported in Bangkok as having COVID-19 but details were not revealed yet and there are also a few more cases being investigated in the capital.
Meanwhile a number of schools in Bangkok and also Thonburi have decided to stop classes as a precautionary measure.
Thailand Medical News will report on the developing situation in the capital.
Nakhon Pathom
: The Nakhon Pathom Provincial Health Office announced yesterday that they have discovered two new cases of Covid-19 in the province, both linked directly to an outbreak at a shrimp market in Samut Sakhon.
The Health Office did not release specific details or a timeline at this time, although it is expected in the near future. They stated that the individuals were found by contact tracing from an outbreak at a market in Samut Sakhon.
More testing are being done in the province.
Suphan Buri
: One Case also linked to the Samut Sakhon marekt has been found. Details not revealed yet.
Ratchaburi
: Simialrly one case also linked to the Samut Sakhon cluster has been detected in the province with no details announced yet.
&lt ;br />
Mae Sot
: A new COVID-19 patient was found in the Mae Sot district of Tak province. The patient was identified as a Myanmar woman who worked at a supermarket.
On Sunday evening, officials from Mae Sot Hospital had checked a supermarket on Prasatwithi Road. One of the supermarket's staffs was found infected with COVID-19. People at risk related to this patient were checked and required to quarantine.
The report said that the infected woman had touched several customers. She was also a store checker and cash receiver. The patient is currently receiving treatment in Mae Sot Hospital.
Ayuthaya
: A local Thai woman, 29, who returned from Chiang Mai has tested positive for COVID-19, Dr Peera Areerat, Ayutthaya provincial public health officer, revealed on Sunday.
The Bang Pa-in Hospital found the woman infected with the SARS-CoV-2 virus, although she had no symptoms. She had returned from work at a beauty salon in Chiang Mai province on December 16. The patient travelled in a double-decker bus, sitting on the lower deck. In addition, three people were travelling together, with the female patient wearing a mask all the time.
It was reported that on December 17, the bus arrived at Ayutthaya at 5am. The woman got off at the Bang Pa-in intersection, Asian road, then took a motorcycle ride back to her house in Bang Pa-in district.
The next morning, at 10.30am, the woman sat on the back of a pickup truck and went to Bang Pa-in Hospital to test for COVID-19.
However on December 19, at 8am she went for a walk to the Si Thong Village Market. The same day, the hospital report showed her positive for COVID-19 but without symptoms. She was admitted immediately to the hospital.
Saraburi
: 3 new cases were detected on Sunday by the Saraburi hospital where the three Thai patients are currently being hospitalized. There were described as family ie a 45 year old mother, 41 year father and their daughter aged 21 years old. The three initially had fever and aches, and when to the Hospital for a checkup where they were discovered having COVID-19.
Fear Not, Thailand's Ministry Of Public Health Has Everything Under Control!
Dr Kiatiphum Wongrajit, permanent secretary for the Ministry Of Public Health, said the ministry was confident that the outbreak in the market would not spread across the country because the Myanmar workers are quite isolated.
He said, "The chance for the virus to spread to Thais is limited because they stay in their community and usually do not travel far from where they live."
Dr Kiatiphum said the ministry expected the situation would return to normal within four weeks, provided that the transmission rate remains under control.
Dr Kiatiphum has ensured their readiness with 500,000 pills ready to treat 8,000 people, (they are using favipiravir !!!) 46 million masks reserved and 4 million pieces can be produced per day, 3 million pieces of N95 masks, 2 million PPE sets.
He did not comment about what happens if more than 8,000 people are infected.
Updates
: The latest local transmissions of COVID-19 in Thailand soared by another 382 new cases on Monday, 360 of them migrant workers from Myanmar linked to a wholesale shrimp market in Samut Sakhon, the province bordering Bangkok on the southwestern side.
The total numbers of local infections are now roughly more than 1076. (Apologies for rough figures, as real figures from authorities are not very forthcoming!)
For the latest
Thailand Coronavirus News
, Keep on logging to Thailand Medical News.
Please also read:
https://www.thailandmedical.news/news/breaking-covid-19-drugs-us-fda-drug-trial-concludes-that-most-drugs-being-used-including-favipiravir,-lopinavir,-ritonavir,-chloroquine-has-no-effects
https://www.thailandmedical.news/news/covid-19-drugs-favipiravir-avigan-fails-to-achieve-statistical-significance-in-fujifilm-trial,-effectiveness-questionable
https://www.thailandmedical.news/news/favipiravir-studies-involving-animal-models-shows-favipiravir-has-very-weak-effect-on-sars-cov-2-and-not-viable-as-an-effective-therapeutic
https://www.thailandmedical.news/news/covid-19-guidelines-canadian-medical-association-issues-new-treatment-protocols-that-omit-use-of-favipiravir,-lopinavir-ritonavir,-hydroxychloroquine-
https://www.thailandmedical.news/news/covid-19-scams-despite-having-no-proven-efficacy,-russia-approves-first-covid-19-prescription-drug-coronavir-for-sale-in-pharmacies-that-is-teratogeni