Medical Tourism And Biotech: Vietnam To Emerge As A Top Medical Tourism Destination In Asia and Also As A Biotech and Medical Startup Hub, Thailand Failing Behind
Medical Tourism And Biotech
: Vietnam Is emerging to surpass Thailand and the rest of Asia as a top medical tourism destination and also as a hub attracting biotech research and manufacturing companies in the next few years.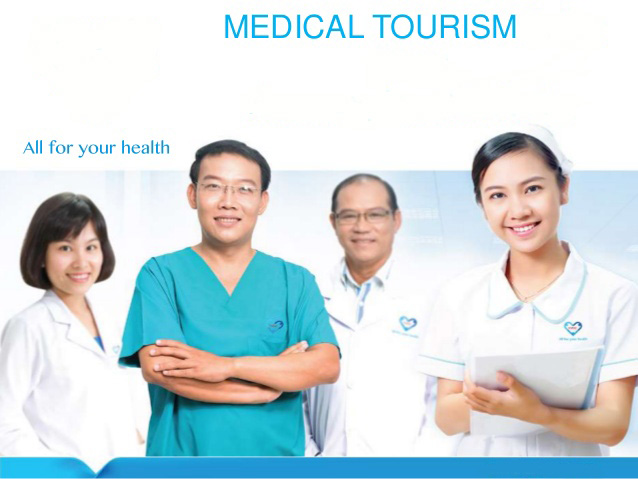 Over the last few years while Thailand was being complacent and 'floating in the air' based on its past laurels, the Vietnamese government and private sector was aggressively working out strategies and plans to develop both the medical tourism sector and also the biotech and medical innovations sector.
Incentives were given for the development for more private hospitals and some of the new projects underway in Vietnam are massive including two projects, one in medical tourism city featuring a 6,800 bed hospital complexes and an adjoining shopping mall with 2 hotels on it, one a 5 star and the other a 3 star hotel located in Hanoi. Another in Ho Chi Minh will feature a 4,600 bed hospital complex with even an amusement park, hotel, shopping mall and a residential city with schools etc. There is also a huge number of hospitals in Vietnam that are now in the midst of securing JCI accreditation, adding to a growing number of hospitals already with JCI accreditation in Vietnam.
Many American hospital groups such as Mayo Clinic, MD Anderson, Cleveland, Sloane Kettering, Vanderbilt etc are in the midst of doing joint ventures and opening hospitals there in Vietnam while some deals have already closed since mid-last year.It is easier for foreign medical entities to do business in Vietnam unlike Thailand that has a lot of nationalistic and protective policies in place with its local conglomerates maintaining monopolistic control.
The Vietnamese government is also opening its medical industry with foreign doctors soon to be able to practice in Vietnam under a deal to upgrade its own doctors and also allow exchange of information and training.
There are already new industrial biotech and medical innovation parks being developed with investment and visa incentives that are much more lucrative than Thailand. Countries like the United States, United Kingdom, Germany, France, India, Singapore, Japan and South Korea are all establishing healthcare and medical device manufacturing in Vietnam. Not only does Vietnam have a higher and educated workforce than Thailand, but it is cheaper and more productive. Vietnam also offers a more equal and professional playing field unlike Thailand where corruption and nepotism is rampant coupled with incompetent and egoistic officials. Hence unlike Thailand where there is only a lot of hot air, the officials in Vietnam are truly promoting the medical innovations segment, the biotech segment, healthcare tech and also the pharmaceutical and medical devices manufacturing sector.
Thailand Medical News is proud to be invited to help develop the medical and health media sector in Vietnam to help promote and showcase the health and medical industry unlike in our home country where as a startup, we do not even get an ounce of support from any of the local agencies or companies.
The US, Singapore, India, UK and German governments are aggressively encouraging investments and also sharing know-how and technology support to develop these sectors in Vietnam.
In terms of medical tourism, the caliber of medical doctors in Vietnam are now surpassing Thailand with almost 4 5% of their 60,852 licensed doctors having completed their post-grad studies and specialization overseas and almost 14,200 of their physicians having done their stints in the United States or Europe.
Medical care is also extremely cheap in Vietnam even in the private hospitals compared to Thailand that has out priced itself out of the competition in recent years due to greed. Pharmaceutical products and drugs are also extremely cheap in Vietnam compared to Thailand.
Singaporeans, Malaysians, Australians, Europeans and Americans are over the last 2 years now going to Vietnam for cheaper and better aesthetic, dental and anti-aging treatments and also for cancer treatments and cardiovascular procedures.
Once travel resumes in the post COVID-19 era, many will be flocking to Vietnam not Thailand.
An emerging trend is that even Thais are now starting to go to Vietnam for procedures as it is cheaper than even their home country.
The medical council in Vietnam along with the Vietnam hospital association and the health authorities have also set up a new entity that is working with private entities such as even Thailand Medical News to help promote the Vietnam Medical and Wellness Tourism industry through a much more concerted effort unlike Thailand where the ego of private hospital owners along with the stupid and incompetent marketing and PR staff that they employ are all working for their own selfish needs and not for the country as a whole.
To make matters even worse in Thailand, many private hospitals and wellness clinics have the habit of employing incompetent Filipinos as their marketing personnel in Thailand who are willing to go for peanut salaries and perform just as incompetently. It is sad when these entities bypass employing local Thais who are competent in the English language. It is also stupid as most medical tourist are coming to Thailand to experience excellent medical care and Thai hospitality and not to met by some Filipinos and their 'twangy' irritating accents.(Thais should start boycotting such Thai hospitals and also protest to the Thai government about unfair job discrimination as Thailand has lots of educated young people with excellent English competency)
It is also going to be hard for Thailand to start attracting foreign tourists as the COVID-19 crisis has shown the world its true xenophobic nature when there were even scenes of officials calling Western tourist degoratory names. The local officials are only worshipping tourists from China while discriminating against the rest.
Vietnam meanwhile is aggressively targeting the US, Canadian, European, Middle East, Bangladesh, Myanmar markets for its medical tourism and wellness sector. Vietnam is also creating some newer concepts and projects in terms of the wellness sector.
Along with that, Vietnam is also creating a special long term stay programs for citizens from the US, Canada and Europe who wish to stay for a long term to undergo special medical procedures and healthcare programs and are also developing medical retirement villages for the elderly from these markets.
In terms of drug manufacturing, many Indian drug companies are now setting upon manufacturing plants in Vietnam and so are drug companies from the US.
Many European entities are also setting up research labs and genomic and precision medicine labs in Vietnam with plans to make Vietnam the leading biotech research hub in Asia.
The only mistake that Vietnam should avoid is to never allow the large Thai conglomerates or companies to enter is market or else they will end up destroying its potential as they are notorious for creating a mess wherever they go.