LATEST! United States FDA Raises Issues About Risk Of Heart Inflammation And Heart Problems From Novavax COVID-19 Vaccine!
On Friday, the U.S. Food and Drug Administration raised concerns about possible risk of heart inflammation and heart issues arising from usage of Novavax Inc's NVAX.OCOVID-19 vaccine.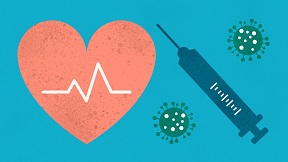 Despite skewed data from clinical trials and claims that the vaccine could reduce the chances of mild-to-severe disease. (Something in reality is hard to really prove!), the UK Medicines and Healthcare products Regulatory Agency along with the infamous British Health Minister, Sajid Javid approved its usage in February 2022.
In the United States, the U.S FDA and its external advisors will decide whether to approve Novovax for emergency use on this coming Tuesday ie the 7th of June 2022.
The vaccines just like other COVID-19 vaccines in currently use has no prophylactic properties and does not prevent an individual from contracting the virus! They only prevent disease severity according to those controlling the COVID-19 narratives!
Novavax's clinical trial patient trial conducted between December 2020 and September 2021, indicated that there were four cases of a type of heart inflammation called myocarditis detected within 20 days of taking the protein-based shot.
In adverse reporting platforms, more cases of myocarditis and heart issues had been registered among those given
Novavax
jabs in the United Kingdom.
The U.S. FDA staff noted in briefing documents released to the media on Friday, "These adverse events raise the concern for a causal association with this vaccine, similar to the association documented with mRNA COVID-19 vaccines."
It was reported that shares of the company fell nearly 14% after the U.S.FDA's analysis of data from the company's trial.
The U.S. FDA insisted that Novavax flag myocarditis and another kind of heart inflammation called pericarditis as an "important identified risk" in its materials.
To date, Novavax has not yet agreed to do so.
However, Novavax, in response to the safety concerns flagged by the FDA, said natural background events of myocarditis can be expected in any sufficiently large database. Novovax claims that their clinical trials involved nearly 30,000 patients.
The company said in a statement, "Based on our interpretation of all the clinical data supporting NVX-CoV2373 … we believe there is insufficient evidence to establish a causal relationship."
Novovax claimed that one patient in the trial reported myocarditis even after receiving placebo!
The company has said the shot, NVX-CoV2373, will play a role in driving vaccination among those who have been hesitant to get immunized and it has started an educational effort on vaccine choices.
Novovax in a media statement said, "Despite the wide availability of authorized or approved vaccines, the SARS-CoV-2 pandemic is not well controlled in the U.S. & amp;hellip; there remains a desire for vaccines that have been developed using well-understood technology platforms."
The U.S. FDA analyzed data from Novavax's trial before the Omicron and Delta variant became the dominant strains.
The U.S. FDA staff said, "Based on the efficacy estimate in the clinical trial of this vaccine, it is more likely than not that the vaccine will provide some meaningful level of protection against COVID-19 due to Omicron, in particular against more severe disease."
The Novovax vaccine showed an efficacy of 90.4% according to the company's presented data from a study which enrolled adults across the United States and Mexico.
The U.S. FDA's comments came in a briefing note initially prepared ahead of a June 7 meeting of the agency's outside advisers.
U.S. FDA staff comments will be used by those advisers to guide their decision on whether or not to recommend authorizing the vaccine for usage in America on Tuesday. The U.S. FDA is not mandated to follow the advice of its outside experts, but typically does as the agency is literally controlled by private billionaires.
It should be noted that in the United States, the Democrats have made sure that Pfizer's mRNA vaccines remains the main vaccine product to be heavily promoted by the White House as many of these Democrats and their supporters like Gates, Fauci, Zuckerberg have direct and indirect vested interest in Pfizer and its partner Moderna and so do the individuals behind the WEF. Biden is also obliged to support companies like Pfizer as they supported his election campaigns.
https://www.drugdiscoverytrends.com/guess-who-the-pharma-industry-is-supporting-for-president/
The Novovax vaccines are claimed to be of a different approach from the other previous vaccines. Novavax's offering is a protein subunit vaccine, similar to those used to protect against flu, and for routine childhood immunizations against pertussis (whooping cough), and meningococcal infection.
This new COVID-19 vaccine was developed by the American biotechnology company Novavax in collaboration with the Coalition for Epidemic Preparedness Innovations (CEPI). It contains purified pieces of the SARS-CoV-2 spike protein, delivered alongside an immune-stimulating adjuvant. Because these proteins are incapable of causing disease, such vaccines have a good safety record.
The viral spike protein is made by inserting genetic instructions for it into a different virus called a baculovirus, and using it to infect moth cells. The moth cells produce the protein, which is harvested and purified, and then assembled into nanoparticles which are designed to mimic the molecular structure of SARS-CoV-2. The vaccine adjuvant is derived from a compound called saponin, which is extracted from soapbark trees. It attracts immune cells to the injection site and causes them to react more strongly to the nanoparticles.
This new vaccine is also currently being manufactured by Serum Institute in India for Novavax, under the trade name Nuvaxovid, and Novavax has also tech transferred and licensed the vaccine to the Serum Institute of India, which will produce it under the trade name Covovax.
The WHO's Strategic Advisory Group of Experts on Immunization (SAGE) has recommended that the vaccine is given as two doses, three to four weeks apart. Severe and moderately immunocompromised persons should be offered an additional dose of vaccine as with all other approved vaccines, it said.
For more on
COVID-19 vaccines
, read other garbage mainstream news sites as we at Thailand
Medical News
prefer not to cover anything with regards to the current
COVID-19 Vaccines
!